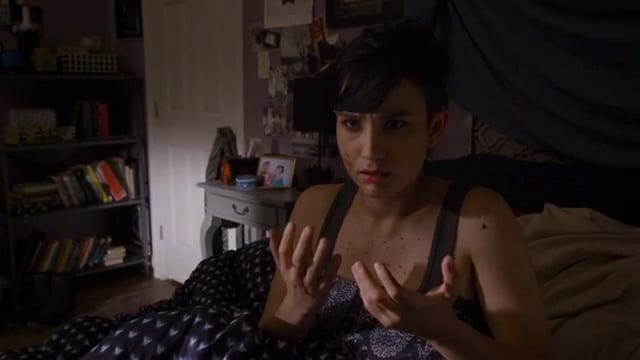 Langsam wird es etwas unheimlich. Jetzt nicht im Sinne von horrormäßig unheimlich, eher mehr ungläubig mit einem Stirnrunzeln. Wie soll jemand es schaffen, mit flüssigem Blut etwas an einer Zimmerdecke zu schreiben, während jemand anderes direkt darunter schläft, ohne das Letzterer davon wach wird? Wird eine Plane gespannt und schnell weggezogen bevor man sich aus dem Staub macht? Mir ist klar, dass ein Realismusvergleich hier nicht wirklich Sinn macht. Dennoch: Was soll das?
"He's trying to get into your head." – "Trying? Noah, he's in there." (Noah & Audrey)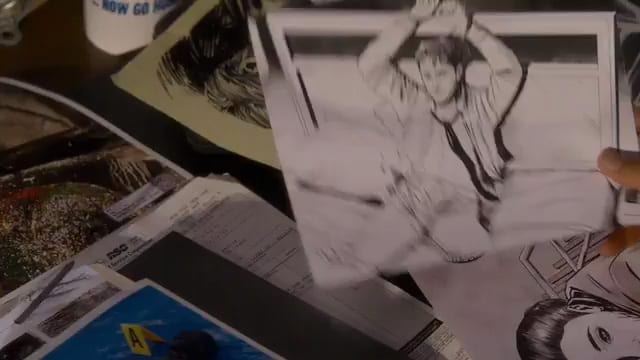 Die Intensität dieser Episode basiert offenbar mehr auf starke Mono- und Dialoge. Brookes Rede unter Promilleeinfluss so wie ihre Rechtfertigung gegenüber Gustavo: großartig gespielt. Derweil sind die Deutungen in Richtung des Künstlers mit Hang zum Morbiden so offensichtlich, dass alles außer eine Finte nur enttäuschend sein kann. Dies unterstreicht immer mehr meine Befürchtung, dass die Auflösung komplett in die Hose gehen wird, soll es einem – im positiven Sinne – nicht komplett vom Hocker hauen.
"If you think I'm a killer … prove it." (Gustavo)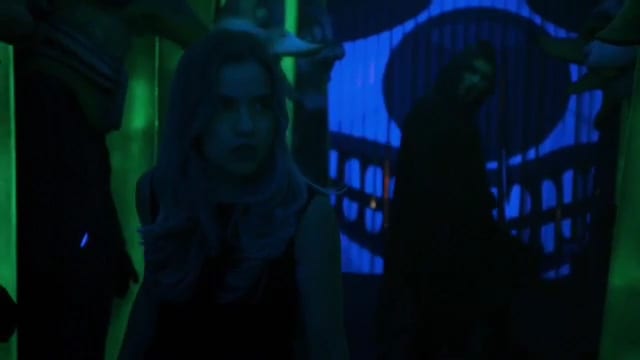 Abgesehen von Emmas völlig absurden Fähigkeit rennend (!) sich fehlerfrei durch das Spiegelkabinett zu manövrieren, ist Sequenz im ist wirklich nett anzuschauen. Mit Sicherheit ist mit optischen Reflexionen (ich mag die deutsche Schreibweise dieses Wortes nicht) das Rad nicht neu erfunden – cool ist es trotzdem, weil: richtig eingesetzt.
"Call the cops? You're done. Confess to Emma? It's over. What's left? Just me." (Ghostface)
Gut zwei Dritteln der aktuellen Staffel sind nun vorbei. Bin gespannt darauf, wie viel und wie schnell wir von Kierans und Elis (gemeinsamer?) Vergangenheit zu sehen bekommen werden – ebenso auf Emmas Umgang mit Audrey nach der kleinen Enthüllung zum Ende der Folge.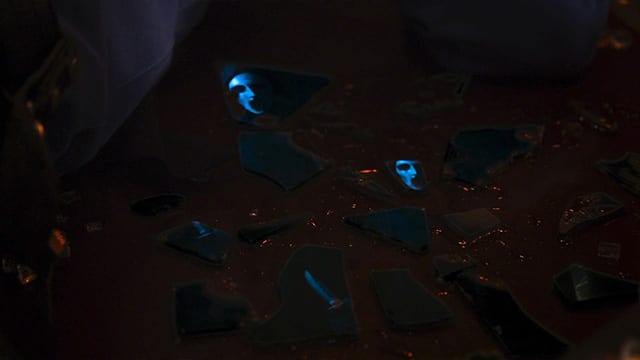 Vorschau: S01E09
Scream (Season 2) | 'The Truth Is Out' Official Sneak Peek | MTV

Bilder: MTV

-->