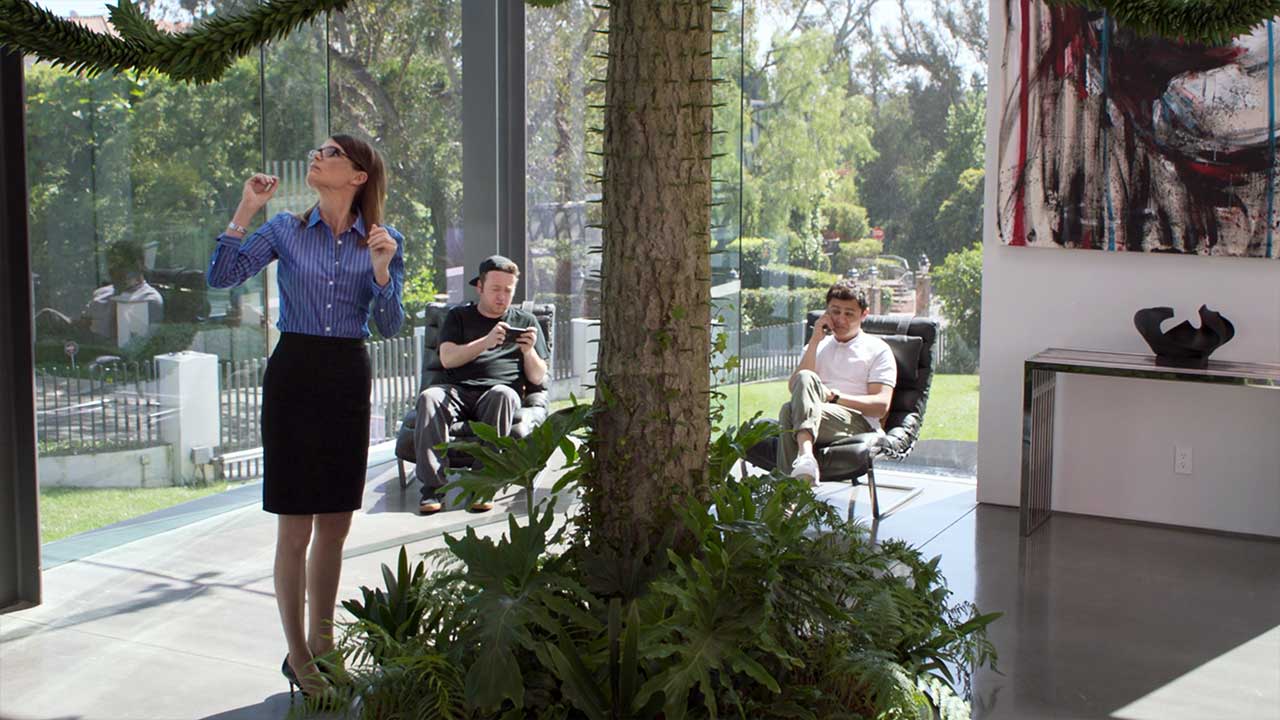 Was würdet ihr mit einer Milliarde Dollar machen? Also, rein hypothetisch? Oder noch besser gefragt: Was würdet ihr FÜR eine Milliarde Dollar machen? Richard hat sich für die Moral entschieden und das gigantische Angebot von Maximo ausgeschlagen. Colin ist da moralisch flexibler und nimmt es an, dazu kommt Laurie als Neu-Netzwerk mit an Bord, auch wenn ihr sehr schnelles aktives Eingreifen nur in einer Mini-Baum-Szene mündet. Bislang. Maximo hat zudem bereits 30 Prozent der Pied-Piper-Anteile aufkaufen können – es sieht nicht gut aus.
Mir hat beim Auftakt gefallen, als die Gruppe nerdig Minutenverluste ausgerechnet haben. Und auch die Szene mit Jared war super, in der er versucht, sich selbst bei den Streifenpolizisten zu stellen. Er ist einfach zu gut für diese Welt…
"Jian-Yang, you're not doing anything illegal here, are you?" – "Yes." (Jared & Jian Yang)
Der niedergeschlagene Richard trifft den niedergeschlagenen Gavin im Park. Einen alle Seiten rettenden Foxhole-Deal gibt es zwar, nicht, dafür musste ich bei dem Kommentar mit dem Wandschlag durchaus kurz auflachen:
"You look like shit!" – "You, too… What happened to your hand?" – "I punched a wall." – "Cool!" (Gavin & Richard)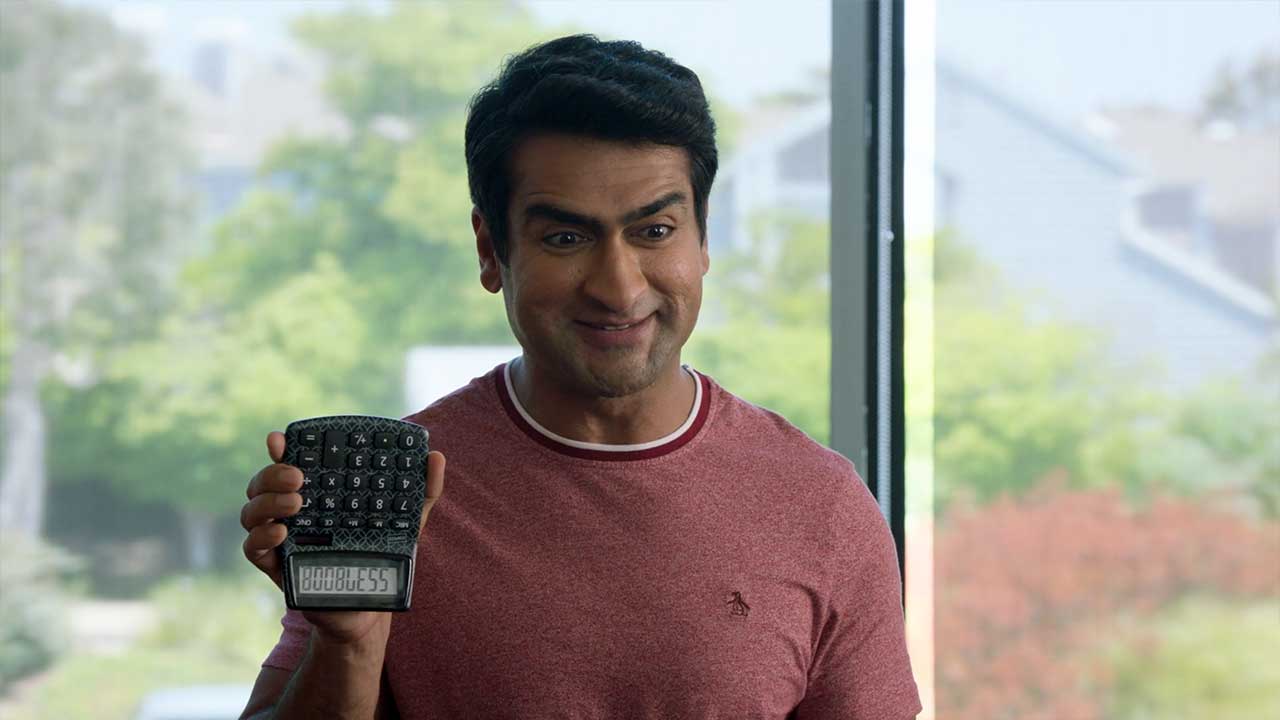 Auf Dinesh' Frage, ob man sich noch an Wajeed, seinen Cousin, erinnere, hätte ich mit einem klaren "Nein" antworten können. Und das, obwohl ich den Darsteller jetzt kenne. Aber Avi Nash ist erst 2017 zum "The Walking Dead"-Cast gestoßen und sein kleiner Gastauftritt in "Silicon Valley" datiert von 2015. Aber jetzt ist er erneut da und bietet die ideale Angriffsfläche für Gilfoyle, um Dinesh ein schlechtes Karma-Gewissen einreden zu können.
"Karma's a…" – "You're a bitch!" (Gilfoyle & Dinesh)
Zum Ende hin geht es verdammt schnell. Gavin hat Gwart (also, ihre Firma) aufgekauft, was Jared so wütend werden lässt, dass er zum Gegenschlag ausholt. Die Idee: Pied Piper mehr als Hooli wert – wieso also nicht den "Kleineren" schlucken? Der Aufkaufversuch startet während Gavin ganz allein und total ohne Hilfe beim Triathlon mitmacht. Dass er etliche Assistenten dabei hat, ihm aber niemand von einem Notfall in der Firma berichtet, halte ich für unglaubwürdig. Aber die alte "Nenene, keine digitale Unterschrift!"-Haltung hat mit dem analogen Express-Weg dann doch für ordentlich Spannung sorgen können. Ehe Dinesh mit Gavin in den uneitlen Wettstreit um den Titel des bösesten Mannes im Raum getreten ist…
"I can even see where he is in his menstrual cycle." – "Looks like a good day to fuck him!" (Gilfoyle & Monica)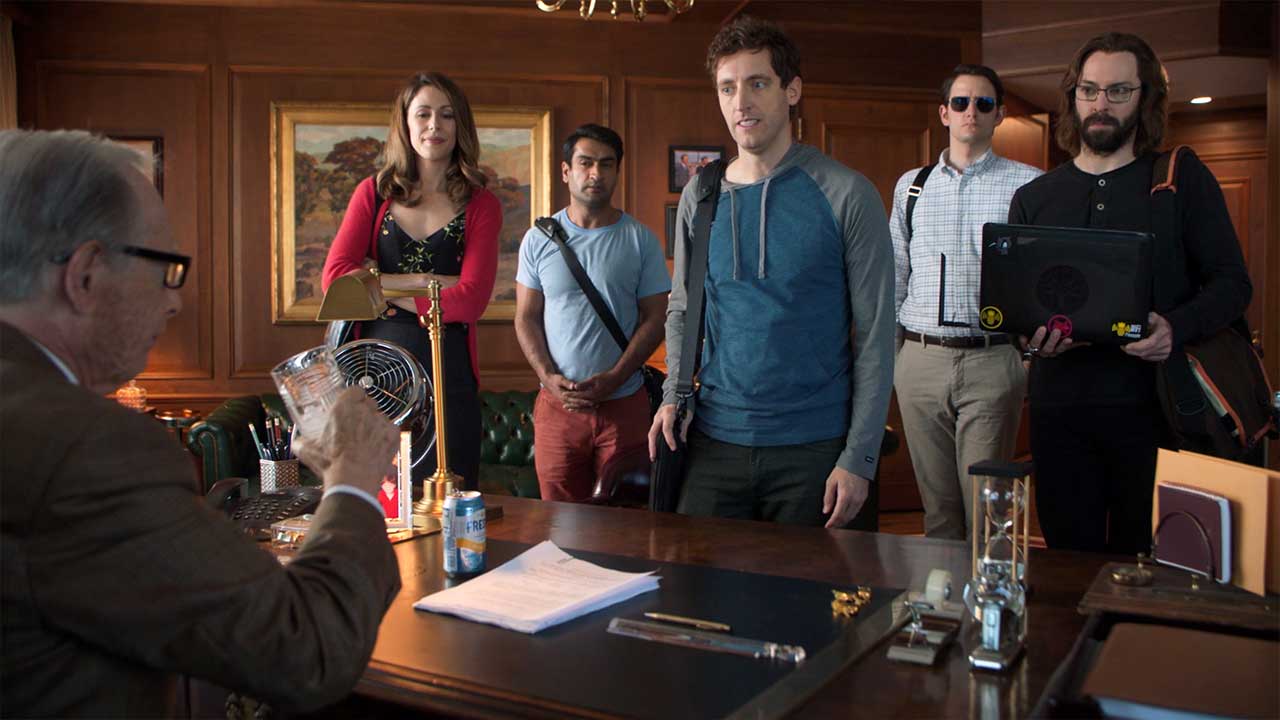 Man merkt richtig, dass man mittendrin ist in der Staffel. Das Tempo ist hoch, aber überschlägt sich (noch) nicht, auch wenn solche kurzfristigen Übernahmen auf mich immer wie Wunderwerk wirken, aber geht bestimmt irgendwie, wenn man will. Die Folge hatte zwar nicht die ganz großen Lacher, aber sie wirkte sehr kompakt geschrieben und sie war enorm kurzweilig. Alleine die Szene mit der Wand wird mir sicherlich eine Weile in Erinnerung bleiben (so unnötig und bescheuert sie eigentlich ist…). Jetzt wird spannend zu sehen sein, was Richard mit Hooli anstellen wird.
Bilder: HBO