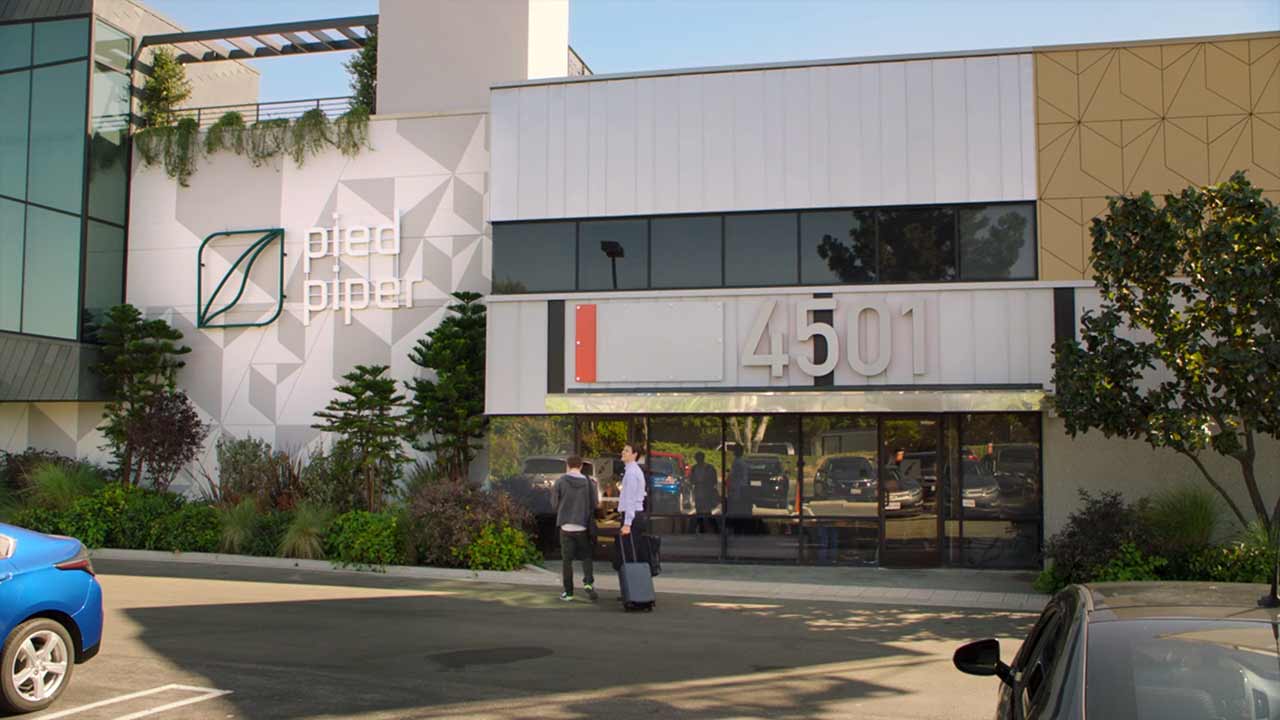 Aloha! Das ist quasi die Begrüßung zum Anfang einer neuen Staffel "Silicon Valley" und gleichzeitig als Abschiedsformel zu interpretieren, endet die HBO-Comedy ja leider mit dieser sechsten Staffel. Aber hinsichtlich der Entwicklung der Figuren und Geschichte scheint das auch seinen Sinn zu haben. Nach den kleinen Anfängen und schwierigen Aufstiegsphasen mit allerlei Rückschlägen scheint Pied Piper oben angekommen zu sein. Der neue gigantische Bürokomplex, über 500 Angestellte und vor ganz großen Entwicklungen. Vermutlich können wir uns auf eine Erfolgsgeschichte mit diversen Fettnäpfchen und etlichen wieder erscheinenden alten Bekannten freuen. Und lauter Anspielungen auf die Tech-Welt und aktuelle gesellschaftliche Entwicklungen (Stichwort: eScooter).
Den Anfang macht Richard als Zuckerberg-Verschnitt, der vor dem US-Senat angehört wird. Es geht natürlich um Datenschatz, dabei braucht Richard kein altes Mikrofon, um sein neues Internet zu propagieren. Schade, dass es nicht zum obligatorischen Wasser-Trink-Moment kam, vermutlich ist der aber auch eh überholt.
"It looks like a child at a custody hearing." – "But like you don't feel sorry for him, you just want him to go away and not having any parents at all…" (Gilfoyle & Dinesh)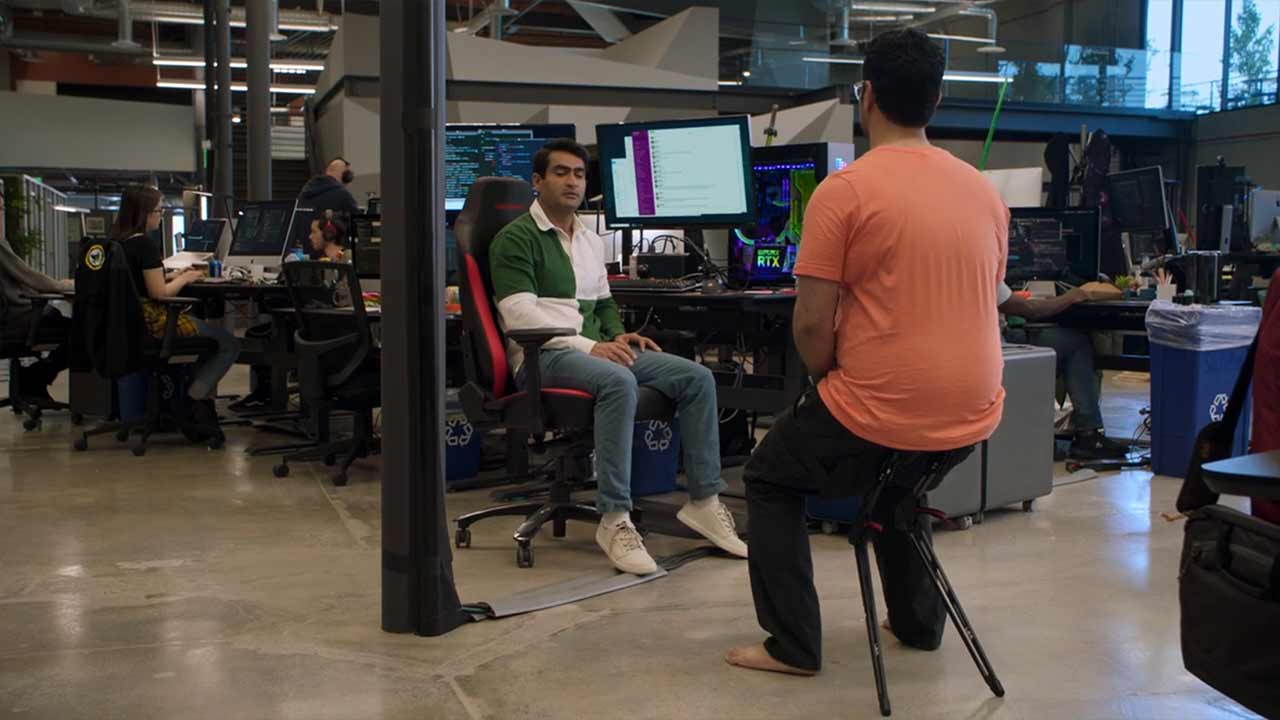 Am meisten habe ich mich darüber gefreut, Gilfoyle wieder zu sehen! Die Freude war vermutlich nur meinerseits, aber auch diese Woche hat er wieder mit seiner trockenen Art zu meiner Unterhaltung beitragen können. Sein kleiner Gag mit dem AI-Chatbot (im doppelten Sinne) für Dinesh war nett, dürfte aber wie so oft vermutlich nur der Start einer größeren zweckentfremdeten Entwicklung sein. Warten wir mal ab, was "Son of Anton" noch so aushecken wird. Vor allem gegen Gabe, der uns als wahrhaftiger Nerv-Trottel präsentiert wurde (ohne "K", dafür mit geekigem Hosten-Stuhl).
"This is the cost of working with humans, Richard, they suck!" (Gilfoyle)
Die Haupthandlung hatte diese Woche Colin inne, der gegen das eigentliche Unternehmens-Credo fleißig Nutzerdaten abspeichert. Nicht einfach nur in Zahlen, sondern etliche private Gespräche – allerdings auch seine eigenen. Ein ganz netter Zwischen-Twist, bei der Kurz-Präsentation mit dem Netz aus Fehltritten war für eingefleischte "Silicon Valley"-Fans jedoch klar, dass da noch eine Gegenentwicklung kommen dürfte. Ich nahm bereits an, dass Colin die neue Darstellungsform als Verarbeitungs-Modell anpreisen würde.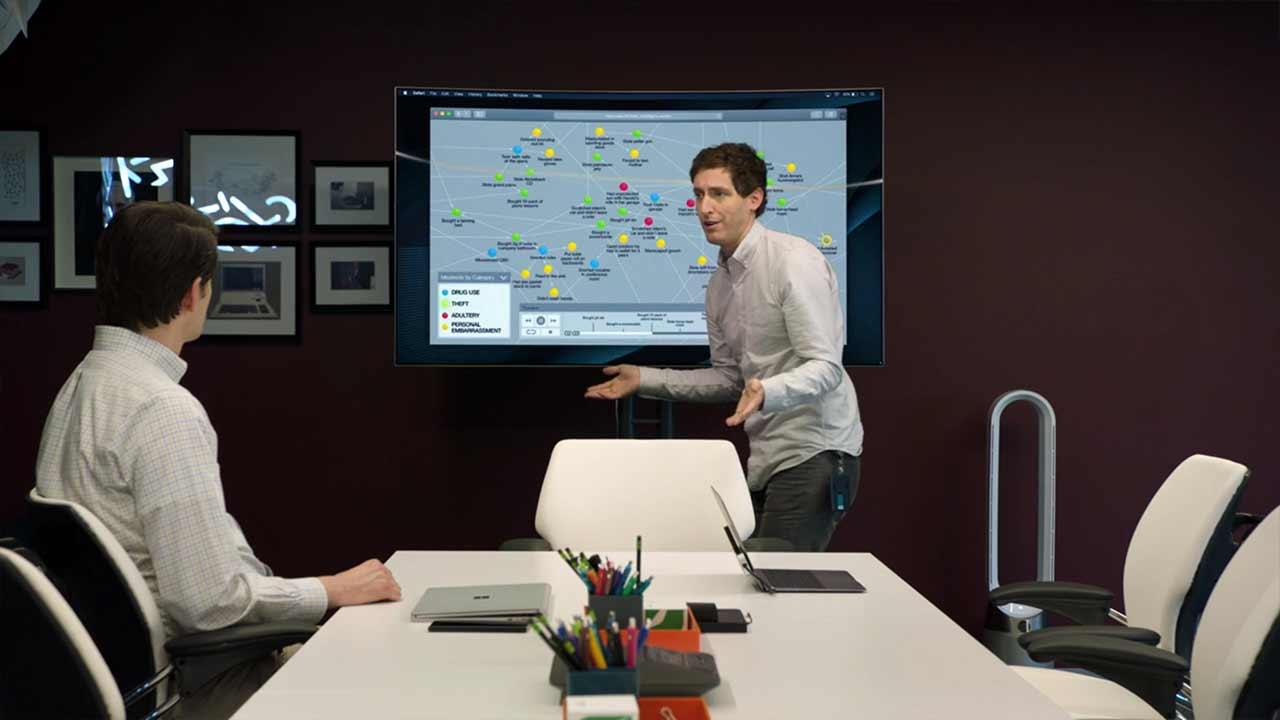 Interessant ist der Umgang mit Jared. Er droht aus dem Kern-Team rauszufallen und verliert zunehmend den direkten Bezug zu vor allem Richard. Naivität, Doppelmoral, ungewollte Ironie – da waren wieder einige herrlich absurde Mini-Momente bei. Am Ende fährt Jared aus Gewohnheit zur alten Pied-Piper-Wohnung, um dort neben Bighead und Jian Yang auf die junge Programmiererin Gwart zu treffen, in der er vermutlich sein neuestes Pflege-Hilfsprojekt gefunden haben dürfte.
Gavin Belson zeigt sich abseits dessen sehr sentimental und seinem eigenen Lebenswerk zugewandt. Der Name "hooli" soll unbedingt erhalten bleiben, trotz Übernahme durch (den Fluß oder die große Kriegerin, man weiß es nicht genau…) Amazon. Die mittelmäßige Animation des vom Fassadenschild herunterfallenden "i" hatte mich im Trailer bereits gestört, aber wurscht. Hier wächst ein wütender und kaum mehr etwas zu verlierender Player heran, der bestimmt noch für Würze gut sein dürfte.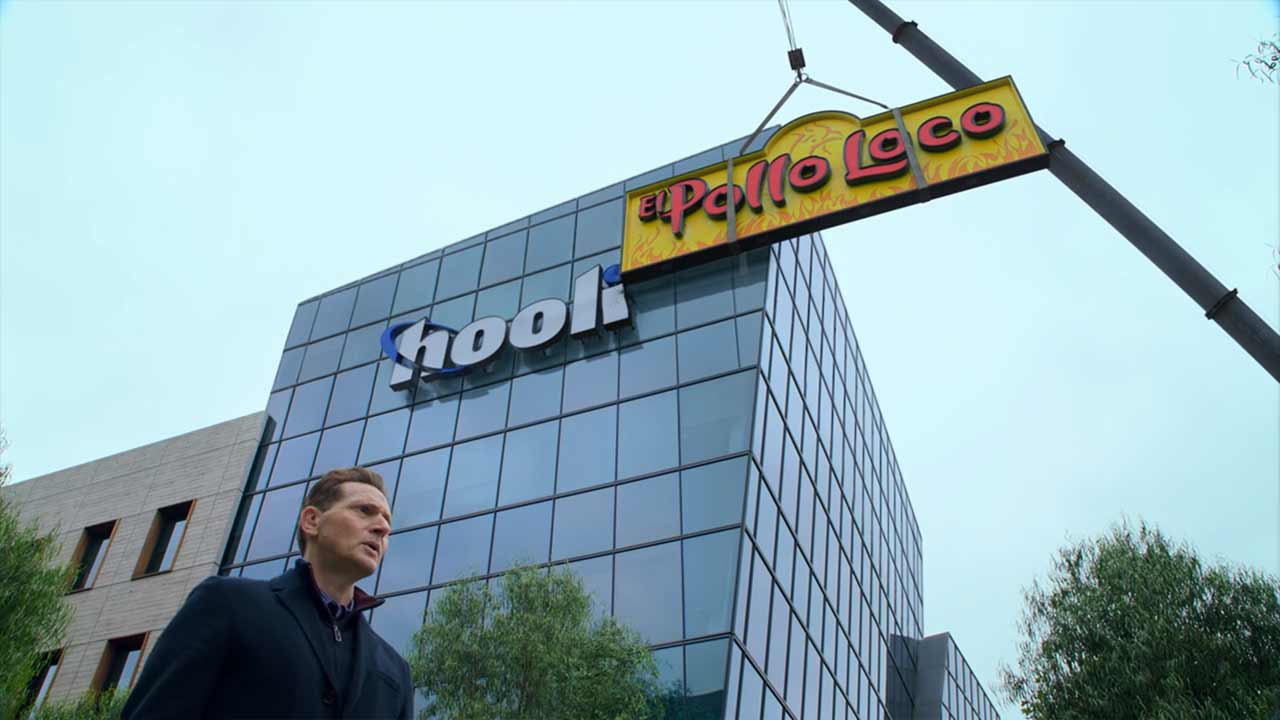 Alles in allem war das ein okayer Auftakt, aber auch nicht mehr. Gilfoyle hat wie so oft Spaß gemacht, allgemein haben die Dialoge größtenteils mit gutem Timing und ausgefeilten Zeilen überzeugen können. Arbeitskultur-Kritik und Anspielungen auf das Tech-Business gab es mal wieder auch im Kleinen zu erkennen. Dennoch wirkte das eher wie ein kleines up-to-date- und Figuren-in-Stellung-Bringen. Noch war das zu vorhersehbar und unspektakulär in der eigentlichen Story und die ganz großen Lacher blieben zumindest bei mir auch aus. Aber darauf lässt sich aufbauen.
Bilder: HBO