Da Fuq did I just see? Im Kopf erschien dieser Satz vor meinem inneren Auge, ungefähr in der Mitte der Episode. Wobei, eigentlich schon am Anfang. Da sieht man nämlich wie Icheb, "Star Trek: Voyager" Fans wissen wer das ist, auf einem Operationstisch liegt und sein Borg-Auge entfernt wird. Übrigens, falls ihr ihn nicht kennt, macht nichts. Besagter Icheb schreit und blutet bestialisch und man fragt sich schon, ob das nicht SAW Teil 347 ist. Seven of Nine kann ihren alten Freund in der Szene nicht mehr retten, sondern nur erlösen. Spulen wir ans Ende der Folge, muss ich feststellen, dass ich die neue Seven von allen Charakteren sogar am spannendsten finde. Sie hat eine Entwicklung hinter sich und ist nicht mehr die angepasste gerettete Borg Drone. Sie ist rücksichtslos, tötet am Ende sogar aus Rache die Frau, die zu Beginn der Folge Icheb in den Tod führte.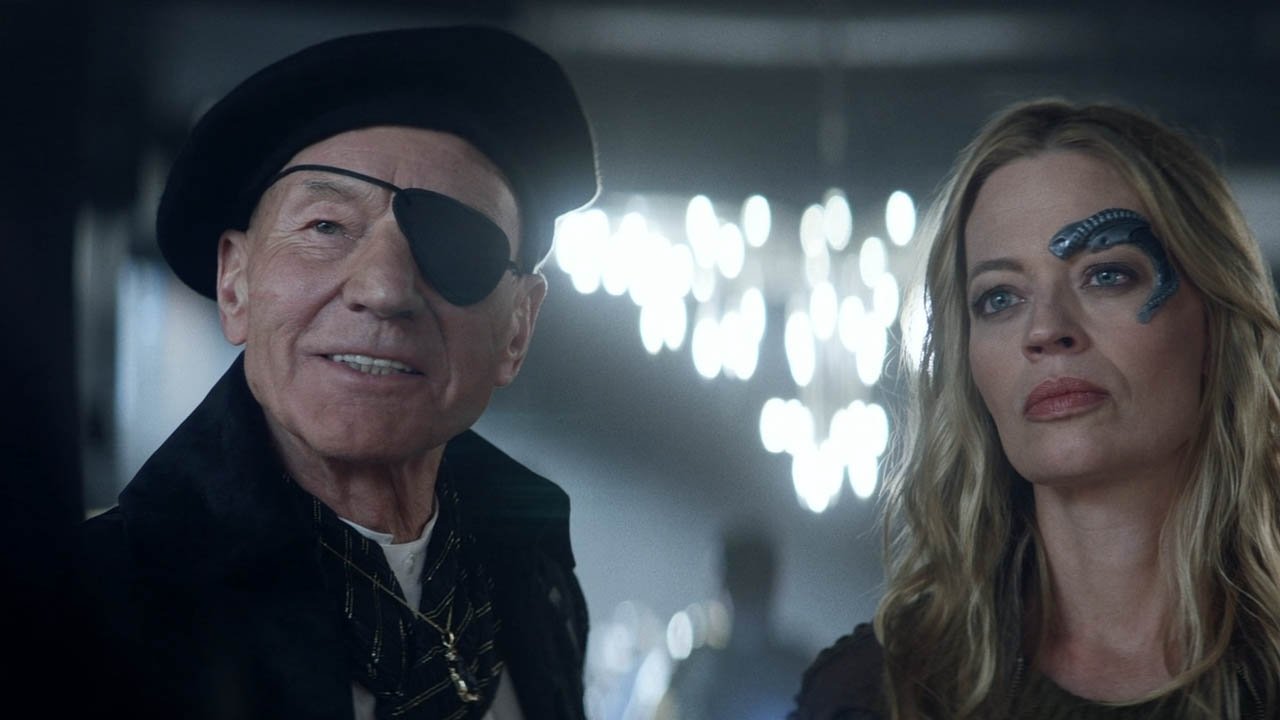 Rosenmontag im Weltall: Picard geht als Pirat.
Dieser Teil ist gut; dass sich dann aber Picard als lächerlicher Französischer-Augenklappen-Klischee-Mafiosi verkleidet… ich weiß nicht…. Warum? Dass Captain Rios als Andre 3000 Double unterwegs ist, fällt dabei fast gar nicht mehr ins Gewicht. Nicht zu vergessen sind auch diese komische 3D Figuren, die bei der Ankunft bei Freecloud im Cockpit erscheinen. Als ob man ein Videospiel aus dem Jahr 1995 genommen hat. Normalweise wirkt eine Sci-Fi Serie erst Jahre später etwas lächerlich, also zumindest bei den Effekten, Picard Folge 5 schafft es sogar direkt zur Ausstrahlung lächerlich auszusehen.
Und auch seltsam: Bruce Maddox, der Schlüssel zu allen Fragen – so zumindest glaubte man es bis zu dieser Folge – stirbt durch Agnes. Dabei waren die beiden doch zusammen? Ist sie etwa ein Teil der Verschwörung? Oder ist er eine Art Doktor Frankenstein und musste deshalb aus guten Gründen durch Agnes sterben? Dieser Twist rettet die Folge dann doch, denn von Agnes hätte man sowas nicht erwartet.
Am Ende bleibt eine starke Seven of Nine, ein spannender Twist und viele seltsame Bilder. Diese seltsamen Bilder ziehen sich irgendwie durch die Serie und stören mich immens. Picard war auch in "Star Trek: The Next Generation" inkognito unterwegs, aber hat sich da irgendwie besser angestellt als in dieser Folge. Nun ja… vielleicht wird es ja besser :-/ (und ja, ich weiß, dass ich das jetzt in fast jedem bisherigen Review geschrieben habe).