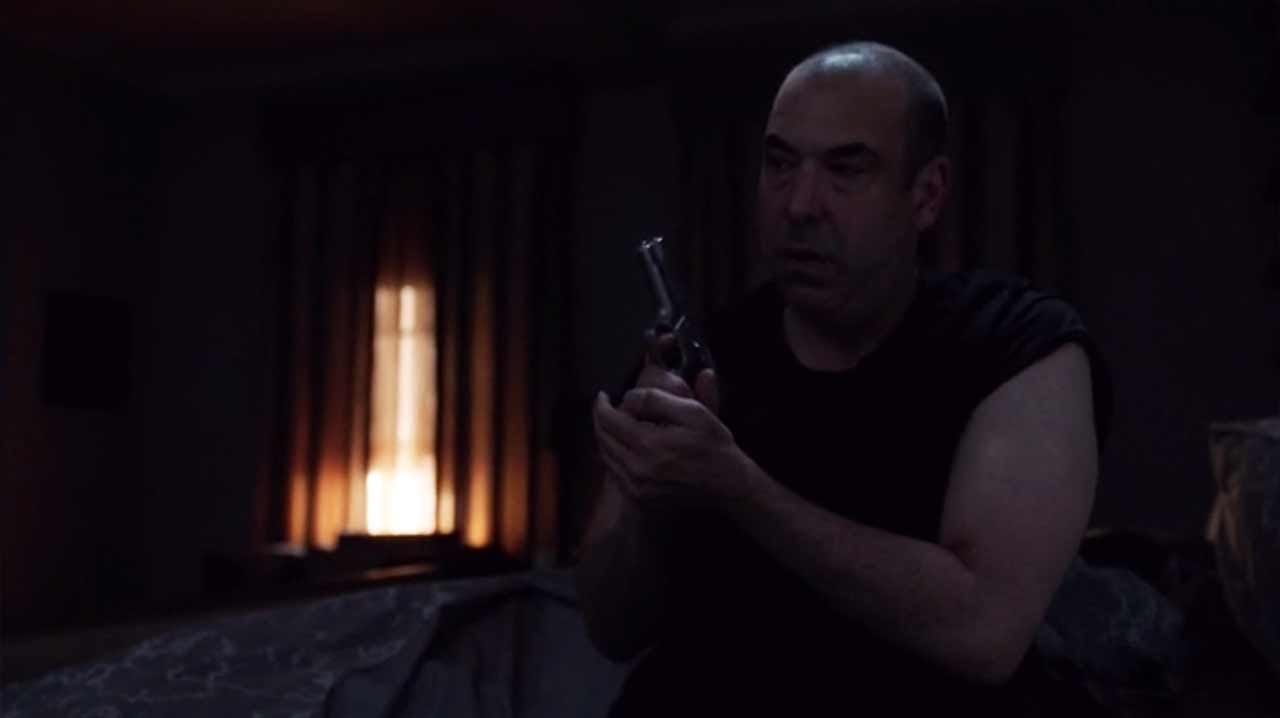 Diese Woche erfahren wir von einer weiteren Superheldenhaftigkeit Harvey Specters und im Gegenzug sogar mal eine Schwäche des großen Kanzlei-Helden. Beginnen wir mit der meisterhaften Geheimzutat: Er tut Vanille in den Kaffee. Wow. Deutlich dramatischer geht es da zum Einstieg bei Louis zu, der einem erschreckend schnell klar macht, dass eine Waffe bei "Suits" fehlplatzierter wirkt als eine Folge ohne etliche Mini-Twists, die sich gegenseitig aushebeln.
"I have a gun and I'm ready to use it!" – "Good. But that's not the gun I'm here for." (Louis und Sheila)
Dabei fand ich die Inszenierung dieses ersten Rollenspieles zunächst noch sehr gelungen, doch dann kam wieder dieses billig-anzügliche Niveau daher und alles kaputt gemacht. Für alle, außer Sheila und Louis natürlich. Naja, jedem das Seine/Ihre… Das Aufeinandertreffen mit dem Verlobten war dagegen durchaus kurzweilig.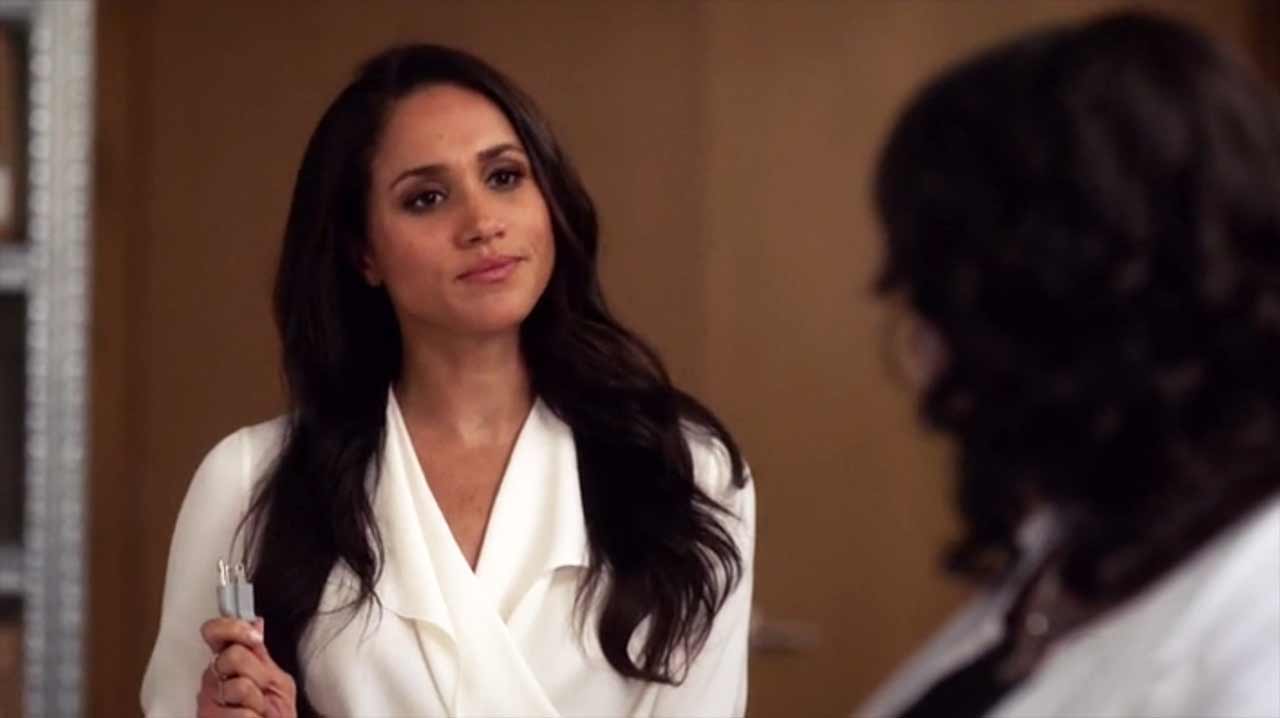 Wichtiger sind doch eh Fragebögen, die das emotionale Leben zu rationalisieren versuchen. Einem unnötigen Verlobten-Streit folgt ein ähnlich überflüssiger "Ihr habt das toll gemacht!"-Moment, der am Ende nur die Botschaft hatte: Passt schon. Macht es alles so, wie ihr für richtig haltet, nur halt mit Liebe und Aufrichtigkeit. Ansage verstanden.
Ähnlich direkt wird auch demonstriert, dass man neben solchen Liebespaar-Dingen auch noch schnell so viel "Buddy Talk" wie möglich integriert, ehe es in ein paar Wochen keine Möglichkeit mehr dazu gibt. Ein Dialog mit Bezug auf die nächste Staffel:
"This isn't so good, you know?" – "You say that now, but someday, you gonna miss me, buddy. Trust me." – "Am I?" – "Nothing lasts forever." (Mike & Harvey)
Kommen wir zur endlich offengelegten Schwäche von Superheld Harvey (neben Anrufen seiner Mutter):
"You know how to transfer?! How did they teach you that? I always drop the call…" (Harvey)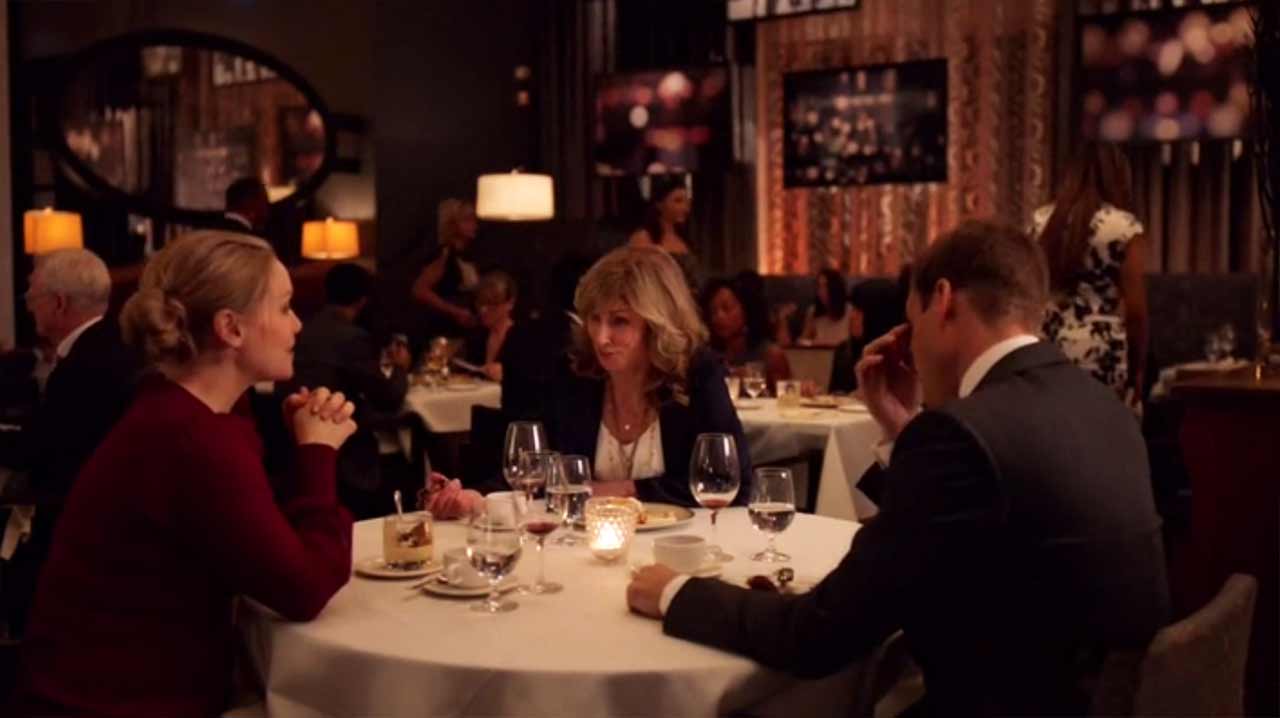 Eine Schwäche der Serie ist ja immer wieder, Figuren aus dem Nichts hervorzuholen, wenn sich gerade die (künstlich arrangierte) Gelegenheit dazu bietet. Weil das so oft die leichte Lösung ist, muss mal wieder "was mit Aktien" gemacht werden – also wird Stu besucht! Als wäre sie wöchentlich dort, weiß Donna ihn mit einer halbgaren Wundertüten-Weisheit utopisch leicht zu instrumentalisieren (aber wir haben ja auch keine Zeit!).
Das Ende der Folge hatte es nämlich durchaus in sich. Zunächst wird Harvey vor eine Entscheidung gestellt: Paula oder Donna? Was als Mini-Cliffhanger (Möglichkeit #1) funktionieren würde, wird natürlich kurzfristig gesteigert. Donna erhält ein von Harvey initiiertes Job-Angebot (Möglichkeit #2 für ein Episoden-Ende). Dann will sie es selbst mit einer Unterredung kitten, die sie aber total un-Donna-haft unsouverän gestaltet, da sie nichts versprechen kann (Möglichkeit #3).
Ach ja, und dann kündigt sie natürlich (Möglichkeit #4).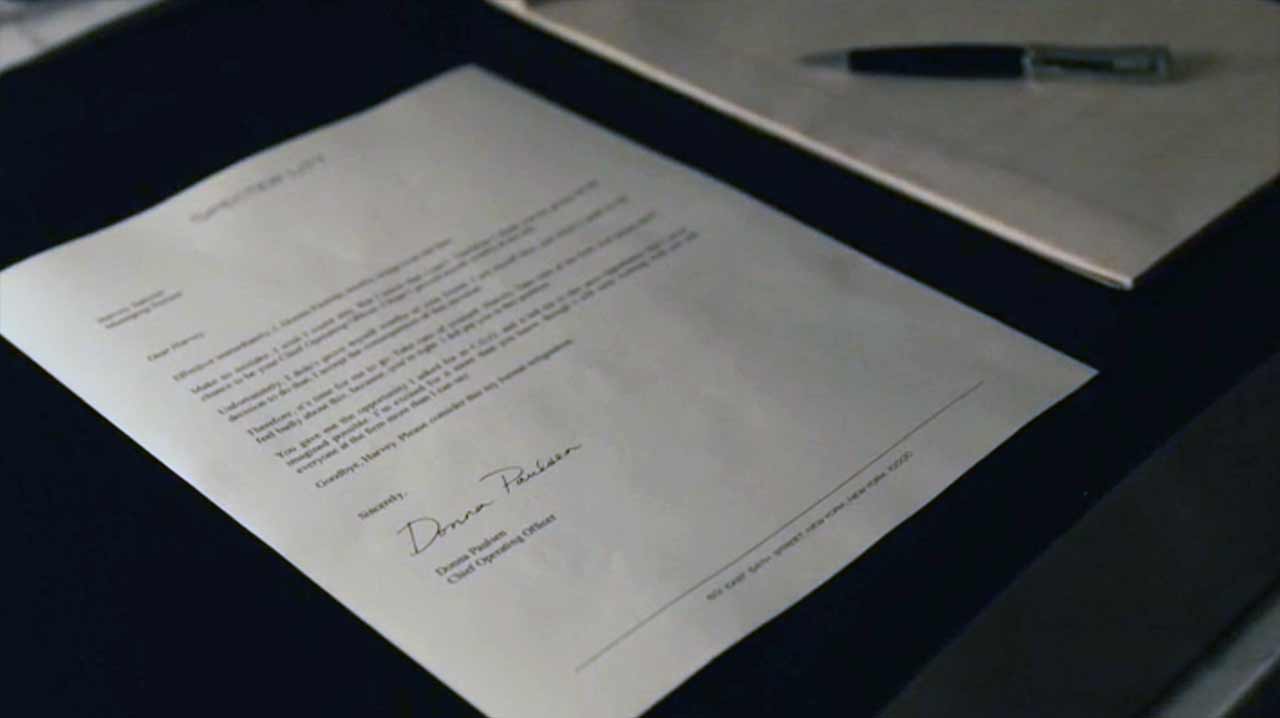 Aber nein, die Folge endet nicht etwa hier – das wäre ja nicht "Suits", wenn man den Turnaround des Turnarounds nicht noch direkt mit einbaut. Harvey wird sich seiner Gefühle klar, trennt sich von Paula und bespricht sogar noch alles mit Donna (keine wirklich gute Möglichkeit, aber das Ende).
"Are you okay?" – "Are you coming back?" – "Yes." – "Then I'm okay." (Donna & Harvey)
Wieso macht man keinen Cut beim Taxi-Einsteigen Harveys? Alle denken, er würde Donna hinterherfahren. Oder wenn man sieht, dass er bei Paula erscheint. Oder, wenn… Ihr merkt, ich sehe hier viel verschenktes Potenzial in der Dramaturgie. Abseits dessen hat die Folge entgegen meines Dauer-Gemeckers eigentlich ganz gut bei mir abgeschnitten. Eine 4er-Wertung fühlt sich falsch an, aber die Episode war unterhaltsam, hatte wichtige Entwicklungen für viele Figuren parat und einen Fall, der zwar mehr oder weniger nichtig war, aber ganz gekonnt in das Gefühls-Netz eingesponnen wurde.
Bullshit: Ein Jahr Island (während Staffel 8) und zum Ende der Serie gibt es eine Karte, auf der Rachel und Mike bekannt geben, nach San Diego gezogen zu sein?
Bilder: bravo