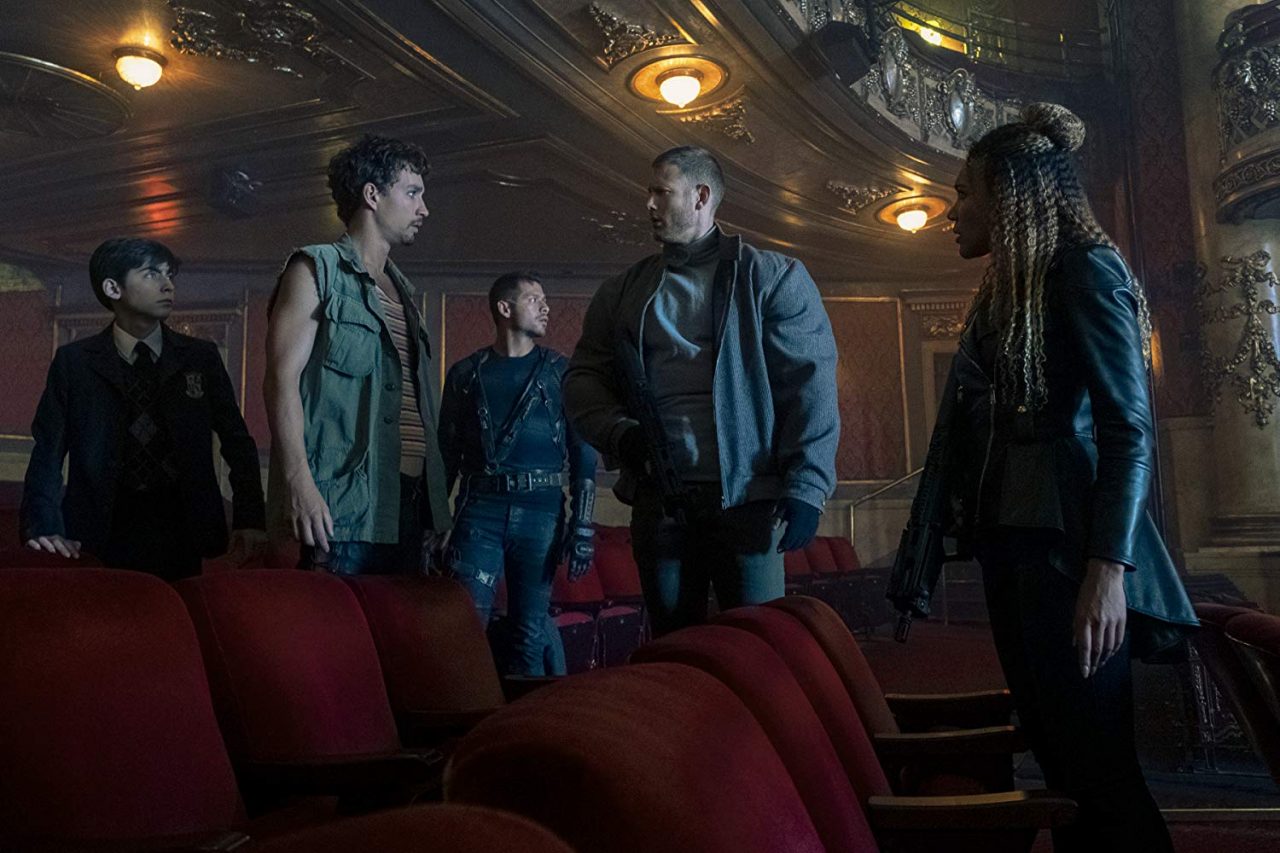 Comics zählen inzwischen seit Jahren zum Ideenfundus von Serienschöpfern. Es vergeht kaum ein Monat, an dem keine auf einen Comic basierende Serie erscheint. Neben den konventionellen Superhelden Formaten finden auch abgedrehte Stoffe, wie beispielsweise "Legion" oder "Happy!" ihren Weg auf den Bildschirm. Netflix hat jetzt die kultige Comic-Reihe "The Umbrella Academy" adaptiert und liefert damit einen gelungenen Mix aus Familiendrama und Superhelden-Action ab. In der Serie kommen eines Tages verschiedene Kinder auf unerklärliche Weise zur selben Zeit auf die Welt. Der wohlhabende Reginald Hargreeves adoptiert 7 der Kinder, die mit besonderen Fähigkeiten ausgestattet sind. Als er stirbt, kommen die als "Umbrella Academy" agierenden Geschwister, zu seiner Beerdigung wieder zusammen. Dabei warnt der Zeitreisende namens Nummer Fünf seine Geschwister vor einer drohenden Apokalypse und so müssen sich die ungleichen Helden erneut zusammentun, um das Schlimmste abzuwenden.
Showrunner Steve Blackman orientiert sich bei der Umsetzung des Comics von My Chemical Romance Frontmann Gerard Way, zwar an der Vorlage, reichert sie aber mit weiteren Facetten an – und das ist auch gut. Da ist zunächst einmal die Academy selbst, die für die Serie deutlich diverser gecastet wurde. Comic-Autor Gerard Way bedauerte in einem Interview, dass er nicht schon in seiner Vorlage mehr Vielfalt eingebaut hat.
Luther, der seit einem Unfall halb Mensch und halb Gorilla ist, hat die letzten Jahre alleine auf dem Mond verbracht. Auf der Erde gilt er zwar noch als Anführer der Academy, aber im sozialen Bereich wirkt er eher unbeholfen. Wenn er und seine Quasi-Schwester Allison, die in der Lage ist, Menschen ihren Willen aufzuzwingen, sich näher kommen, verhält er sich wie ein Teenager. Anders der durchgeknallte und drogenabhängige Klaus, der in der Lage ist mit Toten zu kommunizieren. Darunter auch dem verstorbenen Bruder Ben. Während einer Zeitreise verschlägt es Klaus in den Vietnam-Krieg, wo er sich in einen Soldaten verliebt. Zurück in seinem Zeitstrang fasst er den Entschluss eines Drogenentzugs. Der Draufgänger Diego ist der Waffen- und Wurfmesser-Experte der Truppe.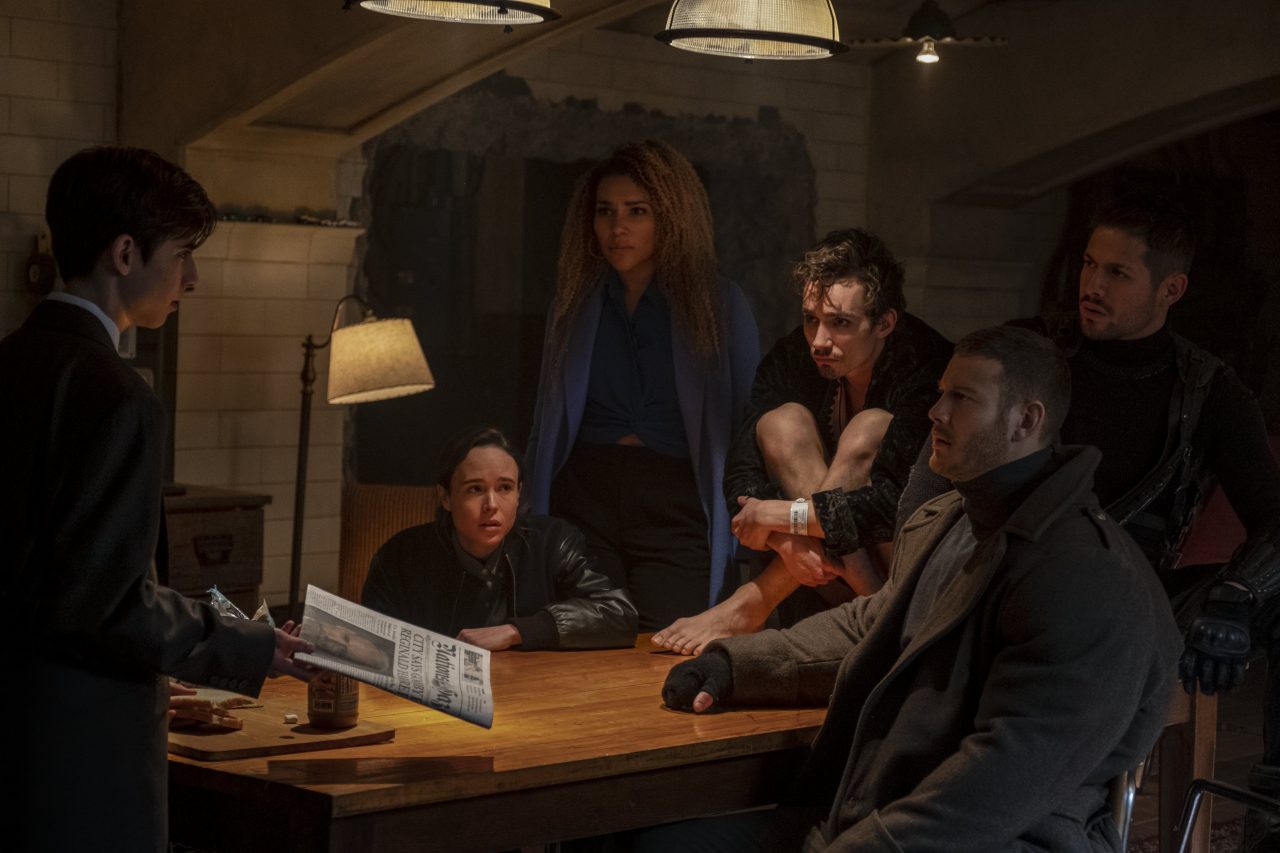 Fünf, der mit 13 Jahren die Academy verlassen hat, um in die Zukunft zu reisen, steckt bei seiner Rückkehr in die Gegenwart im Körper eines 10-jährigen fest. Dem Darsteller Aidan Gallagher gelingt es, trotz seiner jungen Physis, einen erfahrenen und vom Leben gezeichneten Mann zu porträtieren, der selbstbewusst seine Ziele verfolgt.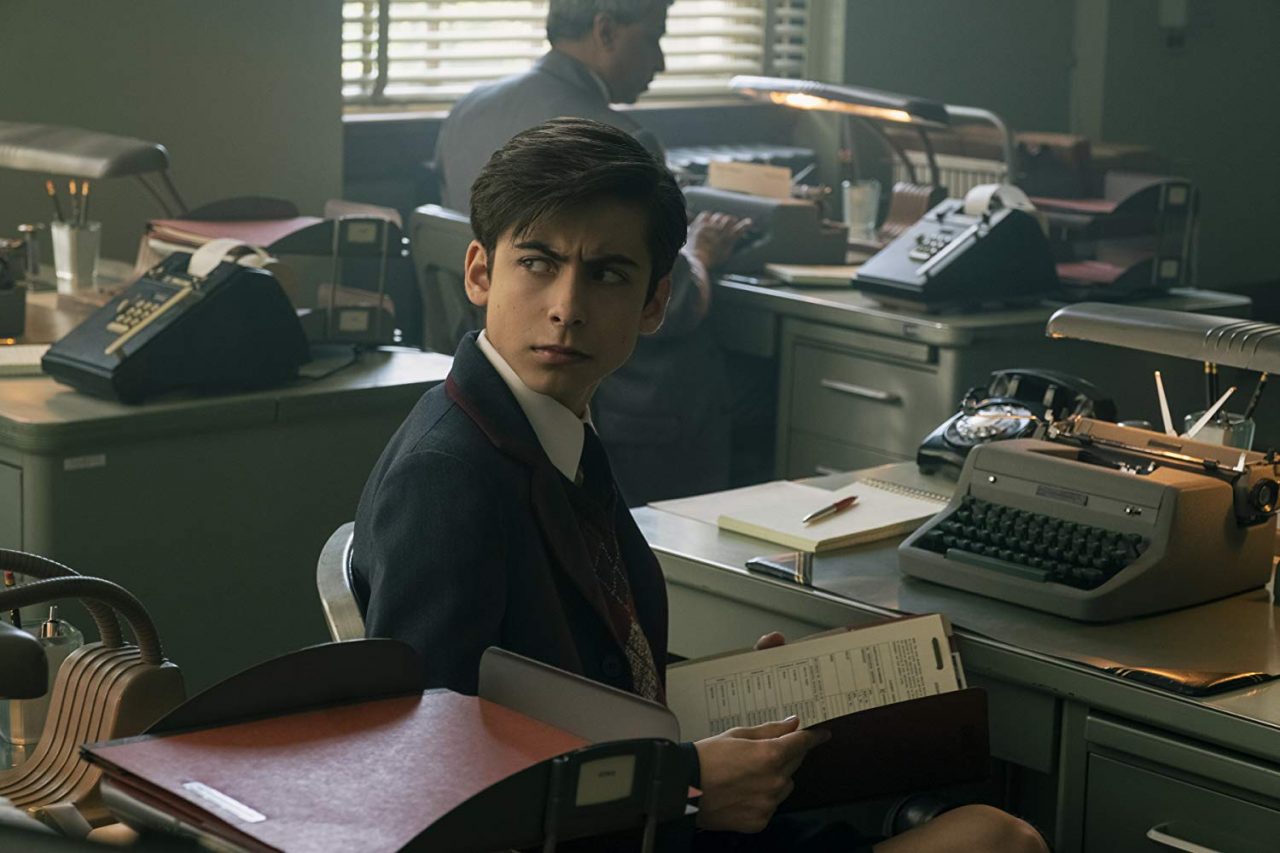 Und dann ist da noch die von Ellen Page dargestellte Vanya, die außer Violine spielen, scheinbar keine besonderen Fähigkeiten hat und ihr Leben lang darunter leidet, dass sie nicht dazugehört.
"If you're raised to believe if nothing about you is special, if the benchmark is extraordinary, what do you do if you're not?"
Erst im weiteren Verlauf entfaltet Vanya ihre wahre Bestimmung und ihre Rolle beim nahenden Weltuntergang. Die Entwicklung, die Vanya durchmacht ist es größtenteils, die einen gefiebert am Ball bleiben und die 10 einstündigen Episoden wie im Fluge vergehen lassen. Page spielt die Figur fantastisch. Von emotional zurückhaltend bis hin zu unkontrollierbar ergreifend.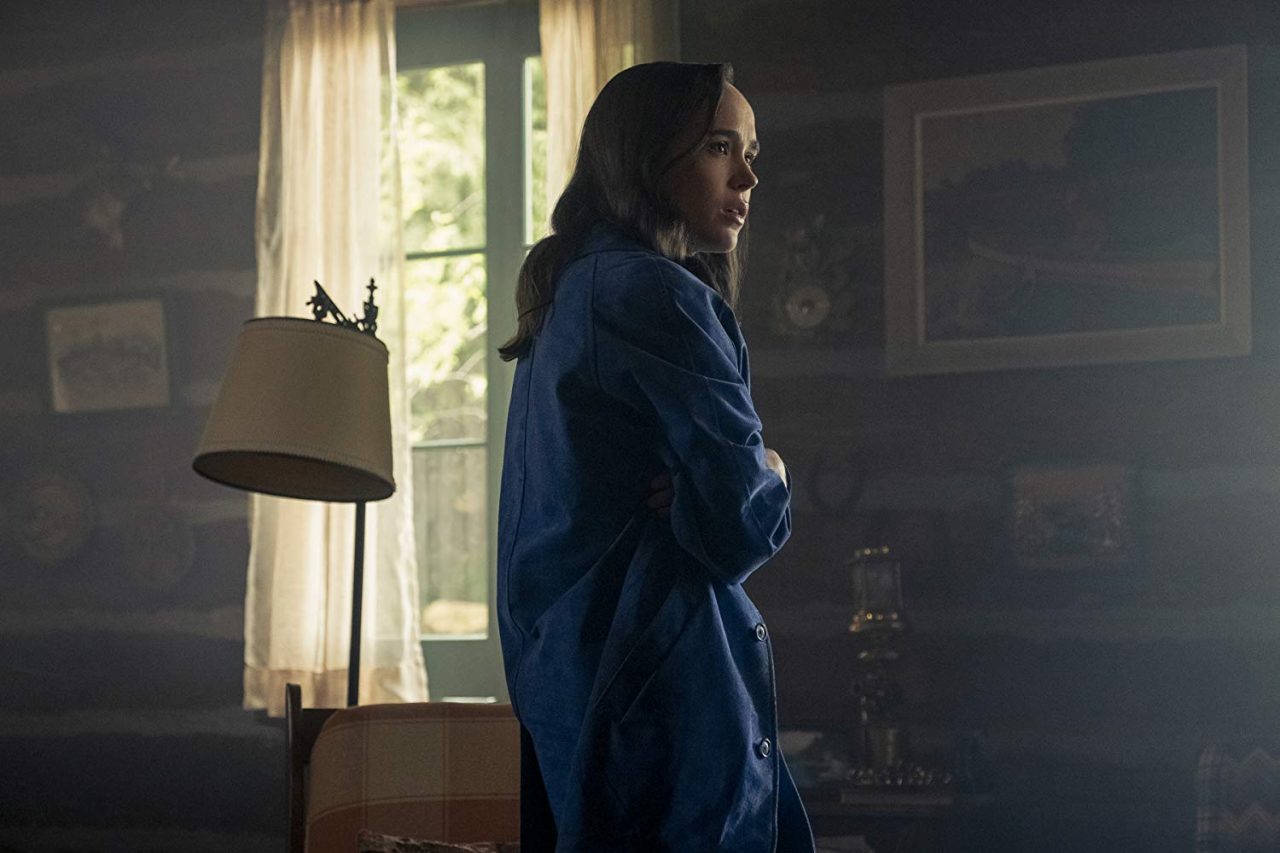 Was der Serie ebenfalls zugutekommt, ist der atemberaubende Look. Angefangen beim menschlichen Affen Pogo, der von den selben Machern, wie die neusten "Planet der Affen"-Verfilmungen stammt, über die toll ausgeleuchteten Szenen bis hin zum Set Design, das eine zeitlose Ära erschafft, die zwar vertraut wirkt, aber dennoch etwas entrückt.
Ebenso nennenswert ist die tolle Musik, mit der meist die Action-Szenen untermalt werden. Ob Queen, My Chemical Romance, die Sex Pistols oder Radiohead – mit jedem Ton schwingt eine gewisse Leichtigkeit in der Bedrohung mit. Aber auch in den schweigsameren Momenten überzeugt ein stiller Score aus Klavier und Geige und lässt einen tief in die Szenerie eintauchen. Die Superhelden-Mär zeigt parallelen zu den Mutanten der X-Men auf. Sei es Reginald Hargreeves als Mentor und Ziehvater oder die Thematik der Außenseiter. Was aber eine gute Helden-Geschichte noch ausmacht, sind die Schurken. In "The Umbrella Academy" machen sich die beiden Zeitagenten Cha Cha und Hazel auf, um Fünf zu ermorden. Die beiden werden von Mary J. Blige und Cameron Britton gespielt und sorgen immer wieder für witzige und skurrile Momente. Anders als in den Comics, zeigen die Killer in der TV-Serie auch eine sehr menschliche Seite.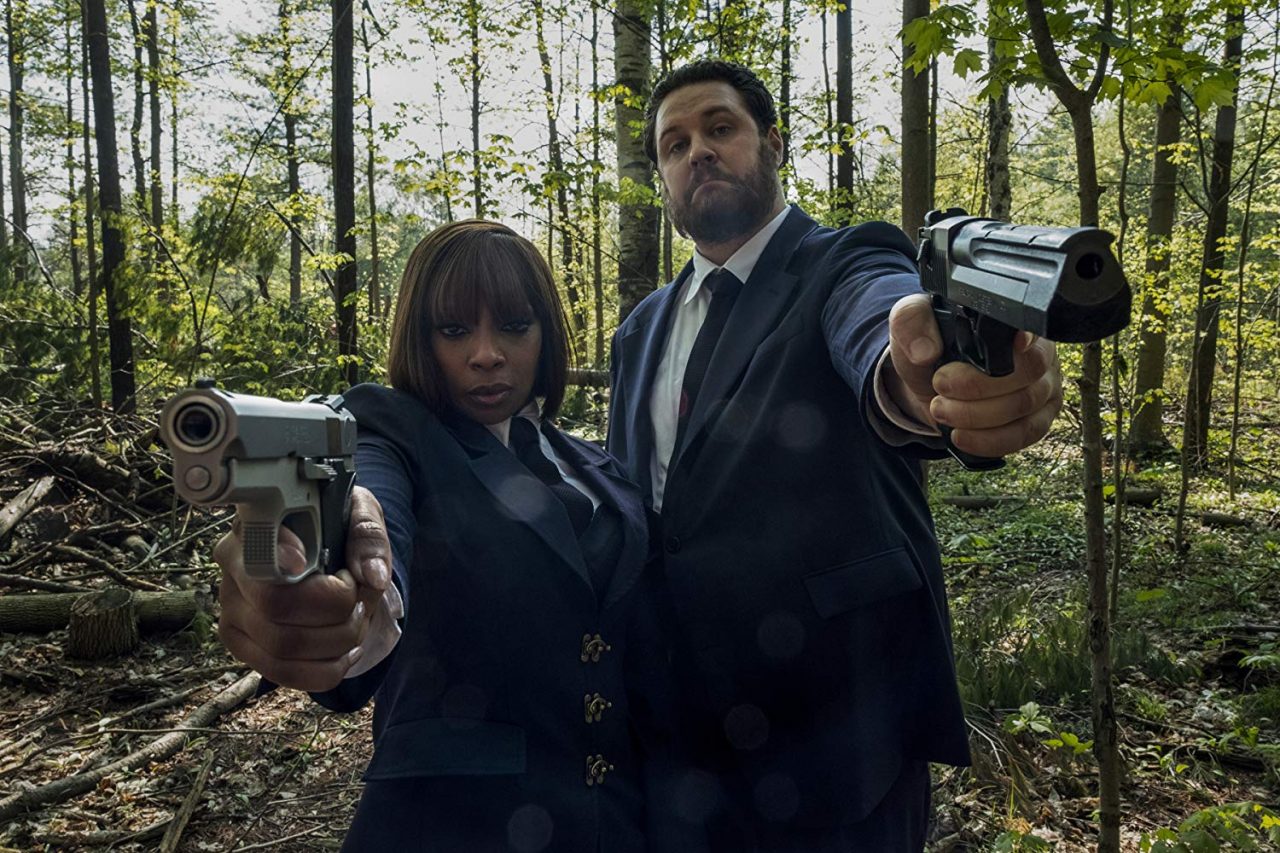 Bei all den Zeitreisen, Superkräften und Bösewichten steht dennoch die dysfunktionale Familiengeschichte im Vordergrund. Ich habe diese bizarre Familie jedenfalls jetzt schon fest in mein Herz geschlossen.
Fazit
Hervorragende Comic-Adaption, die durch vielseitige Figuren und stimmungsvolle Bilder auf ganzer Linie überzeugt.

"The Umbrella Academy" ist auf Netflix verfügbar.

Bilder: Netflix

-->