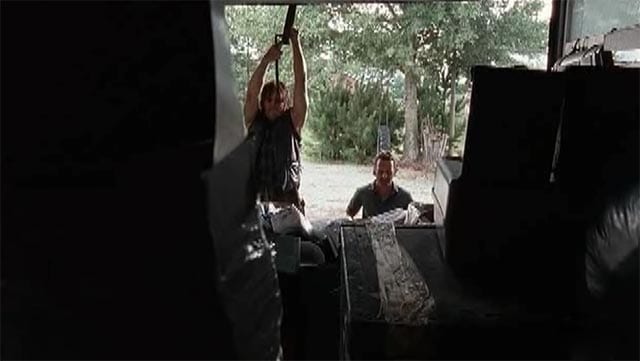 Nachdem "The Walking Dead" vergangene Woche sehr missmütig aus der Midseason-Pause gekommen ist, wird es diese Woche beinahe banal. Dabei wird zunächst ein durchaus dynamisches Stilmittel eingesetzt: ein kleiner Zeitsprung. Rick ist dünner, Carl wieder laufend und Michonne… Man weiß es noch nicht genau? Zumindest mal eine Mitbewohnerin der beiden. Bei Tara und Denise ist es da mittlerweile deutlich fortgeschrittener, aber auch die bleiben eine Randnotiz.
"That could change the game of our food situation from 'scary' to 'honky-tonky'." (Eugene)
Rick ist viel zu gut drauf – ist das eine Parodie?! Dass er und Daryl auf Essens- und Rekruten-Jagd gehen, wirkt etwas seltsam – was ist mit Glenn?
"Please don't!" (Daryl)
Das Tempo der Folge ist recht hoch, die Erzählweise zumindest beim Rick/Daryl-Strang sehr plakativ und hochgetaktet – im Gegenzug zur Story um Spencer. Dessen "Tat" ist durchaus als emotionaler Gegensatz im alten Stile zu sehen, die komplette Szene mit Carl und Enid war aber eher dämlich.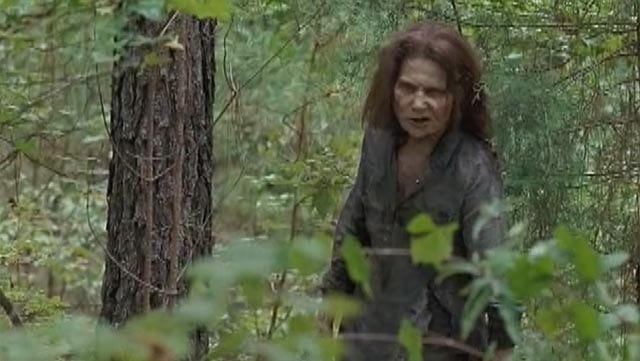 Aber yeah – Paul Rovia! Also, ich meine Jesus!!!! Auf den hatte ich mich ungemein gefreut und war doch etwas überrascht, dass er plötzlich herein gestolpert kam (obwohl es Timeline-technisch natürlich komplett passt und zu erwarten war).
"Maybe bring him back…" – "Nuh, he calls himself Jesus!" (Rick & Daryl)
Zum Glück können Rick und Daryl superschnell laufen – beinahe so schnell wie Jesus, der vermutlich so schnell wie ein Truck über Wasser laufen kann. Spätestens hier beginnt es, sehr haarsträubend zu werden.
"Do you even have any ammo?" (Jesus)
Schon fast Slapstick – ach was, das ist Slapstick und zwar deutlich zu viel. Dialoge, die auf recht billige Gags abzielen, unrealistische Lauf- und Story-Settings und klar doch, der Truck rollt ins Wasser. Wohin auch sonst?! Naja…
"It is pretty stupid of us to go out there, is it?" – "Yeah. Do it again tomorrow?" – "Yeah." (Rick & Daryl)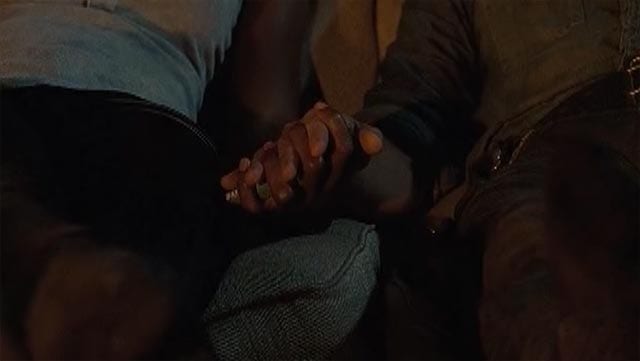 Und dann noch Romantik. Erneut ein Close-Up auf Hände, die sich halten, nur mit komplett anderem Setting. Natürlich muss dann noch die plastische Bett-Szene auftauchen, bei der wir sehen, dass Michonne und Rick noch die Gelegenheit und Zeit hatten, ihre ikonischen Waffen griffbereit zu positionieren. Das kommt natürlich gelegen, als ein Überraschungsgast im Schlafzimmer auftaucht…
"Rick, wake up. We should talk." (Jesus)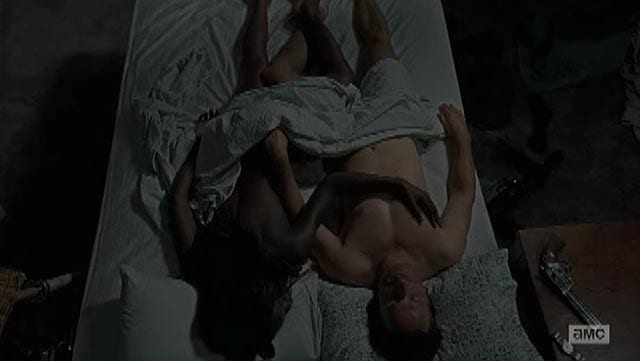 "Wach auf, Rick – die ganze Episode war nur ein Traum" möchte man denken. Seltsame Folge. Unterhaltsam, aber komplett im Bruch zu den anderen der bisherigen Staffel. Ein bisschen, wie bei der letzten Staffel Sherlock. Ungewöhnlich (und unpassend) viel Comedy-Anteil, dazu überall sich anbahnende Romanzen – das wirkt seltsam inmitten einer Staffel, sondern eher wie die erste Folge einer komplett neuen (wäre bspw. als erste Folge nach der Midseason-Pause interessant gewesen).

So lässt mich die Folge etwas ratlos zurück. Ja, das war irgendwie kurzweilig, aber das war nicht "The Walking Dead". Eine ganz und gar inkonsequente Erzählweise, Logik lassen wir ja eh seit geraumer Zeit außen vor. Am Ende bleibt der vielversprechende (und einiges nach sich ziehende) Eintritt von Jesus in die Gemeinschaft (inklusive erster Demonstration seiner "Fähigkeiten") und vielleicht ja dann doch ein emotionales Gegengewicht für das immer dunkler-düster-depressiver werdende Setting. Herrscht erst einmal gute Im-Auto-Mitsing-Laune, treffen und schmerzen die Negativ-Schläge umso mehr…

Bilder: amc

-->