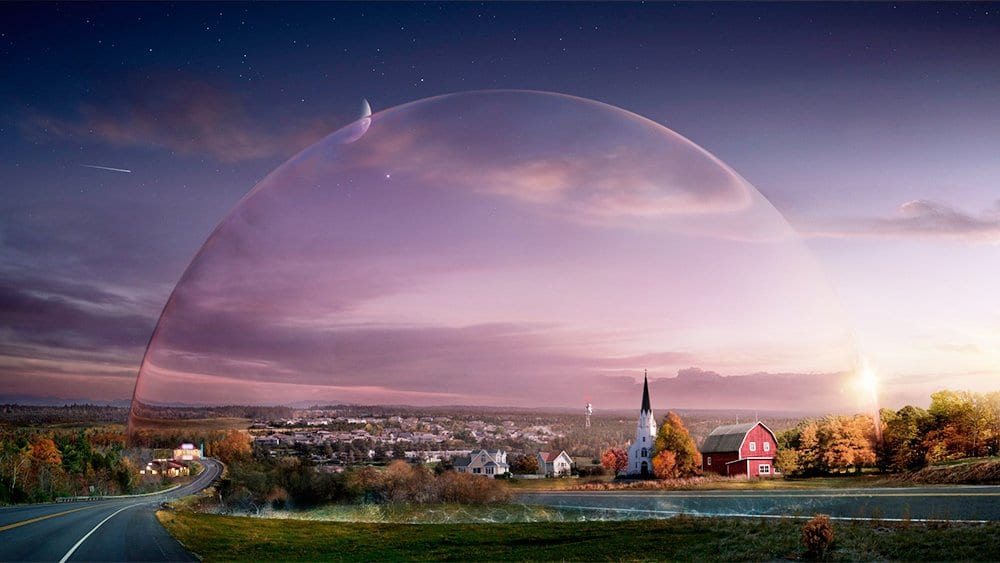 Nach vier Episoden, oder einer Woche im Serienuniversum, rückt der titelgebende Dome überrachenderweise in den Vordergrund. Aber das ist kein Grund zur Sorge! Die Soap geht trotzdem weiter, die Charaktere sind immer noch strunzdoof und unser Lieblingssubplot um Junior und seine Bunkerbraut fehlt natürlich auch nicht. Ich weigere mich eigenen zu glauben, dass ein so talentiert Mensch wie Showrunner Brian K. Vaughn, der u.a. für LOST erstklassige Episoden schrieb und Y – The Last Man verfasste, so schreckliche Dialoge fabrizieren kann, aber der Credit am Ende der Folge lässt keine Zweifel übrig. Dabei hat die Folge eigentlich ganz gut begonnen.
Da sind auf einmal ein paar tausend Schmetterlinge am Außenrand des Domes. Gleichzeitig bemerkt das Militär draußen die Schmetterlinge. Daraus schließt jemand, dass es was Elektromagnetismus zu tun haben muss und deshalb wird das Ding jetzt in die Luft gejagt. Macht Sinn. Kurz zuvor gibt es jedoch einen "Visitor Day", an dem die Verwandten vorbei kommen können. Es gibt zum ersten Mal wirkliche Interaktion zwischen draußen und drinnen. Man könnte nach dem Piloten direkt diese Folge gucken und man hätte nichts verpasst. Dann passieren natürlich wieder jede Menge dumme Dinge. Zum Beispiel taucht dort der Vater von Norrie auf und es gibt Drama. Wie wichtig ist das nochmal für uns? Dort ist ein Dome, der die Stadt absiegelt! Die letzte Respektsperson, unsere liebe Polizistin, ordnet Barbie noch an die Leute per Absperrung vom Dom fernzuhalten, nur um dann kurz darauf ihren Verlobten außerhalb zu sehen und dann DEN DOM ZU KÜSSEN!!! Der Typ hat dann auch ein Windows Tablet dabei; natürlich geht dieses elektronische Gerät ohne Problem, denn es ist super frech positioniertes Product Placement.
Immerhin kommt ein wenig Bewegung in die ganze Sache. Der Pastor bedrängt Big Jim wegen der Produktion von Drogen unter dem Dach des Stadtrates. Der Typ hört außerhalb "Moab" und schließt daraus etwas Biblisches, während Barbie weiß, dass es für M.O.A.B. steht – Mother Of All Bombs. Die wollen also den Dome mit einer Bombe beschießen. Macht Sinn, denn immerhin hat ja mal jemand von draußen mit einem Gartenschlauch den Dome angesprüht und jetzt waren da Schmetterlinge – DAS GEHT NATÜRLICH NICHT! Barbie glaubt, dass die Bombe den Dome zerstören wird und sie alle sterben. Daher verkriechen sie sich in diese Zementlabyrinth aus der Folge mit den schrecklichen Dialogen um Julia und Junior. Dieser ist im Übrigen jetzt Polizist. Ich weiß beim besten Willen nicht, wie man das noch retten kann.
Da man inzwischen nahezu alle Charaktere hasst, fehlt natürlich eine emotionale Bindung und es gibt keine Spannung. Und ohnehin… sollte die Befürchtung tatsächlich eintreten, wäre die Serie vorbei. Dann kommt die Bombe und sie zerschellt außerhalb. Das umliegende Land wurde komplett verwüstet. Der Pastor glaubt, dass sein Glaube die Stadt rettete, woraufhin Big Jim ihn gegen den Dome drückt und tötet. Aber das war noch nicht das Nervigste an der Folge: Big Jim entdeckte Juniors kleine Prinzessin ja im Bunker am Ende der letzten Folge. Sie zu befreien wäre jedoch zu einfach und offensichtlich, zunächst will er mit seinem Sohn darüber sprechen (weil sie ja das total umgängliche Verhältnis haben). Doch als dann alle glauben, dass der Untergang bald naht, lässt Big Jim sie gehen. Sie flüchtet natürlich direkt in ihr altes Haus – in die Arme von Junior, der dort schon auf sie wartet. Sie ist schon voll auf dem Stockholm-Syndrom-Zug aufgesprungen und liegt mit Junior im Arm wartend auf ihren Untergang. Immerhin ist sie aus dem Bunker draußen.
Schade, die Folge fing gut an und hatte auch mal etwas mit dem Dome zu tun, wobei alle Charaktere und Subplots sich auf einen Sachverhalt konzentrieren mussten. Doch dank der vorherigen drei Folgen und den Dialogen, die so dumm wie möglich gehalten werden für ein größtmögliches Publikum (immerhin hat die Serie hier Erfolg), kann keine Spannung aufkommen. Kontinuierlich wird der Subtext in die Dialoge verlagert: "You can't come with me." – "But you are my friend!" – "Okay." I rest my case.
Meine Meinung:
-->