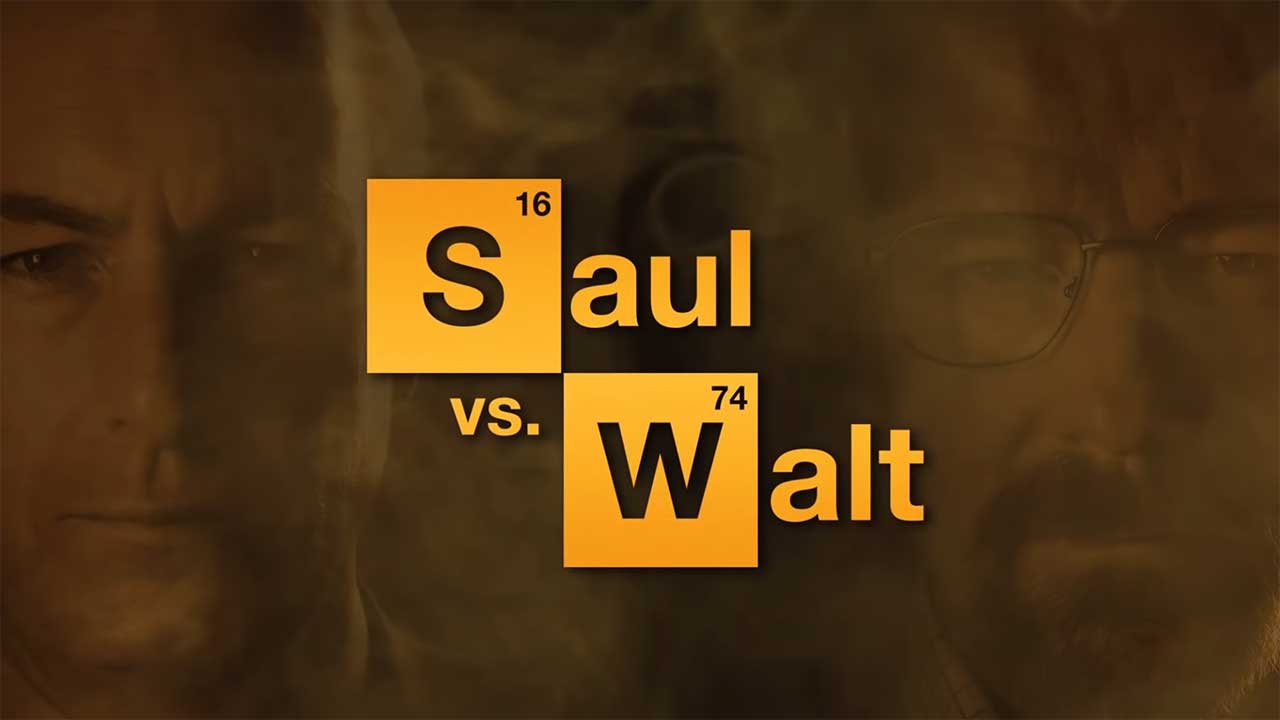 Gerade ist die fünfte und vorletzte Staffel "Better Call Saul" angelaufen (Reviews zu Episode 1 und Episode 2) und die Leute von The Take springen auf den Mini-Hype-Zug der Aktualität auf und gehen ein ganz großes Thema an: den Vergleich zu "Breaking Bad". Den gibt es natürlich seit Anbeginn des Prequel-Spin-Offs, hier soll es aber um eine zentrale Dimension gehen, nämlich die Hauptfigur schlechthin.
Was haben Walter White aka Heisenberg und Jimmy McGill aka Saul Goodman gemeinsam? Naja, zum einen natürlich das Künstler-Alias, vor allem aber eine Geschichte, die aus eigentlich normalen und gutherzigen Menschen Kriminelle werden lässt (wobei Saul meiner Meinung nach bei weitem nicht so böse ist und wird, wie Walt). Bei "Better Call Saul" wurde ja häufig kritisiert, die Serie sei vor allem zu Beginn zu langsam in ihrer Erzählweise gewesen, aber gerade in dieser fokussierten Charakter-Entwicklung sieht das folgende Video Essay einen gewichtigen Vorteil.
Spoiler-Hinweis: Es sind auch Szenen aus den bisherigen zwei Folgen der fünften Staffel zusehen. Keine Ahnung, weshalb die Leute das Video gerade jetzt raushauen und nicht knapp vor oder nach Ablauf der kompletten Staffel…
"Yes, we're doing an in-depth comparison of Saul Goodman and Walter White. What links the antiheroes of Better Call Saul and Breaking Bad, and how are they different? As Better Call Saul continues into Season 5, let's figure how just how much has changed since Breaking Bad first aired."
Ich finde, dass "Better Call Saul" die hohen Erwartungen bisher erfüllt hat. Natürlich fühlt es sich anders als "Breaking Bad" an, aber das hat auch einfache Gründe. Zum einen schließt es programmtechnisch an den absoluten Höhepunkt einer über Jahre immer intensiver werdenden Handlung an. Da wirkt ein beruhsamer Anfang natürlich gleich doppelt so langsam. Würde man nach "Better Call Saul" "Breaking Bad" beginnen, würde es einem vermutlich genauso gehen. Zum anderen hat sich die Serienproduktion in den wenigen Jahren nochmals verändert. Und letztlich wäre eine exakte Kopie nicht wirklich förderlich, auch wenn viele Leute Veränderungen eh erstmal per se doof finden. Letztlich hat sich "Better Call Saul" aber von Staffel zu Staffel entwickelt und ist auch inhaltlich immer näher zur Mutterserie gerückt. Ich bin mittlerweile sehr optimistisch, dass das Vorhaben im Zuge der noch knapp zwei ausstehenden Staffeln glücken wird.