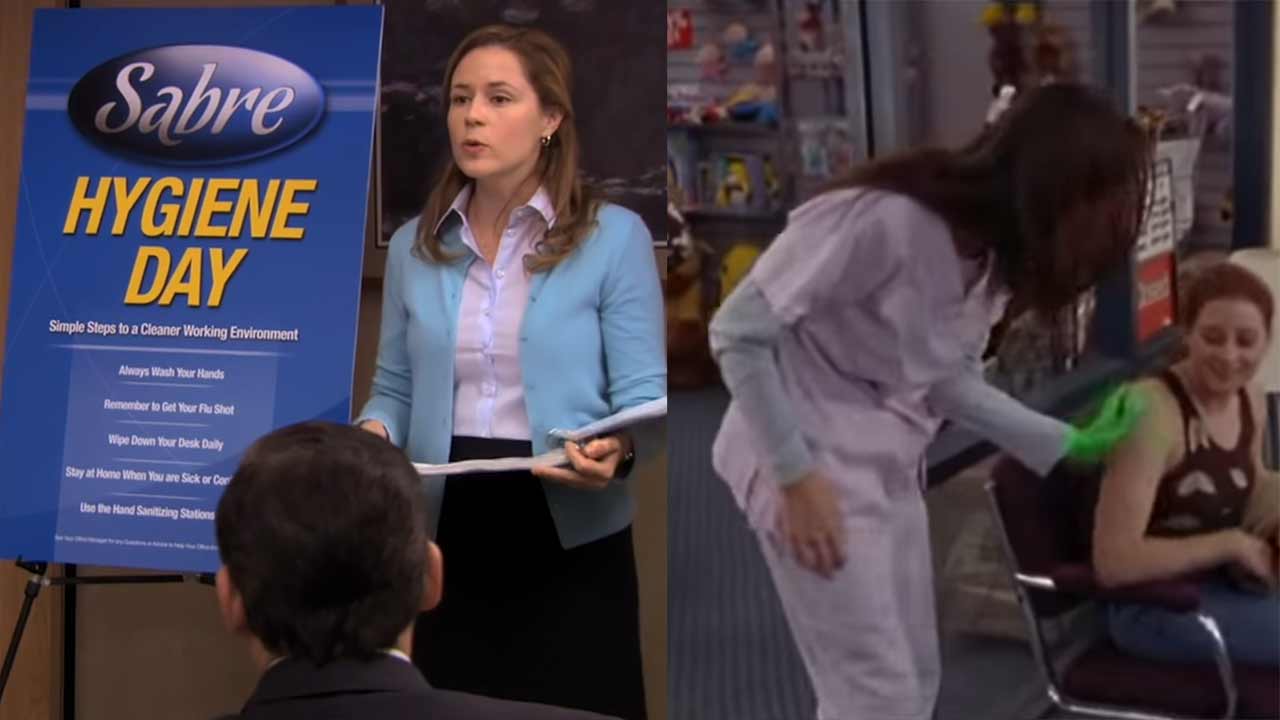 Aus gegebenem Anlass hat zuletzt ein altes Video aus "Scrubs" die Runde gemacht (oder auch "viral verbreitet", muaha…ha…), in dem durchaus gut und visuell erklärt wird, wie leicht und tückisch sich ein Virus verbreiten kann. Es kann definitiv nicht schaden, dass man sich das nochmal anschaut und am besten all jenen zeigt, die meinen, noch immer ihre Freizeit in geselliger Biergarten-Atmosphäre unter etlichen Menschen verbringen zu müssen.
Vor einigen Tagen hat dann noch der (meiner Meinung nach vortrefflich noch Jahre nach dem Ausklang der Serie arbeitende) YouTube-Kanal von "The Office" dieses Video gepostet, das sich der Materie in gewohnt anderer Manier widmet:
"TAKE NOTE if you want to (live forever) prevent the spread of disease. Season 7, Episode 7 'Christening' – Michael invites the office to celebrate the christening of Pam and Jim's baby; Andy and Michael join a youth ministry group on a bus bound for Mexico."
Was man daraus vor allem mitnehmen sollte: Händewaschen! Gründlich und regelmäßig, vor allem jedes Mal, nachdem ihr Kontakt mit anderen Menschen hattet. Ansonsten natürlich vor allem die soziale Distanzierung. Das bedeutet nicht, dass ihr mit niemandem mehr reden dürft, aber telefoniert oder skyped mit den Leuten und wenn ihr draußen seid, bleibt bitte auf Abstand. Und geht halt nur noch raus, wenn es sein muss. Sei des Arbeitsweg, weil ich schlicht kein Home Office machen könnt, der Gang zum Supermarkt, wo ihr bitte keine unsinnigen Hamsterkäufe tätigt, oder andere Verpflichtungen, die nicht aufzuschieben sind. Wenn wir alle nicht nur auf uns, sondern auch die anderen Acht geben, können wir die Riskierung gefährdeter Gruppen minimieren und vor allem einem kompletten Shutdown aus dem Weg gehen.
Und seht es mal positiv: Ihr könnt Menschenleben retten, indem ihr einfach Zuhause bleibt. Und endlich die viel zu lange Watchlist abarbeiten! Oder Reruns von "Scrubs" oder "The Office" einschieben…