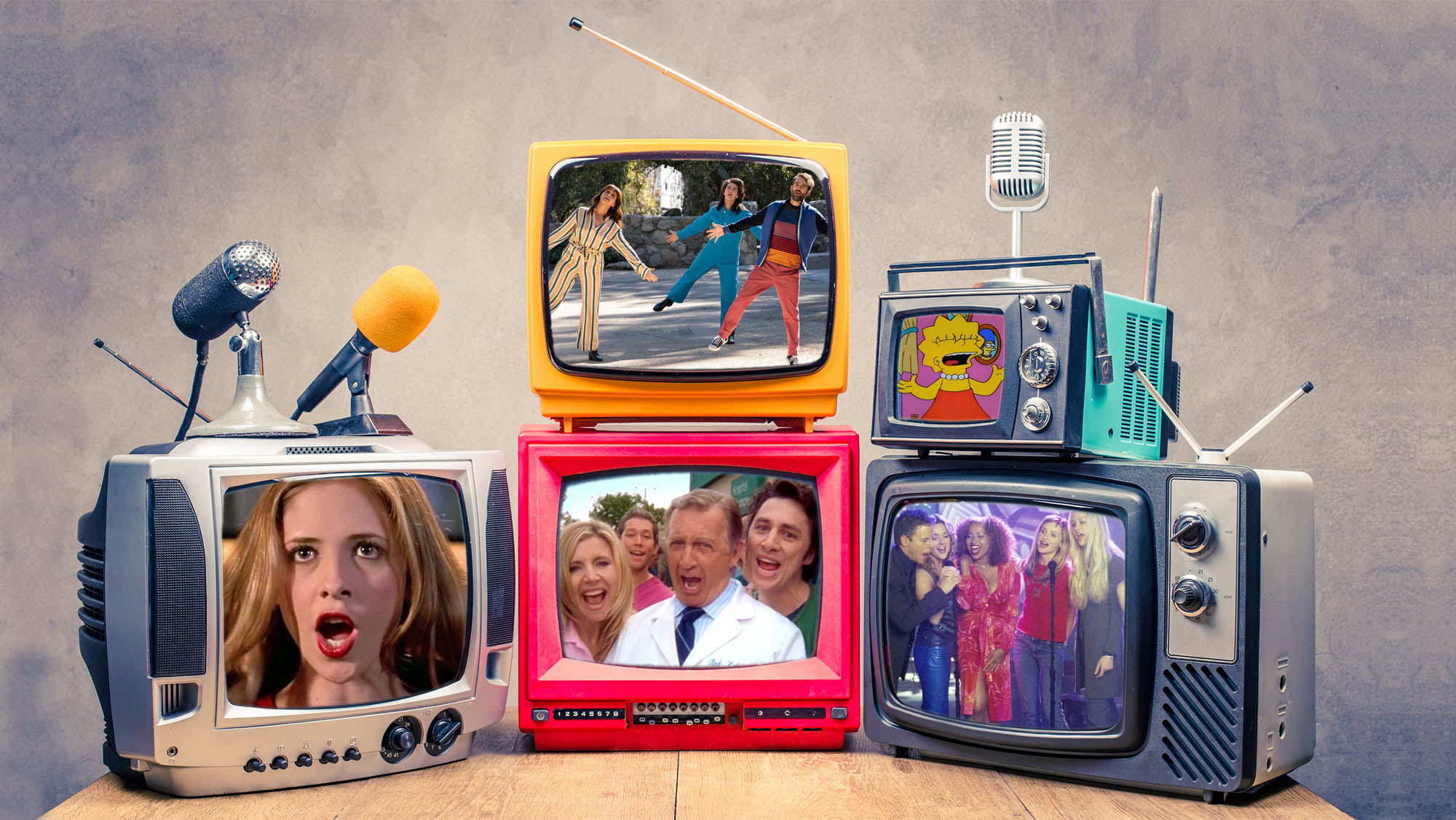 Ich muss zugeben, dass ich ziemlich überrascht war, als Amazon ankündigte, dass es von "Transparent" zum Serienabschluss eine Musical-Folge geben sollte. Ich fand's auch irgendwie doof, weil ich mir einen 'normalen' Sbschluss gewünscht hatte. Mittlerweile ist es aber so, dass der Soundtrack der Folge bei mir in der Dauerschleife läuft, obwohl ich nicht wirklich auf Musicals stehe. Aber: Die Sachen aus "Transparent" sind echt gut. Das hat mich dazu gebracht, mich näher mit dem Thema "Musical-Folgen" zu beschäftigen. Eine fiel mir sofort ein – "Scrubs". Und bei "Ally McBeal" hatte ich etwas in Erinnerung, aber da dort immer gesungen wird, hätte es auch ein falscher Eindruck sein können. Nach 'intensiver' Recherche kommen jetzt dann also die AWESOME 5 Musical-Folgen…
Scrubs – My Musical (Staffel 6, Episode 5)
Super Folge, das gleich zu Beginn. Eine Patientin wird ins "Sacred Heart"-Hospital eingeliefert, und als sie wieder zu Bewusstsein kommt, kann sie selbst sich nur noch singend artikulieren. Auch alle Krankenhaus-Mitarbeiter hört sie nur singend. Nur eine OP kann helfen – und das ist schön gemacht, weil auch nach der OP erst noch gesungen wird – aber nur zum Spaß. Definitiv eine Folge, die auch Nicht-Musical-Fans Freude bereiten wird.
Ally McBeal: The Musical, Almost (Staffel 3, Episode 21)
Ja, bei Ally McBeal wird viel gesungen, hauptsächlich allerdings von Vonda Shepard, die in der Bar am Piano sitzt. Dort greifen unsere Anwälte von "Cage & Fish" regemäßig zum Mikro, dazu kommen Gaststars wie Barry White oder Sting. Aber: In Staffel 3 fokussiert sich Showrunner David E. Kelly nochmal extremer auf das Thema Musik und lässt die Handlung singend vorantreiben, auch wenn es keinen besonderen Grund dafür gibt. Anders als zum Beispiel bei "Scrubs" oder "Transparent" gibt es hier keine eigens dafür geschriebenen Songs, sondern Pop-Klassiker. Ist dann auch nicht richtig Musical, da die Serie aber viel für Musik in Serien getan hat, würde ich sie gerne mit in die Liste aufnehmen.
Buffy the Vampire Slayer – Once More; With Feeling (Staffel 6, Episode 7)
Man kann sich ja fragen, warum sich Serienschöpfer Musical-Folgen einfallen lassen. Oft sind sie selbst Musical-Fans, und bei "Scrubs" ist es ja auch handungstechnisch ganz witzig. Statt eine einfache Füller-Episode zu schaffen, hat Joss Whedon bei "Buffy" allerdings tatsächlich die Serien-Handlung und die Charaktere ordentlich angeschoben und einige Konflikte angesprochen. Im Prinzip geht's darum, dass der Ort Sunnydale von einer Art Fluch heimgesucht wird, wodurch plötzlich alle Einwohner singen – und zwar Songs, die eben auch ihre größten Geheimnisse beinhalten.
The Simpsons – All Singing, All Dancing (Staffel 9, Episode 11)
Wie sicher nicht nur die Hardcore-Fans von "The Smpsons" wissen, wird auch in Springfield gerne mal geträllert. Es gibt aber auch eine echte Musical-Folge – in Staffel 9, was ja dann auch schon über 20 Jahre zurückliegt. Und der Grund für die Musical-Folge liegt in der Enttäuschung über einen Musical-Film: Homer hat sich nämlich einen Western ausgeliehen, in dem fleißig gesungen wird. Der Ärger verraucht aber schnell, als sich die Menschen in Springfield an ihre schönsten Musical-Erlebnisse erinnern – singend, natürlich.
Transparent – The Musicale Finale (Staffel 5, Folge 1)
Wie gesagt, ich war eher enttäuscht, als es hieß, wir würden eine Musical-Folge als Serienfinale von "Transparent" bekommen. Und die Folge fand ich dann auch 'nur' gut (Review siehe hier), im Gegensatz zu den teils exzellenten Folgen der Vorgänger-Staffeln. Danach habe ich mir aber nochmal den Soundtrack vorgenommen – und den finde ich einfach großartig. Allein das Finale "Joyocaust" – richtig gut gemacht. Im Prinzip geht's in der Folge darum, dass sich alle von Maura verabschieden, aber irgendwie wird's auch nochmal so eine richtig religiöse Geschichte. Lohnenswert ist es auf jeden Fall – Soundtrack wie Folge.

-->