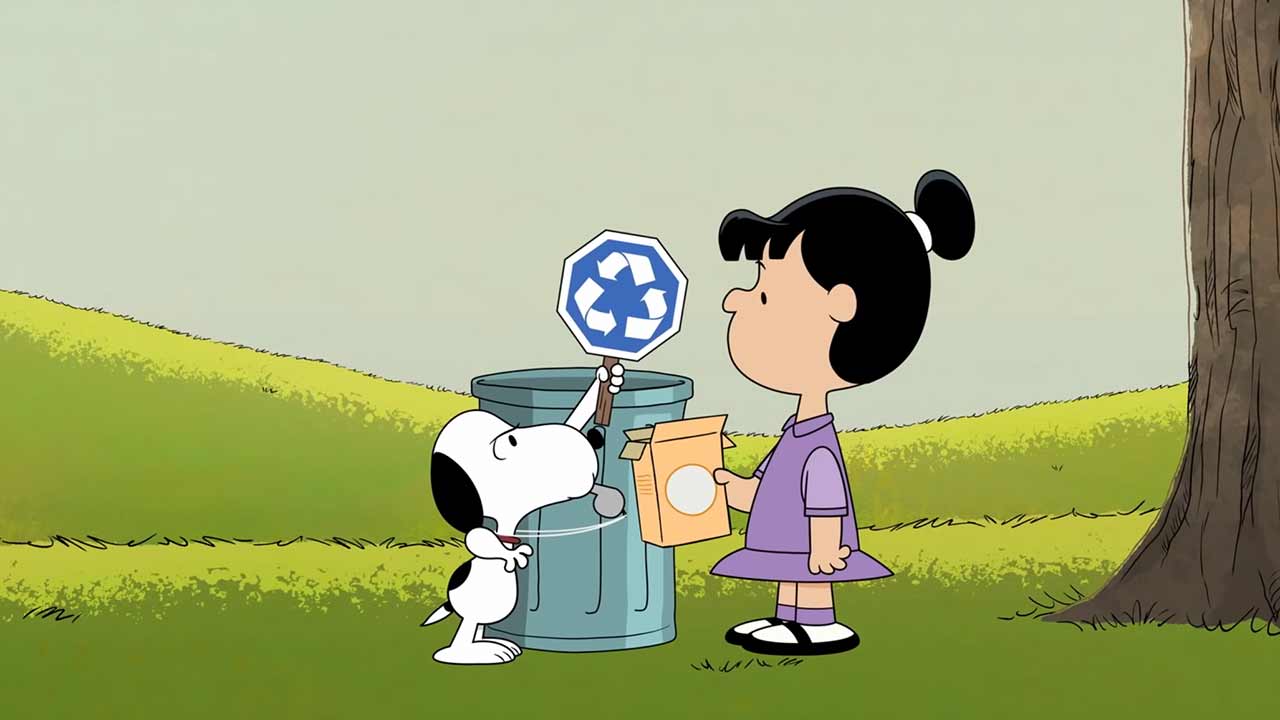 Nächste Woche Donnerstag, am 22. April 2021, ist mal wieder "Earth Day". Eigentlich sollte im Zuge des Klimawandels ja jeder Tag ein "Earth Day" sein, aber wir nehmen ja, was wir kriegen können… Jedenfalls hat sich die aktuell laufende Aktion "Take Care with Peanuts" entsprechend des Umweltansatzes dazu entschieden, ein Video gegen Wegschmeiß-Trends und für Recycling und Upcycling zu veröffentlichen. "Bitte nicht verschwenden: wiederverwenden!" heißt der Clip, der sich in eine Reihe gesellschaftlicher Apelle einordnet, die sich den Kategorien "Take Care of Yourself", "Take Care of Each Other" und "Take Care of the Earth" unterordnen lassen. Gute Sache!
Hier die vier bisher erschienenen Videos in deutscher Sprachausgabe:
"An diesem Tag der Erde sind Snoopy und die Peanuts-Bande hier, um dir zu zeigen, wie du dich um die Umwelt kümmern und einen Unterschied machen kannst."
"Was du zu sagen hast, ist wichtig! Zu Ehren des Historischen Frauenmonats (Women's History Month) hilft Lucy Marcie, ihre Stimme zu finden, und erinnert sie daran, auf sich aufzupassen, indem sie nie Angst davor hat, ihre Meinung zu sagen."
"Lerne mit der Peanuts-Bande, wie man sich füreinander sorgt! Charlie Browns Baum der Gefälligkeit lehrt uns, wie wir Liebenswürdigkeit entwickeln, indem wir etwas für andere tun. Sei gut und zeig, wie mans tut."
"Schließe dich der Peanuts-Bande an, um auf dich selbst, die anderen und die Erde aufzupassen! Take Care with Peanuts erinnert uns daran, innezuhalten und uns selbst, die Menschen um uns herum und diesen Ort, den wir unser Zuhause nennen, zu schätzen."
In den folgenden Wochen und Monaten werden noch ein paar weitere Clips auf dem YouTube-Kanal von Snoopy erscheinen:
"The 'Take Care With Peanuts' initiative, is a global multi-year enterprise encouraging everyone to 'take care'—of themselves, each other, and the Earth. The initiative draws on themes of wellness, community, and environmental engagement found throughout Charles Schulz's revered comic strip, and includes philanthropic outreach, social messaging, and educational activities. Children and communities are at the heart of each activation. As part of the campaign, Peanuts has created eleven 60 second social media messages, one each month, centred around a different theme to remind us to press 'Pause' and appreciate ourselves, those around us, and this place we call home all to inspire and motivate action. The video messages are available in 10 different languages."
Hier gibt es noch ein paar Aktivitätsbögen für Kinder und hier weitere Informationen zur Kampagne.