Dass Amazon im Seriengeschäft sehr aktiv ist, habt ihr sicher schon mitbekommen. Die Vorgehensweise ist dabei sehr interessant, denn es werden regelmäßig diverse Piloten produziert und veröffentlicht. Ausgehend von dem Zuschauerinteresse wird dann entschieden, ob dieser in Serie geht oder nicht. Das war so bei Bosch und ist nun auch bei "The Man In The High Castle" der Fall gewesen.
Quick Facts
Falls ihr nur wissen wollt, worum es grob geht und ob es sich lohnt, hier die Quick Facts: Die Serie spielt in einer alternativen Realität der 60er Jahre, in welcher die Nazis zusammen mit den Japanern die USA im zweiten Weltkrieg besiegt und erobert haben. Wir sehen das Schicksal von zwei Widerstandskämpfern, die sich gegen die Besetzung engagieren. Für Freunde von SciFi Drama, sicherlich eine spannendes Setting, welches gut umgesetzt und besonders durch die detaillierte Darstellung der alternativen Realität glänzt.
Inhalt
Die Serie "The Man In The High Castle" basiert auf einem gleichnamigen Roman von Philip K. Dick, der 1962 veröffentlicht wurde. Darin verschlägt es den Zuschauer in eine alternative Realität der 60er Jahre. In diesem Universum haben es die Nazis zusammen mit den Japanern geschafft, die USA im zweiten Weltkrieg zu besiegen und das Land in zwei Besatzungszonen aufzuteilen. Der Osten ist in der Hand der Japaner, der Westen wird von Nazideutschland okkupiert. Daher wird auch im Westen mit Mark bezahlt und im Osten mit Yen. Die Menschen haben sich damit arrangiert, alles ist mit Hakenkreuzen oder japanischen Zeichen und Namen versehen. Falls ihr mal das Spiel "Wolfenstein: The New Order" gespielt haben solltet; das kommt der Serie schon sehr nah – bis auf den Fakt, dass es keine Wunderwaffen oder sonstige wahnwitzige Nazitechnik gibt.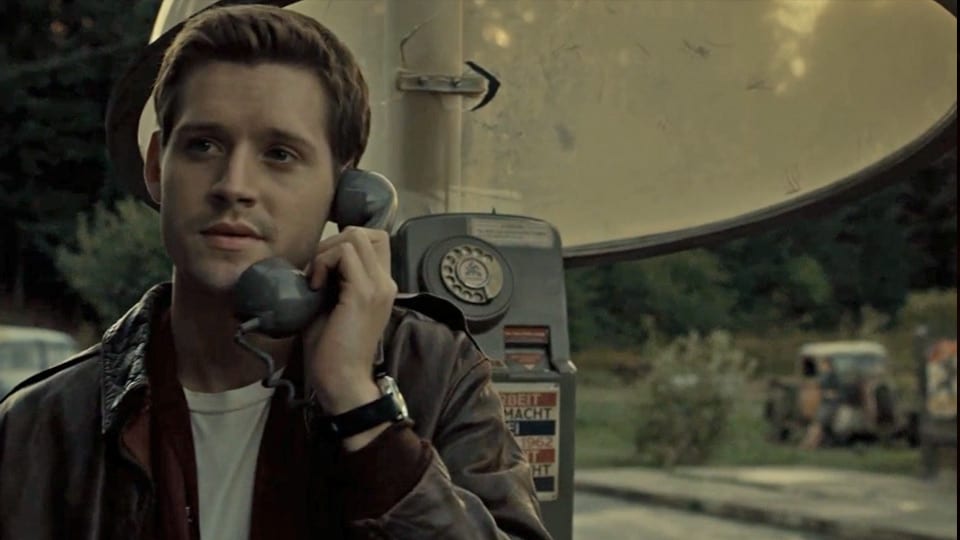 Die Handlung dreht sich zunächst um eine Widerstandszelle in New York, in der ein junger Mann namens Joe eintritt und den Auftrag bekommt, einen LKW durch das ganze Land zu fahren. Kurz bevor er aufbrechen kann, taucht ein Nazitrupp auf, er kann jedoch gerade noch so fliehen. Der Anführer der Zelle wird aber geschnappt und von da an brutal verhört.
Parallel sehen wir die Geschichte einer jungen Dame, Juliana, im japanischen Teil des Landes. Diese muss beobachten, wie ihre Schwester von japanischen Soldaten ermordet wird, nachdem sie von ihr in einer dunklen Gasse eine Tasche bekommt. In dieser Tasche findet sich eine Filmrolle, auf dieser sieht man Bilder des Sieges über Nazideutschland. Dies ist in dieser Realität aber nie passiert. Die junge Dame fragt sich also was das ist und was es zu bedeutet hat. Ihr Mann sagt, dass dies professionelle Propaganda Filme des Widerstandes seien – doch sie glaubt ihm nicht. Von da an übernimmt sie die Aufgabe ihrer Schwester und bringt den Film in Richtung Grenze zum deutschen Besatzungsgebiet, ganz so, wie es die Schwester vorhatte. Dort trifft sie auf den jungen Widerstandskämpfer Joe aus New York, der durch das ganze Land gefahren ist.
The Man in the High Castle Season 1 WW2 Americans | Prime Video
Spannend an der Geschichte, am Ende kommt heraus, dass Joe aus New York eigentlich ein Spitzel der Nazis ist.
Untermalt wird die Hauptgeschichte um Joe und Juliana von Erklärungen, in was für einer Welt wir uns befinden. Denn der Frieden und die Zusammenarbeit der Japaner und Deutschen stehen auf wackligen Füßen, Hitler ist krank und wird bald abdanken müssen. Sobald das geschieht, erwarten alle einen neuen Krieg, denn viele Nazis sind unzufrieden mit der Aufteilung der USA. Nach ihrer Meinung hätten sie mehr Land verdient gehabt.
Fazit
Die Serie hat ihren Charme. Ich mag diese alternative Realität und wie diese in Szene gesetzt wird. Wir sehen den Times Square mit Hakenkreuzen und Propagandaplakaten, dazu viel Hintergrundinformationen durch Unterhaltungen der Charaktere, wie dieses Universum funktioniert und wie es zu der aktuellen Lage gekommen ist. Hier merkt man, dass die Serie auf einem Roman basiert und sich so an einer detailreichen Geschichte bedienen kann.

Abseits der Geschichtsstunde über eine alternative Realität, sehen wir einen soliden Start einer mysteriösen Geschichte, welche die Frage aufwirft: Woher stammen die Filmaufnahmen, die den eigentlichen Hergang der Geschichte zeigen. Darüber hinaus fühlt sich der Pilot kaum wie ein Pilot an, denn es wird relativ wenig preisgegeben. Normalerweise würde man erwarten, dass besonders viel Story präsentiert wird, um die Serie zu verkaufen, doch dem ist nicht so. Die Episode weckt den Eindruck, als hätte man gewusst, dass es weiter gehen würde. Dies wiederrum macht es aber auch so schwer eine Bewertung abzugeben.

Was soll man von The Man In The High Castle halten? Nach den ersten 60 Minuten des Piloten wird erneut bewiesen, dass Nazis als Bösewichter immer funktionieren. Die Frage stellt sich, ob sich das über eine ganze Staffel tragen wird oder ob es das überhaupt muss? Das ist die Kernfrage, welche sich aber durch diese einzige Folge nicht beantworten lässt.

Ich freue mich, dass Amazon sich entschieden hat, uns mit einer kompletten Staffel zu erfreuen und uns Antworten zu liefern – denn ohne Fortsetzung wäre die erste Folge mehr als unbefriedigend.

-->