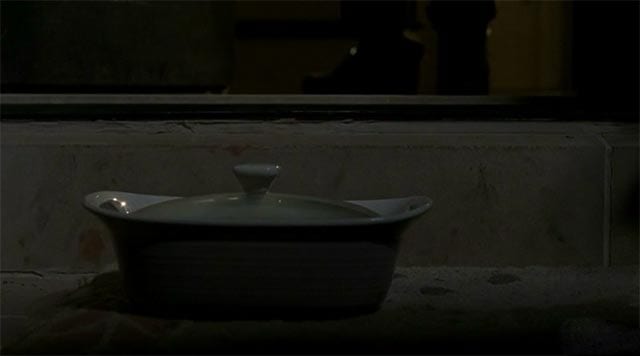 Dass in Alexandria mittlerweile bei Weitem kein Eierkuchen-Festival mehr stattfindet, war bereits letzte Woche zu sehen. Die Geschehnisse lassen die Bewohner nicht unbeeindruckt und führen schnell zu ordentlich Bewegung im Zwischenmenschlichen. Rauhe Töne gibt es da bereits zu Beginn. Wer hätte je gedacht, dass Nine Inch Nails bei The Walking Dead zu hören sein würden?!
Kekse sind mittlerweile Nudelauflauf gewichen. Diana hat jedoch keinen Hunger – oder sie hat zu viel Game of Thrones geschaut und hat Angst, dass er vergiftet ist. Jedenfalls kann der Tod eines Kindes sehr schnell das sehr schnell aufgebaute Vertrauen in Fremde wieder einreißen. Nur kurios, dass die gleichen Ereignisse auch das Vertrauen in die Fähigkeiten der Alexandria-Bewohner von Seiten der Rick-Truppe weggespült ist. Gekonnt wurde im Cross-Cut dargestellt, wie unterschiedlich die (geäußerten) Sichtweisen doch sind.
"These people have to go! They are not like us." (Nicholas)
"We are 'them'. We are now." (Glenn)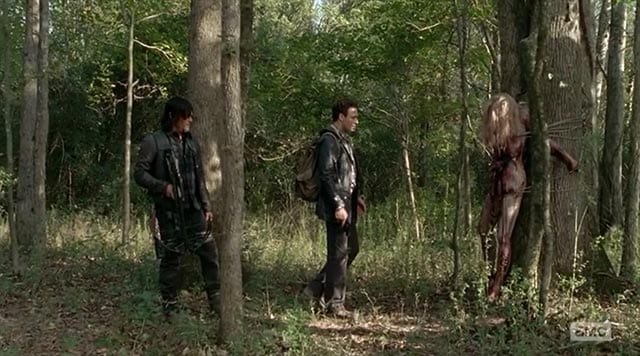 Während im Ort selbst erste Unruhen aufbrausen, gibt es endlich Spiel außerhalb der Mauern. Sasha ist im ersten Glockenturm-Einsatz und startet direkt mal einen Killing Spree. Sie geht in die Offensive und will alle Walker auf der Welt im Alleingang töten. Selbstmord mit Ambitionen nennt man das dann wohl. Dabei trifft sie einige W-Walker und unter anderem auf Michonne, die sich an ihr Schwert erinnert und kurioser Weise gar an die Szene, in der sie noch von einem Double anstelle Danai Guriras gespielt wurde.
"You can't help me. Nobody…." (Sasha)
Leichen mit einem "W" auf der Stirn finden auch Daryl und Aaron, dazu gar eine angebundene Dame, die auch von der Einstellung des Shots her sehr an True Detective erinnert. Und eben eine zerstückelte, die Gedanken an die "Wölfe" erstarken lässt. Wenigstens gibt es auch in der Apokalypse noch eine Form des "Seven Minutes in Heaven"-Schrankspiel unter Jugendlichen. Eine Tradition der Amerikaner, die vermutlich so alt ist wie die Todesstrafe.
"Warning someone to stop or die – that is civilized nowerdays." (Rick)
Wo wir beim Thema wären. Pete wird als möglichst charakterloses Monster dargestellt, damit wir auf Ricks Seite der Justiz-Sicht sind. Da reicht dann ein einzelnes Wort, um eine komplette Gesellschaft ins Wanken zu bringen.
"Yes." (Jessie)
Aus einer Prügelei wird schnell erschreckender Ernst. Rick zeigt sich dabei als deutliches Risiko, beinahe im Irrsinn behaftet. Die Anderen kennen ihn halt noch nicht so lange…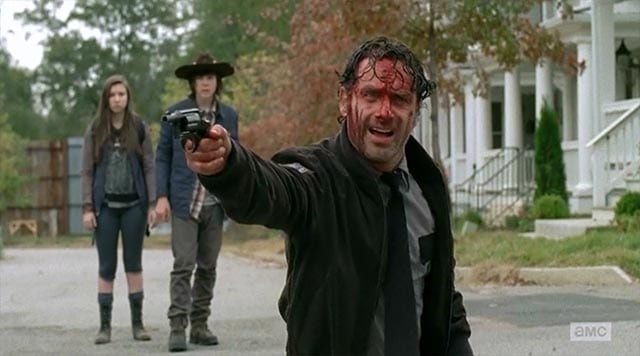 "Your way of doing things is done!" (Rick)
Okay, das mit Michonne kam unerwartet… Mitten in die schöne Rede. Zumindest für Nicht-Comicleser, denn in der Vorlage geht es etwa 1:1 zu in der Situation.

Auf die Folge habe ich mich gefreut, aber weil ich gespannt war, wie die Eskaliation der Situation dargestellt wird. Gerade der erste Macht-Austausch am Friedhof hatte jede Menge Spannung in sich, die letzte Szene natürlich aufgrund der Intensität und Emotionalität auch. Das war durchaus stark und insgesamt ist auch wieder einiges passiert und diese ständige "Wir alle haben uns lieb"-Ruhe ist endlich vorbei. Auch die "J"-Waffe, die Nicholas ausgegraben hat zeugt von weiterem Potenzial, war es doch die, die Rick "verloren" hat.

Die nächste und letzte Folge der Staffel trägt den vielsagenden Episodentitel "Conquer". Wir alle dürften erahnen können, was passiert. Und dann wären da ja noch die ominösen W-Walker, also der nächste Gegenspieler, der sich offenbaren wird.

-->