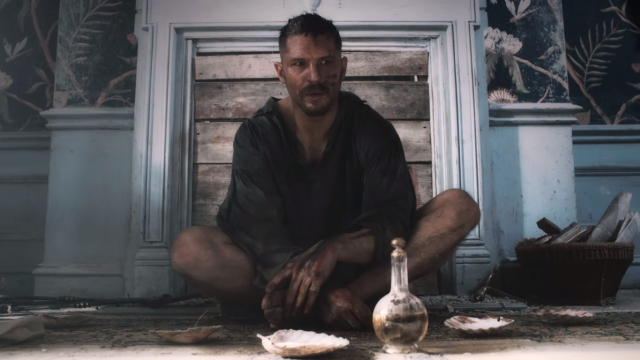 Tom Hardy kennen wir aus großen Filmen wie aktuell "The Revenant" oder auch "Mad Max: Fury Road". Und auch wenn er vorher bereits in Serien mitgespielt hat, wagt er sich nun das erste Mal als Autor – und Produzent – an das Format. Mit seinem Vater Chips Hardy entwickelte er die Idee für die achtteilige Mystery-Dramaserie Taboo.
Die Kollaboration von FX und BBC One spielt im Jahr 1814 und handelt von James Keziah Delaney (Tom Hardy übernimmt auch die Hauptrolle), der für lange Zeit in Afrika war und nun in seine Heimatstadt London zurückkehrt. Hier wurde er bereits für tot erklärt. Als er nun auch noch das Erbe seines verstorbenen Vaters, ein Schiffsimperium, antreten will, trachten ihm so manche um sein Leben. Doch während seiner Abwesenheit haben sich nicht nur die Geschäftspartner seines Vaters geändert, auch Delaney selbst scheint eine dunklere Seite zu haben, als sein Umfeld vermutet.
"You look the same."
"I'm not."
Neben Hardy selbst fungieren auch Steven Knight und Ridley Scott (The Man In The High Castle, The Good Wife) als Produzenten der Serie. Was jedoch merkwürdig ist: Der Trailer zu Taboo ist da. Die Serie wird jedoch aller Voraussicht nach erst 2017 ausgestrahlt.
Sonntag sehen wir Hardy dafür erst einmal bei der Oscar-Verleihung in L.A. – von der er möglicherweise mit einer goldenen Trophäe für seine Leistung als bester Nebendarsteller in "The Revenant" nach Hause kehren wird. Interessant ist, dass es in dem Film wie in der Serie auch um einen "Rückkehrer" geht – Hardy allerdings den Bösen spielt, der sich diesem in den Weg stellt.
via: TVLine Bild: FX