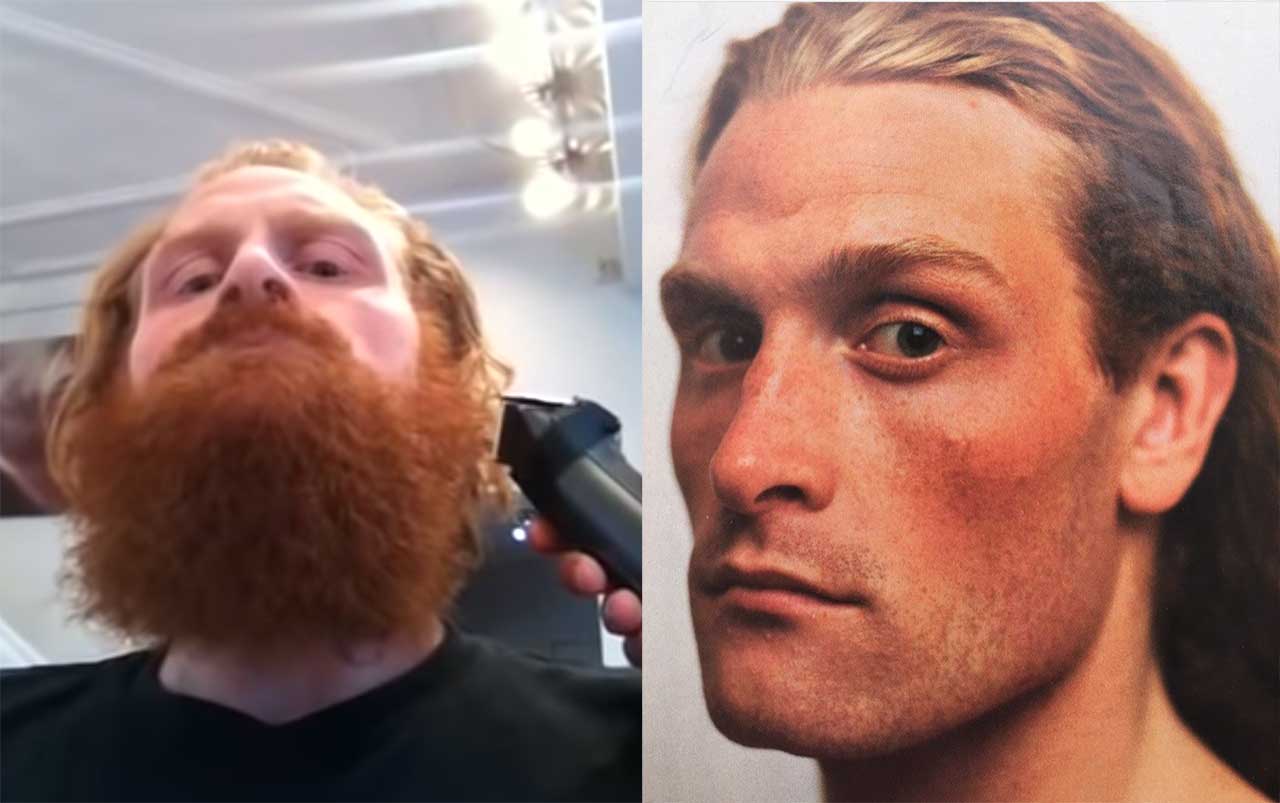 Okay, eigentlich machen wir ja keine an den Haaren herbeigezogenen (pun indended) Beiträge, deren einziger Serienbezug ist, dass die behandelte Figur halt mal mindestens fünf Minuten in einer zu sehen war. Aber zum einen ist gerade eh großer "Game of Thrones"-Hype, so dass ihr alle nicht genug davon bekommen könnt, zum anderen ist der Bart, den sich Schauspieler Kristofer Hivju über Monate (4 und 17 Tage, um genau zu sein) extra für die HBO-Produktion hat wachsen lassen, derart kultig und charakterisierend, dass es richtig weh tut, wenn der Rasierapparat sich der roten Kinn-Mähne nähert. Aber die letzten Dreharbeiten sind halt vorbei, die Serie endet in wenigen Wochen – Bye, bye! Im Büro seines Agenten hat Hivju eine Stylistin rangelassen und uns ein Abschiedsvideo vom Rasurprozess gedreht…
Haarsträubend, oder?! Man kann sich den wilden Tormund gar nicht ohne den gigantischen Bart vorstellen. Zum Glück war das nur ein Spaß – und der ist auch bereits fünf Jahre alt. Seitdem hat er den einfach mal so sprießen gelassenen Bart mit Stolz herum getragen. Bleibt natürlich die Frage, ob das nach dem offiziellen Ende der Serie und den letzten Promo-Terminen dann auch noch der Fall sein wird. Aber so ist er gerade ein absoluter Charakter-Schauspieler (dazu noch mit dem irren Blick!).
Aber wir wollten euch natürlich nicht ohne den Blick auf seinen blankrasierten Kiefer zurücklassen, ihr seid ja bestimmt dennoch interessiert. Et voilà! Zum Glück handelt es sich auch hier um eine (nochmal) ältere Aufnahme. Puh!
Und wo wir bei Bärten und "Game of Thrones" sind, ist Khal Drogo nicht weit. Der mittlerweile eher als Aquaman bekannte Jason Momoa hat seinen Bart nämlich wirklich kürzlich rasiert. Und auch wenn es optisch eher einen schlechten Effekt hat, ist es doch für den guten Zweck geschehen:
"Goodbye DROGO, AQUAMAN, DECLAN, BABA! I'm shaving this beast off, it's time to make a change. A change for the better…for my kids, for your kids, the world. Let's make a positive change for the health of our planet. Let's clean up our oceans and our land. Join me on this journey. Let's make a switch to INFINITELY RECYCLABLE aluminum. Water in cans, NOT plastic."
Das war unsere Beauty- und Gossip-Ecke für diese Woche.
via: reddit