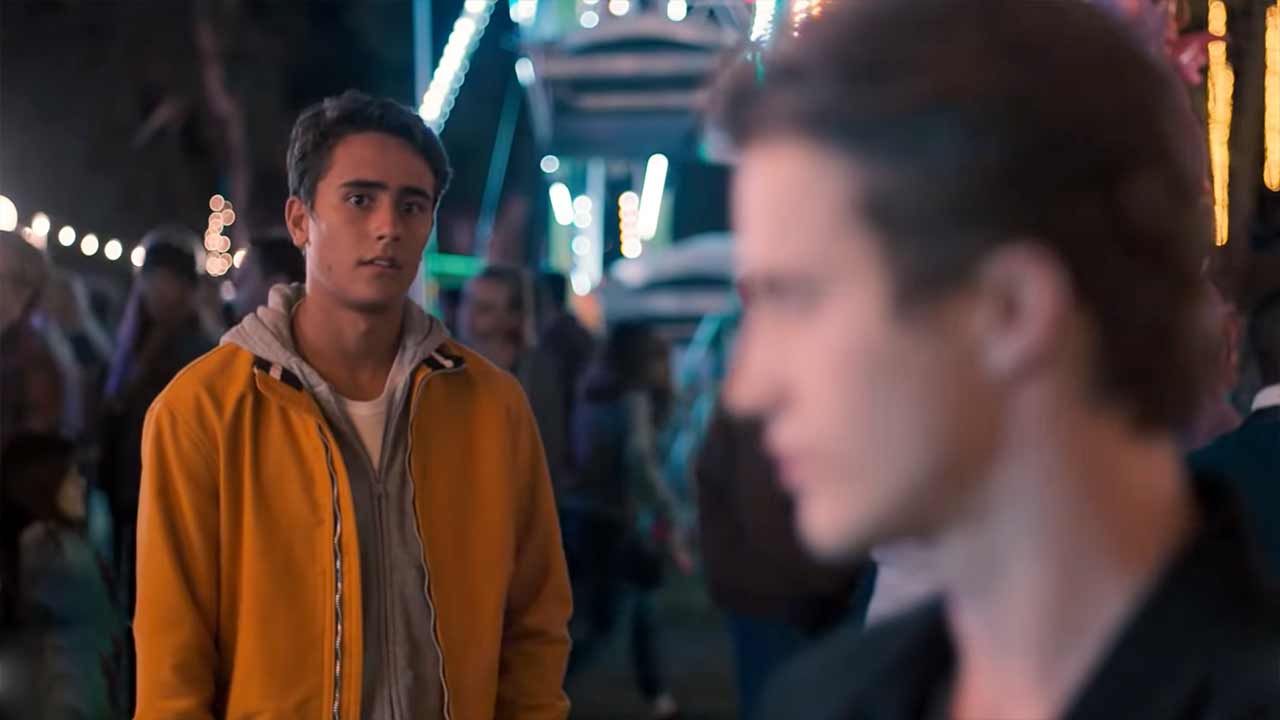 Kennt ihr den Film "Love, Simon"? Kein Spektakel-Kino, aber eine süße Geschichte mit Herz, ein bisschen Humor und vor allem gesellschaftlicher Relevanz. Darin geht es um Simon (Überraschung!), der homosexuell ist (schon eher eine Überraschung) und vor dem öffentlichen Outing steht. Angefacht wird alles durch einen Mail-Austausch mit einem geheimen anderen Schwulen an der Schule, den er auf spielerische Art und Weise ausfindig machen will. Die Macher des Filmes haben jetzt auch eine Serie gemacht.
"Love, Victor" wird mit der ersten Staffel (hier kann man sich ja durchaus ein Anthologie-Format vorstellen) auf Sendung gehen. Das Konzept wird offenbar aber nicht einfach kopiert, sondern gar inhaltlich auf "Vorgänger" Simon Bezug genommen und auch entsprechende Schauplätze tauchen wieder auf. Der erste Trailer geht gerade rum und ich bin mir noch nicht sicher, ob der Reiz des "Originals" hier nicht etwa ein bisschen abgegangen zu sein scheint…
"Set in the world of the 2018 groundbreaking film LOVE, SIMON which was inspired by Becky Albertalli's acclaimed novel, Simon vs. the Homo Sapiens Agenda, the series follows Victor, a new student at Creekwood High School on his own journey of self-discovery, facing challenges at home, adjusting to a new city and exploring his sexual orientation. When it all seems too much, he reaches out to Simon to help him navigate the ups and downs of high school."
"Love, Victor" wird ab 19. Juni auf Hulu in den USA zu sehen sein. Noch ist unklar, ab wann und wo die Serie dann regulär in Deutschland zu sehen sein wird. Ursprünglich war das Format auch in den USA für Disney+ vorgesehen, doch hat man sich wohl dazu entschieden, dass es nicht familienfreundlich genug ist, will man dort ja gewissermaßen einen seichten FSK12-Ponyhof errichten. Fraglich, ob "Live, Victor" dann international auf der neuen Streaming-Plattform laufen wird, oder wir uns bis zu einem eventuellen Europa-Start des Hulu-Dienstes gedulden müssen.
Wer zur Vorbereitung auf den Serienstart nochmal oder erstmals den vorangehenden Film "Love, Simon" sehen möchte, der kann das hier machen:
"Love, Simon" gibt's bei: