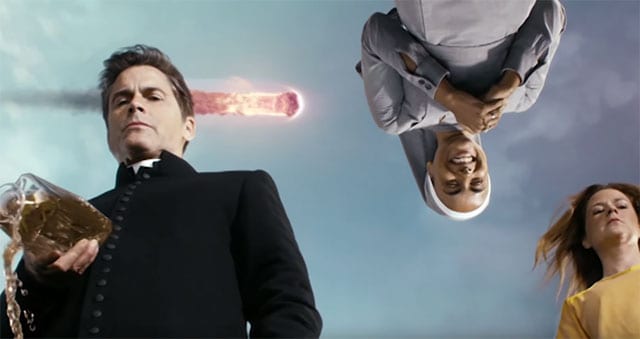 Da kommt etwas auf die Menschheit zu! Nein, kein lebensbedrohender Meteorit, sondern ein neues Comedy-Format. You, Me and the Apocalypse ist nicht etwa das Prequel zu The Last Man On Earth, könnte aber ähnlich viel Potenzial rund um den Weltuntergang mitbringen. Die britisch-amerikanische Co-Produktion zwischen Sky 1 und NBC wird bereits morgen die letzten Tage der Menschheit einläuten.
34 Tage bis zum Ende
"The end of the world – bring it on!"
Die Story ist dabei eigentlich recht simpel: Ein Meteorit soll mit großer Sicherheit auf der Erde einschlagen und alles Leben darauf vernichten. Die Apokalypse naht, das jüngste Gericht erscheint, wir machen es den Dinosauriern nach. In genau 34 Tagen. Bis dahin spielt die Welt eben verrückt – und jeder auf seine ganz eigene Weise. Im folgenden Clip von Sky 1 bekommt ihr von den Machern und Darstellern einige weitere Informationen zur groben Handlung und Idee dahinter:
Mit dabei sind also auch Jenna Fischer (The Office US) und Rob Lowe (The West Wing). Bis Anfang Dezember wird es insgesamt zehn Folgen geben. Ich bin gespannt und freue mich drauf. Britischer Humor im Bezug auf den nahenden Weltuntergang? Das kann durch nur unterhaltsam werden!