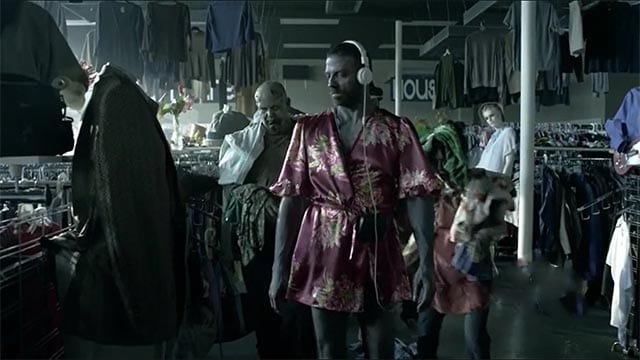 Letztes Jahr lief da diese "zweite Zombieserie" an und hat schnell klar gestellt, dass es um billige Splatter-Momente und (in Gedanken) spaßige Situations-Utopie geht. Aus diesen Gründen habe ich die wöchentlichen Rezensionen nach Folge 4 eingestellt. Ein Fehler? Jedenfalls hat mich die Staffel vor allem gegen Ende dann doch ganz gut unterhalten. Man brauchte sich eben nicht über jeden Firlefanz aufregen (wie bei TWD), weil es eh einfach alles Unsinn ist! Dazu waren ein, zwei erstaunlich tolle Konzeptfolgen darunter, wie die eine, in der der Eine die Eine immer wieder retten wollte… Insgesamt also doch okayes Zombiefutter.
Ob ich jetzt diese Staffel durchhalte, wage ich zu bezweifeln, aber ich wollte diesen Beitrag zum einen dazu nutzen, noch einmal zu sagen, dass Season 1 zwar dämliche Unterhaltung, aber eben Unterhaltung war, und dass die zweite Staffel gestern begonnen hat. Daher ein kleines mittelspoilerschweres Review dazu.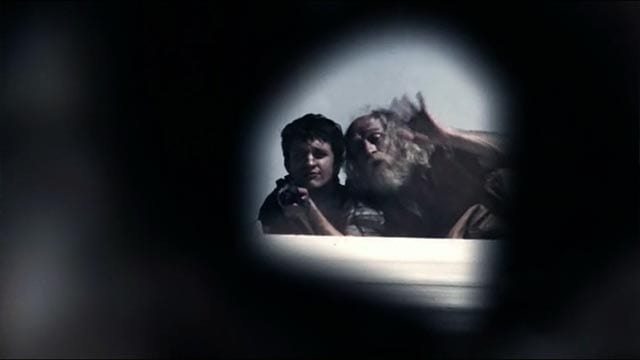 Es geht los mit einem richtigen Knall, dem auch der gute alte Kühlschrank-Move nicht standhalten kann (deutlich mehr Realismus in der Serie als man denkt!). Recht schicke Slowmo-Einführung in die Staffel. Dazu ein neues Auge im Intro. Grün, die Farbe der Hoffnung. Oder so. Murphy sieht aus wie ein Schornsteinpfleger-Schlumpf und Addy hat mit dem Frauen-Zombie-Bär-Kult abgeschlossen und sich im Erstellen von Aluminium-Baseballschläger-Antennen spezialisiert.
"They are not my zombies. I would never own them…" (Murphy)
Murphy und seine untote Shopping-Entourage war eigentlich ganz nice! Ebenso der Double-Kill! Warrens letztes Aufbäumen hat es in sich. Etwas viel Slowmo-Kram und die letzte "Teilung" war sowas von drüber, aber naja… Aber dass auf einmal alle Leute diese Durchsagen hören, die scheinbar vorher kein Schwein mitbekommen hat? Nicht wirklich sinnig…
"I've been working on my zombie whispering." (Murphy)
Wenigstens erhalten wir die Erkenntnis, dass Zombie-Lesben nicht wirklich sexy sind… Hätte ich mir vorher denken können. Ebenso, dass natürlich alle wieder zusammen finden, wie könnte es auch anders sein?! Das hätte ich mir etwas länger gezogen gewünscht.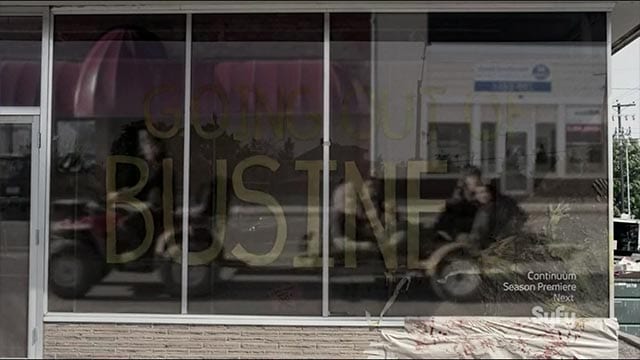 "Didn't you get the memo? The apocalypse means never to have to say, you're sorry." (Murphy)
Abschließender Gedanke: Nein, das mit dem Feuerlöscher haben die nicht wirklich gemacht, oder?!
Der Einstand war eigentlich ganz okay, was vor allem an Murphy lag. Der Fallout wurde witzhaft inszeniert (mittlerweile laufen ja alle wieder normal herum), das Einschanzen von Citizen Z und die Bewegungslosigkeit seines Hundes sind Blödsinn und viele Kills zu dämlich inszeniert – aber das gehört wohl einfach dazu.
Am Ende steht eine klassische Intro-Folge, die die Richtung für die nächsten Episoden klar macht. Anti-Murphy einfangen und Wegstrecke gutmachen. Mal schauen, ob das dann rezensionswürdig sein wird…
Bilder: SyFy