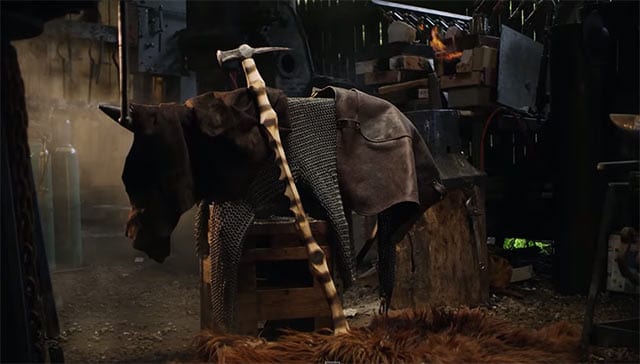 Hm, so ganz überzeugt mich diese Episode nicht. Zunächst hatte ich gedacht: yay, wir bekommen mehr über Michonnes Schwert und Daryls Armbrust zu sehen! Dann habe ich mir gedacht, dass alle Waffen in der Serie ja eigentlich total unspektakuläre Massenwahre sind. Ein Schwert ist ein Schwert (wenn auch ein selten gutes, aber es müsste einfach so gekauft werden). Die Armbrust liegt für etwa 300 Dollar im Walmart-Regal. Und weitere Waffen? Ein normaler Hammer, viele Schusswaffen. Hm…
Also machen die Schmiede einfach einen Wettkampf unter sich, wer die beste Zombie-Waffe erstellt. Heraus kommen also drei Waffen, die ideal für das Überleben in der Zombie-Apokalypse geeignet sein sollen und auch hinsichtlich ihrer Tauglichkeit getestet werden. Auch wenn so nicht wirklich eine direkte Nähe zu The Walking Dead besteht, bleibt es unterhaltsam. Dennoch finde ich es charmanter, wenn Waffen 1:1 nachgebaut werden (wie bei Jon Snows Longclaw) oder zumindest adaptiert (wie bei den Turtles).
"This week, Sam, Matt, and John create the ultimate zombie killer weapons, and we put them to the test! Zombies beware!"
Spoiler-Info: eine Mini-Szene von Beginn der 5. Staffel wird gezeigt, ist aber nicht soo dramatisch.
via: geeksaresexy