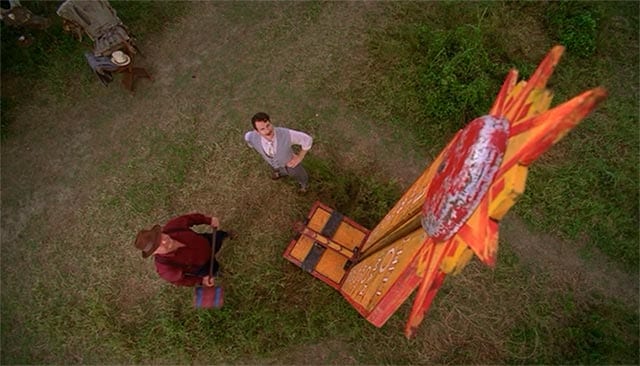 Leider bewahrheitet sich zunehmends meine Befürchtung. Die "Freak Show" bleibt ein storytechnisch ungemein zerfahrenes Puzzle, das komplex sein möchte, aber oberflächlich wirkt. Sehr schade drum, denn das Setting könnte deutlich mehr hervorbringen. So bleibt es inkonsequent und irgendwie handzahm.
Zur Handlung diese Woche: Jimmy erkennt, dass Dandy gerne Clown spielt und überzeugt Doppelkopf, mit ihm zu kommen. Aus dem Rückschritt versuchen Bette und Dot etwas für sich heraus zu schlagen und bringen so wenigstens Dinge für den angeblichen Hollywood-Agenten ins Rollen. Strongman wird von Selbigem derweil dazu erpresst, einen der Freaks zu liefern. Aber wieso wählt er die am schwersten zu bezwingende und tragende aus?!
"Who's the Strongman now?!" (Amazon Eve)
Immerhin menschelt er dann doch soweit, dass er seinen eigenen Sohn nicht umbringt. Halt ein wahrer Herzenskerl! Ein wenig Humor konnte dann tatsächlich durch die Trunkenbold-Szene gelingen, das war es dann aber auch. Ansonsten müssen wir uns ein zwar textlich gut reinpassendes, zeitlich und gesanglich dafür umso unpassenderes Cover von Nirvana geben – ne, das muss nicht sein.
"Dot, look in the mirror! We make the perfect before-and-after picture." (Bette)
Wenigstens kann Ma Petit keine Leute mehr erschrecken, indem sie aus Dingen hüpft…
Mehr oder weniger Stillstand bei Dandy wirkt dazu, dass es fad wird. Es fehlt der direkte Gegenspieler, Stanley ist zwar ein netter Charakter, strahlt aber keine wirkliche Gefahr aus. Dazu ist alles viel zu sehr im Kleinklein verhaftet, wirklich "Übersinnliches" oder Horrorschrecken kommt eh schon lange nicht mehr auf. Wie war das noch mit dem Ende mit Schrecken anstelle des Schreckens ohne Ende…?