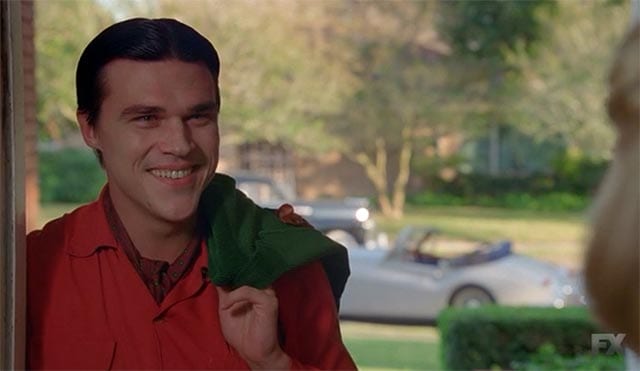 Diese Woche demonstriert American Horror Story, dass es auch ohne Übersinnliches durchaus verstörend sein kann. Die Tiefen Abgründe in den Menschen selbst reichen dazu vollkommen aus. Geht doch! Ein verzweifelter Dandy trifft zunächst auf unsere Wahrsagerin, die ihn nur beinahe an der Stimme wieder erkennt. Nach einer durchaus fies-morbiden Fantasie (und einen wortwörtlich kopflosen Einstieg) kommt ihm Jimmy jedoch auf die Schliche (auch wenn ihm niemand Glauben schenkt und die anderen Freaks sogar gehen?!).
"I'm going to destroy you and everything you love. It will be so much fun!" (Dandy)
Nur gut, dass Jimmys Ärgerniss mit der neuen Lebensfreude von Dandy einhergeht. Hausfrauen treffen sich zur Befriedigung ihrer Tupperdosen-Lust – und auf Dandy. Der kann plötzlich ganz schön charmant sein und erstaunlich un-soziopathisch in den Dialog treten. Natürlich mit Hintergedanken. Dieses Mal hat der Folgentitel jedenfalls keineswegs enttäuscht (eat this, last week!). Eine Einnahmenquelle weniger für Jim. Dafür eröffnet sich ein mehr als lukratives Nebengeschäft für einen Polizisten.
"I am a god." (Dandy)
Nebenbei ergibt sich, dass keiner mehr so recht Lust auf Doppelkopf hat. Selbst Bette würde sich im Falle des Falles für ihre Schwester aufopfern. Dann der erneute Sinneswandel, dass ein flotter Dreier ja noch besser wäre (3 > 2, oder so). Jimmy liebt jedoch bereits jemand anderes – den Alkohol. Wegen unterlassener Liebesleistung muss er nun ins Gefängnis. Hat er halt davon! Schlimmer läuft es eigentlich nur für Strongman Dell, der erfährt, dass auch Stanley ein Freak ist. Bei dem grausigen Anblick vergisst er, eine Computerfirma zu gründen und hängt lieber in seinem Trailer ab.
Eine deutlich bessere Folge als zuletzt. Es ist einiges passiert, es war dramatisch und vor allem konnte die Serie endlich wieder mit gekonntem Schnitt und grausamen Bildern schocken. Dazu gab es durchaus Humorzu sehen bekommen, kann nicht schlecht sein. Hoffen wir, dass das nur der Anfang für ein furioses Staffelfinale ist. Ein Dandy in der Form macht jedenfalls endlich wieder Spaß!