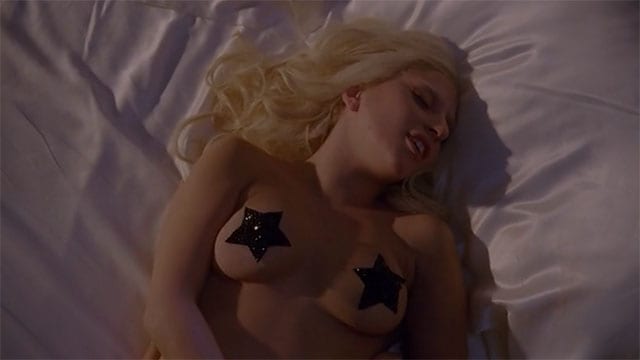 Bevor ich beginne, mich über diese Folge in Worten zu langweilen – das Artikelbild hier?! Ich weiß noch immer nicht ob ich den sternbeklebten Oberkörper von Lady Gaga nun ästhetisch oder abstoßend finden soll, aber es ist ja irgendwie unsere journalistische Pflicht, auch denen diesen beinahe exklusiven Anblick zu bescheren, die die Serie gar nicht verfolgen. Habe ich wieder eure Aufmerksamkeit? Okay – los geht's!
"I will not be damaged." (Countess)
Die Countess hat es satt. Man hat mit ihr und ihrem immer kleiner werdenden Herzen gespielt – das macht doch sonst nur sie mit den anderen. Doch nach den Geschehnissen der letzten Woche ist nichts mehr, wie es war. Der Tropfen Blut, der das Fass hat überlaufen lassen…
"A woman can only be pushed so far – and I'm right on the edge." (Countess)
Countess spielt ein neues Spiel, an mehreren Fronten, mit mehreren Männern. Und möchte nebenbei auch noch das Hotel umgestalten. Das funktioniert auch erstaunlich schnell, vermutlich hat der Bauarbeiter Tine Witler angerufen…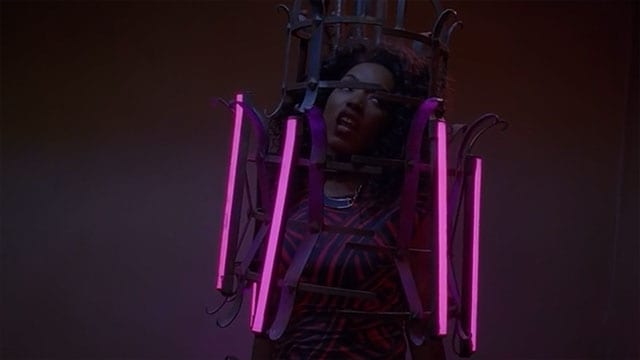 Endlich kommt unser B-Movie-Star wieder ins Spiel! Doch Ramona dürfte die neue Inneneinrichtung weniger gefallen. Damit wir sie mehr mögen und ganz dolle mitfühlen, erhalten wir noch einen letzten Rückblick. 1992, Los Angeles. Ramona hatte sich selbst einen Langzeit-Pflegefall geschaffen, der an den Nerven nagt und Dinge wie die Entwicklung des Internets überstrahlt. Die Szene, in der sie ihren eigenen Dad umgebracht hat, war emotional und ergreifend, ohne zu dick aufzutragen. Das hat gepasst, auch wenn es vorhersehbar war. Ansonsten wirkte Ramona eher wie ein kleines Dummchen (statt einer eigentlich so starken Frau) im erneuten Versuch, ihren Plan durchzuführen. Das mag Iris in etwa so sehr wie billige und schmutzige Unterhaltung.
"I've got nothing against pornography – when it's done right!" (Iris)
Sie macht sich lieber ein bisschen blutige Hähnchenbrust zum Lunch. A pro pos Lunch:
"Cool, thanks." (Max)
Ach, stimmt, die Kinder gibt es ja auch noch! Ein bisschen überflüssig wirkte es, wie die Szene da reingeflanscht worden ist. Bin gespannt, ob die nächste Woche noch einmal vorkommen, oder ob das nun wirklich nur war, um vermeintliche Verwobenheit zu demonstrieren, die nicht da ist.
"If you don't know that, then you are dumd as you are pretty. And you are very pretty." (Ramona)
Was auch nicht da war bis zu diesem Zeitpunkt, ist gutes Reality TV. Aber die Countess wäre nicht die Countess, wenn sie während der Hochzeitsvorbereitungen nicht nur die Innendekoration optimiert, sondern auch ihren eigenen TV-Kanal aufmacht. Chapeau!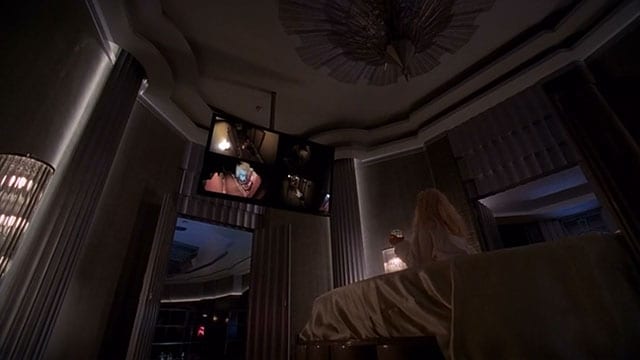 Das hat mich erstaunlich kalt gelassen. Einige nette Momente, gute Dialoge und auch der Rückblick hat mir gefallen, insgesamt fehlt mir aber die Spannung und die Beziehung zu den Figuren. Noch immer stehe ich vielen zu neutral gegenüber, so dass mich ihr mögliches Ableben eigentlich gar nicht kümmert. Dazu ärgert mich, dass so viele Geschichten stets getrennt voneinander erzählt werden, wodurch die Staffel einfach nicht homogen wirkt.

Interessant – und durchaus etwas spoilernd – dürfte der Titel der nächsten Episode sein: "She Gets Revenge". Bleibt die Frage, in wie fern das tatsächlich eine Ankündigung ist, bzw. für wen es wirklich gilt (Countess/Ramona). Hoffen wir, dass wir Zuschauer unsere Rache bekommen und das Finale in Sachen Epicness auf dem Niveau der Garderobe von Frau Gaga sein wird. Abseits der Sternchen…

Bilder: FX

-->