Serien schauen als Hobby ist eine tolle Sache. Da werdet ihr mir zustimmen. Mindestens genauso schön ist es, Serien aus beruflichen Gründen anzusehen bzw. sich mit den Leuten zu befassen, die das aus Spaß machen, was ja eine tolle Sache ist usw. usf. Zusammen mit Jonas und Maik habe ich z. B. mal eine Studie zu Dexter gemacht. Wir haben Foren- und Blogeinträge analysiert, um festzustellen, was die Faszination eines Serienkillers ausmacht. Dabei stellte sich heraus, dass Dexter Morgan von der Fangemeinde jede Menge Sympathie entgegen gebracht wird, obwohl er tötet. In den Augen der Fans ist er der "sympathische Serienkiller von nebenan".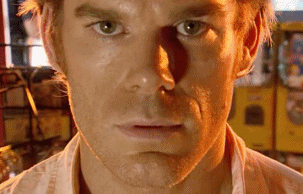 Allerdings ist die Einstellung zu Dexter von gemischten Emotionen gekennzeichnet. Die empathischen Gefühle werden teilweise von einem schlechten Gewissen begleitet. Um diese Ambivalenz und die moralische Spannung aufzulösen werden die – moralisch eigentlich unangemessenen – Taten legitimiert. Die Rechtfertigung folgt drei unterschiedlichen Strategien: Zum einen wird Dexters traumatische Kindheit verantwortlich für seinen Tötungsdrang gemacht. Da er selbst Opfer war, "darf" er töten. Allerdings nur solche Opfer, die – so die zweite Strategie – es "verdient haben" zu sterben. Zu diesem Zweck werden die Opfer herabgewürdigt und als "Müll", "Ratten" oder "Dreck" bezeichnet. Letztendlich werden seine Taten verniedlicht oder sogar als nützlich gedeutet: "Dexter: The Taxpayer's Friend" (dexterwiki.sho.com)
Insgesamt zeigt sich, dass sich Dexter als fiktionaler Charakter  zur Identifikation und empathischen Einfühlung eignet. Seine Taten werden dahingehend umgedeutet, dass aus ihm ein "Guter" wird, den man sympathisch finden darf und der es verdient hat, dass man mit ihm fühlt. Diese Strategie ist manchen Zuschauern bewusst: "Mag man ihn aus gutem Grund oder wünscht man es sich nur, dass da mehr in ihm steckt, damit man ihn mögen darf?" fragt sich ein User auf scifi-forum.de.
"Oh, but he's no ordinary serial killer, this Mr. Morgan. You see, Dex has a special code of ethics. He only kills…OTHER serial killers." (IMDB.com)
Maik hat sich davon dann für seine Master-Arbeit inspirieren lassen. Davon später mehr.
Hier der ganze Aufsatz:
Schlütz, D., Stock, Y., Walkenbach, J. & Zehrfeld, M. (2013). Mein Freund, der Serienkiller: Fan-Beziehungen zum Hauptcharakter der Fernsehserie Dexter. In S. Eichner, L. Mikos & R.Winter (Hrsg.), Transnationale Serienkultur: Theorie, Ästhetik, Narration und Rezeption neuer Fernsehserien (S. 367-380). Wiesbaden: VS.