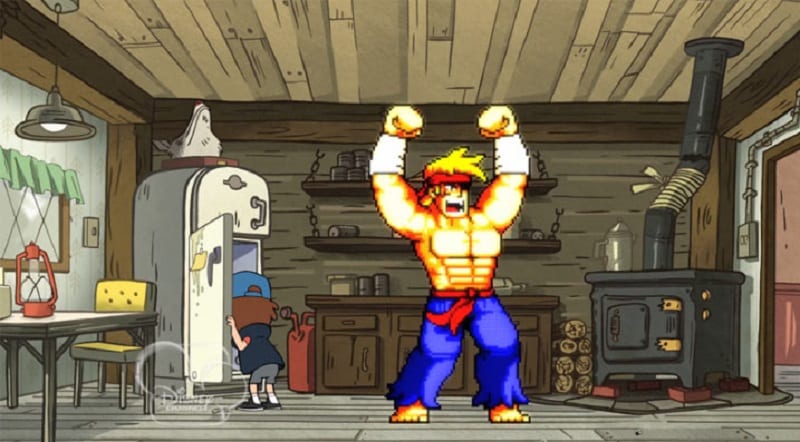 Dass ich hier mal eine Zeichentrickserie von Disney empfehlen würde, hätte ich auch nicht gedacht. Aber bei Gravity Falls kann ich nicht anders, als sie euch wärmstens ans Herz zu legen!
Seit Juni 2012 läuft Gravity Falls auf dem Disney Channel. Dabei geht es um das Geschwisterpaar Dipper und Mabel Pines, die zu ihrem Grunkle Stan in den Wald geschickt werden. Der betreibt dort eine Touristenfalle, in der vermeintlich mystische Gegenstände ausgestellt werden. Die Kids arbeiten in diesem "Mystery Shack" und erleben allerlei Abenteuer, die teils tatsächlich ins Mystische hinein geht.
Alles bleibt aber komplett im Comedy-Bereich. Sehr viele popkulturelle Anspielungen und vor allem sehr schöner moderner Humor. Tatsächlich eine Serie, die Kinder bestimmt toll finden, die aber eigentlich auf Erwachsenenniveau abläuft. Dazu wunderbar animiert.
Auch eine bekannte Stimme ist dabei: Kristen Schaal (Flight of the Conchords, 30 rock) spricht Hauptcharakter Mabel.
Schaut euch einfach mal eine Folge an oder startet mit diesen Ausschnitten hier. Aktuell läuft noch die erste Staffel, wobei 17 Folgen bereits ausgestrahlt wurden.
Sensationell sind teilweise auch die kleinen Nachklapper zum Abspann. Mein absoluter Favorit ist dieser hier: