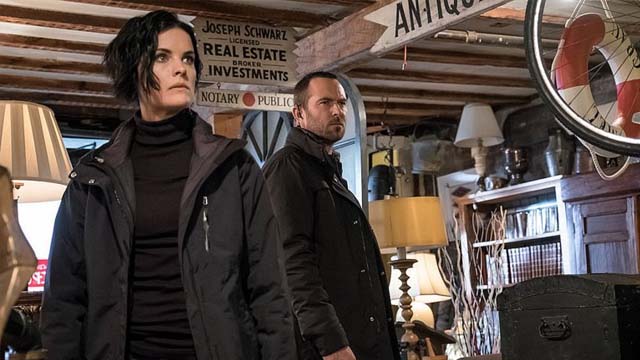 Die NBC Drama/Crime Serie "Blindspot" gehört trotz ihrer durchaus als "durchwachsen" zu bezeichnenden ersten Staffel zu meinen Überraschungserfolgen der abgelaufenen Season. Das hat zwar hauptsächlich etwas mit der von Ashley Johnson verkörperten FBI Superanalytikerin Patterson zu tun aber auch die grds. Serienidee ist durchaus unterhaltsam.
Wäre die Mehrheit der "Tattoos der Woche" auch noch überdurchschnittlich gewesen, "Blindspot" hätte ganz sicher eine überaus glänzende Zukunft vor sich. Was nicht ist, kann ja noch werden. Denn: Eine zweite Staffel wird es ja geben und ab September in der NBC ausgestrahlt. Schauen wir mal.
Auf der Comic-Con hatte natürlich auch "Blindspot" einen Slot und auch "Blindspot" gewährte einen Blick in die zweite Staffel.
Zudem wissen wir nun, dass die zweite Staffel knapp drei Monate nach dem Ende der ersten Staffel ansetzt und Jane weiterhin im FBI Gewahrsam ist. Und man geht mit Jane nicht gerade zimperlich um. Martin Gero, der Showrunner der Serie, deutet im Interview mit theHollywoodreporter an, dass man uns Zuschauern bereits in der Auftaktepisode diverse offene Fragen aus der ersten Staffel beantwortet werden.
Beispielsweise den echten Namen von Jane. Den Vornamen von Patterson allerdings bleibt weiterhin ein Mysterium.
"It's a mystery show. I think there are things that should be mysterious about it at all times. She's like our Kramer, I guess." (Martin Gero, Showrunner)
Schade. Aber irgendwann haben wir in "Seinfeld" ja auch den Vornamen von Kramer erfahren. Da hat es allerdings bis zur 6. Staffel gedauert. Ob "Blindfeld" auch so lange durchhält?
We will see!
via: hollywoodreporter