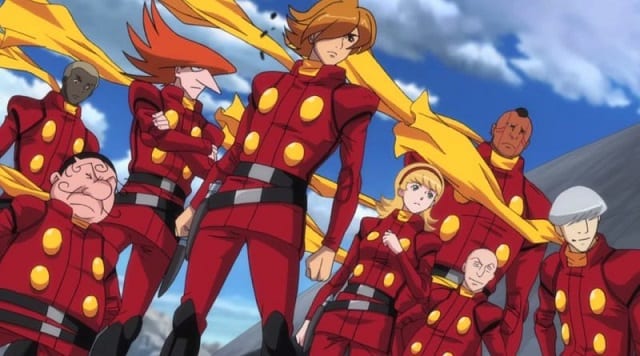 Für Freunde des Anime und der Manga Comics dürfte der kommende Freitag ein Freudenfest werden. Zumindest bei denen, die auch einen Netflix Account besitzen. Der Streamingriese erweitert seine Animesparte am Freitag nämlich um die zwölfteilige CG-Anime Serie "Cyborg 009 – Call of Justice". "Cyborg 009" selbst ist ein beliebter klassischer Sci-Fi Manga, welcher von 1964 bis 1981 veröffentlicht wurde. Und in Deutschland nur sehr schwer erhältlich ist.
"Cyborg 009 – Call of Justice" wurde ursprünglich als eine dreiteilige Kinofilmreihe konzipiert, die nun seitens Netflix aber als zwölfteilige Serie veröffentlich wird. Die zwölf Folgen werden dabei sowohl in japanischer Sprachausgabe mit deutschen Untertiteln als auch mit einer deutschen Synchronisation veröffentlicht.
Im Mittelpunkt des Anime steht eine Gruppe von neun Menschen, die vor Jahren von einer Geheimorganisation entführt und gegen ihren Willen in Cyborgs mit Superkräften umgewandelt wurden. Es gelingt den Cyborgs aber zu fliehen, seitdem bekämpfen sie gemeinsam jene Geheimorganisation und retten die Menschheit vor allerlei Übel. Superheldenalltag eben.
Die einzelnen Cyborgs entstammen dabei aus unterschiedlichen Ländern, so kommt Cyborg 004 beispielsweise aus Deutschland und der titelgebende und im Mittelpunkt stehende Cyborg 009 aus Japan und hört auf den Namen Joe Shimamura.
Zum Zeitpunkt von "Cyborg 009 – Call of Justice" lebt die Gruppe seit Jahren zurückgezogen und man ist eher Legende als umjubelte Heldentruppe, der letzte Starschnitt in der Bravo auch demnach eine Weile her. Aber es brauen sich Ereignisse am gezeichneten Horizont, der ihre Rückkehr notwendig werden lässt.
Bilder: Netflix