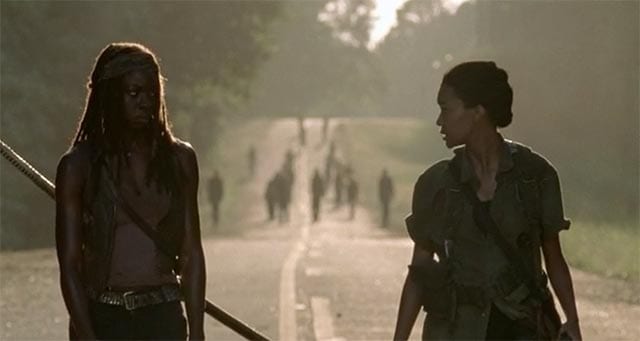 Diese Woche haben wir die komplette Gruppe beisammen. Man hat bereits beinahe vergessen, wie viele und welche Leute noch in der Gruppe sind, so oft, wie die einzelnen Leute getrennt voneinander waren. 15 Personen insgesamt, das ist bereits stattlich. Und ergraut Rick langsam im Bart? Wir werden alle nicht jünger…
Jedenfalls sind Walker bei Weitem nicht mehr das Schlimmste auf Erden. Bei Maggie überwiegt die Trauer und lässt die Untoten nur noch als störende Nebensache erscheinen. Hinzu kommt enormer Flüssigkeitsmangel, bei Mensch wie Auto. Alle sind körperlich am Ende und sind kurz davor, durchzudrehen. Kein Wasser, kein Essen, keine Hoffnung, kein Gott?
Skurril: Ich hatte Anfang der Folge noch gedacht, was eigentlich mit Hunden ist. Es sind kaum mehr andere Lebewesen zu sehen, aber auch Menschen scheint unsere Truppe in den letzten Wochen kaum welche gesehen zu haben. Dafür hat Daryl gelernt, wie man an den Haaren die Kopfdecke eines Walkers abreißen kann (WTF?!).
"Don't think. Just eat." (Sasha)
Daryl braucht daraufhin zur Befreiung seiner Emotionen erst einmal eine Zigarette. Beinahe hätte er so den plötzlichen Supermarkt-Ausverkauf verpasst. Ein Paket Wasser aus dem Nichts – gut, dass es kurz darauf anfängt zu regnen. Komisches Timing, zumal ein gigantischer Sturm aus dem Nichts auftaucht. Egal, alle freuen sich – und sind bestimmt nächste Woche krank. Bis auf die Gefängnisgrippe kamen allgemein bisher kaum "normale" Krankheit vor, oder? Das Gewitter erinnert an Z Nation – fehlt nur der Wirbelsturm. Wobei: ein Walker endet tatsächlich Baum.
"Some people can't give up. Like us." (Carol)
Es folgt ein philosophischer Austausch, ob das nun die Welt ist oder nur ein Übergang. Und eine Ansprache von Rick, die sitzt.
"We do what we need to do – and then we get to live. […] This is how we survive: we tell ourselves that we are the walking dead." (Rick)
Das ist das, was die Sendung stark macht. Die Selbstreflektion, die moralischen Empfindungen und Befindlichkeiten. Und eben auch das Auseinandersetzen miteinander. Und der Moment, auf den viele Leser der Comics gewartet haben. Die wahre Bedeutung des Serien-/Comic-Titels. Die wahren wandelnden Toten. Das einzig Unschöne daran, ist dass die Inszenierung in deutlich anderem Kontext und deutlich abgeschwächter passiert als in der Vorlage. Das ist etwas schade.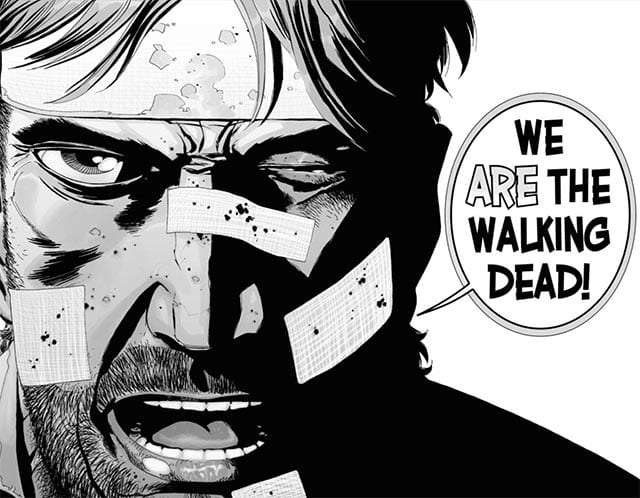 Und als wäre das nicht schon gut genug, gesellt sich noch ein bekanntes und lang erwartetes Comic-Gesicht zur Truppe. Mit Aaron bekommen wir den wasserliefernden Freund zu sehen, ein erster Vorbote auf Alexandria. Er hat die Gruppe schon länger "gesichtet", das dürfte nun aber erst einmal ein intensives Verhör geben, kommende Woche. Aber ich freue mich auf das, was da kommen mag!
"I know – Stranger danger. But… I'm a friend." (Aaron)
Das hat mir dann doch deutlich besser gefallen als vergangene Woche. Ja, vielleicht waren nicht so viele tolle Shots dabei, was das Visuelle anbetrifft, aber inhaltlich war das stark. Eine gute Zeichnung dessen, was alles wichtig ist in der jetzigen Welt. Und eben starke Bezüge auf die Comics und ordentlich Bewegung. Und das in einer eigentlichen Füller-Folge, die uns lediglich eine Reise-Passage gen Washington demonstriert hat. Das zeigt aber, dass nicht immer die große Action passieren muss, um starke Momente zu schaffen und Charaktere voran zu schreiben. Und bis auf ein, zwei kleinere negative Sachen in der Inszenierung ist das absolut gelungen!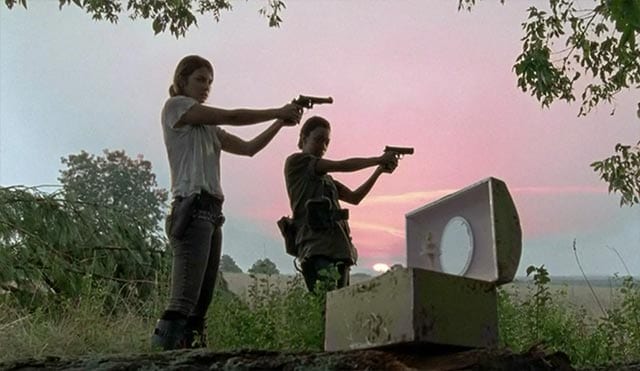 -->