Meine Begeisterung für die erste Staffel von "The Expanse" – hier in Teilen nachzulesen – hat auch nach dem Staffelfinale nicht nachgelassen oder sollte ich eher sagen trotz des Staffelfinales nicht nachgelassen? Die Auflösung der Bedrohung in Staffel 1 fand ich jetzt nämlich eher so lala als really cool. Aber da müsste man sich wohl an die Autoren der Vorlage wenden als an die Serienproduzenten. Die haben nämlich auch im zweiten Teil der Staffel einen guten Job gemacht.
Und daher freue ich mich schon sehr auf die Fortsetzung, war sogar schon kurz davor, mir die Bücher zuzulegen. Aber ich kenne mich da zu gut, als das ich nicht wissen würde, dass ich da sehr wahrscheinlich nicht lange am Ball bleiben werde. Die Ablenkungen technischer wie medialer Art sind dann doch zu verlockend als dass ich mich wirklich in ein Buch vertiefen könnte. Ist schade, ist aber so. Das geht seit Jahren irgendwie nur im Urlaub.
Syfy hat die Tage einen recht langen Trailer zur zweiten Staffel veröffentlicht, die ab dem 01.Februar in den USA anlaufen wird. Wann Netflix Deutschland einsteigen wird, ist noch nicht bekannt. Hoffentlich kurz danach.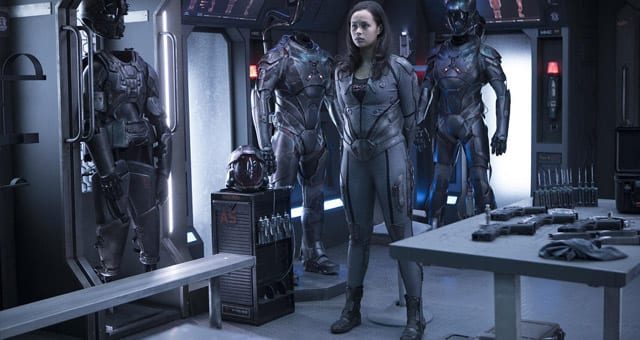 Zur zweiten Staffel gesellt sich mit Roberta Draper, eine marsianische Marinesoldatin, eine Figur aus der Buchserie zur TV Serie, die unter den Fans der Buchvorlage zu den Favoriten zählt. Wobei Fans der Buchreihe wahrscheinlich stutzen dürften, kommt Draper in den Bücher doch erst deutlich später zum Einsatz.
"She's in the opener. We do pull things forward in the book, we've pulled things out of the novella, a lot of rearrangement of certain elements, but while respecting the overall plot framework of those books. We pulled her up" (Naren Shankar, Showrunner)
Die erste Staffel endete nämlich inhaltlich gesehen ungefähr knapp nach der ersten Hälfte des ersten Buches "Leviathan Wakes", was ich beim Nachlesen des Inhaltes zum ersten Buch leidvoll erfahren musste, und Draper erscheint erst im zweiten Buch "Caliban's War". Aber wie man lesen konnte, zieht man diesen Fanliebling und ihren Impact auf die gesamte Geschichte nach vorne und passt dafür ein wenig die Storyline an. Für Romanpuristen natürlich der Horror aber uns nur Seriengucker natürlich völlig egal, denn starke weibliche Figuren sind immer gerne gesehen.
Mit diesem Kniff will man aber eine Komponente in die Serie bekommen, die bislang (und das wäre auch eine meiner erkannten Schwächen) eher zu kurz gekommen ist: die Sichtweise der Marsianer. Die fehlte schon über weite Strecken in der ersten Staffel. Aber mit Draper wird man diese Leere nun ausgiebig füllen.
"We didn't really spend much time with the Martians and how they felt about Earth and felt about the Belt, and so what we are doing in Season 2 is giving a different view into the events of the story. So we start with Bobbie and her team in Episode 1 to build characters, build the team camaraderie, build all of that Martian perspective that we had to pull back in Season 1 and bring that front and center into Season 2. That helps us frame the Earth, the Belt, and Mars." (Naren Shankar, Showrunner)
Eine wie ich finde nachvollziehbare Idee und es scheint, dass die Verantwortlichen einen klaren Plan mit der Serie haben. Und im Gegensatz zu "Game of Thrones" haben die Produzenten und Autoren auch noch eine Menge Buchmaterial vor sich.
So. Nun aber genug Vorgeplänkel rund um diese unterhaltsame SciFi Serie mit all dem coolen Weltraumgeballer, den interessanten Figuren und der interplanetaren Diplomatie, hier der frisch ausgepackte neue Trailer. Popcorn parat?
Bilder: Syfy