Die sechste Folge, also muss ich nach dieser noch weitere fünf Episoden ertragen. Ja, so fühlt es sich aktuell leider an. The Flash ist zu einem Blitz der Qual geworden, mal sehen wie langweilig diese Folge wird.
Inhalt
Im Intro der Episode hört man Iris aus dem Off. Sie schreibt über den "Streak" – damit meint sie den Flash. Ihr grinsen zeigt, dass sie sich offenbar in den Flash etwas verknallt hat, womit wir wieder bei dem Spiderman-Setting wären. Barry schnappt sie dann sogar als Flash von ihrem Computer weg, an dem sie gerade über den Streak bloggen wollte, bringt sie in Windeseile auf das Dach und versucht sie erneut davon abzuhalten über ihn zu schreiben. Ein toller Plan, denn damit fixt er sie nur weiter an.
Direkt im Anschluss muss sich der Flash einem neuen Metahuman stellen, der die Polizei beschäftigt. Dieser Bösewicht besteht aus Metall oder kann sich in Metall verwandeln. Bei dem Versuch ihn zu schlagen bricht sich Barry die Hand und muss sich zurückziehen.
Wie sich herausstellt ist der Super-Bösewicht ein Kind aus Barrys Vergangenheit, der ihn damals gehänselt und verprügelt hat. Natürlich macht sich dieser Bösewicht dann auch an Iris heran und bedroht sie. Am Ende kidnappt er sie sogar, aber Barry schlägt ihn am Ende dank Überschallgeschwindigkeitspunch und rettet Iris. Der Böse Schul-Bully wird in das Supergefängnis gesteckt und Barry zeigt ihm wer er tatsächlich ist, was ihn  wahnsinnig freut.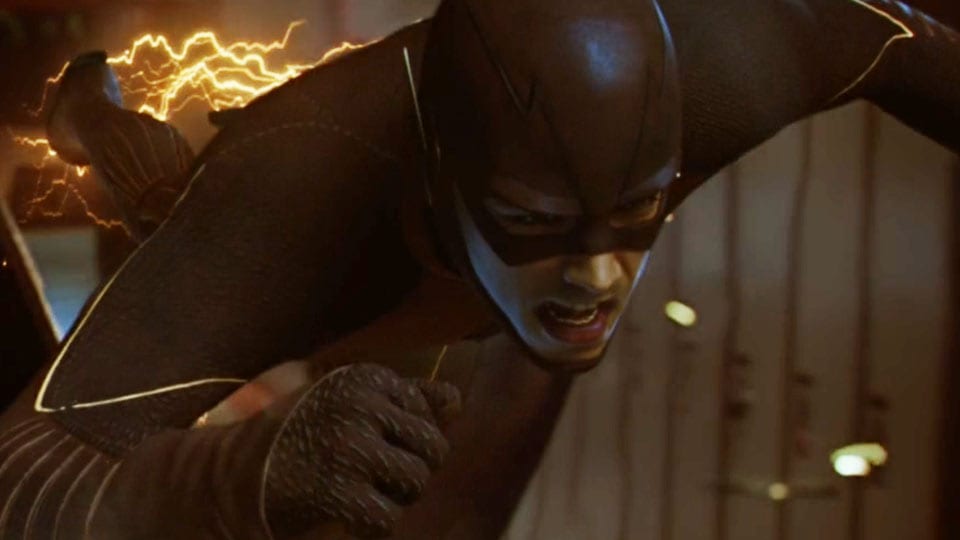 Etwas interessanter scheint die Nebenstory, Joe – Adoptivvater von Barry – verdächtigt zunächst Harrison für den Tod von Barrys Mutter verantwortlich zu sein. Er findet heraus, dass Harrison einen Monat vor dem Mord in die Stadt gezogen. Am Ende entschuldigt er sich aber, da Harrison wegen seiner verstorbenen Frau umgezogen ist und offenbar doch nichts mit dem Verbrechen zu tun hat. Als Joe daraufhin alleine in seinem Haus sitzt und zu dem Mord an Barrys Mutter recherchiert, wird er von dem Phänomen attackiert, welches damals auch die Mutter tötete. Mehr als die Unterlagen zu stehlen und ein Messer in ein Foto von Iris zu stecken passiert nicht, Joe wurde nur eine Warnung überbracht.
Vor Ende der Folge versöhnen sich dann doch noch Iris und Barry, dabei legt er ihr den Namen "Flash" in den Mund, also hießt der Streak nun auch endlich Flash.
Fazit
Was habe ich letzte Folge geschrieben? The Flash erinnert an Beverlyhills 90210? Genau dieses Gefühl kommt mir auch heute, der Böse Bully aus der Schulvergangenheit, welcher sich das Mädchen schnappt, langweilig! Dazu kommen mal wieder diese unlogischen Momente: Barry kann erst mit seiner wahnwitzigen Geschwindigkeit jeder Gefahr ausweichen bis dies aus dramaturgischen Gründen nicht mehr gewollt ist. Da wäre mir eine Art Kryptonit lieber, also irgendeine Erklärung warum er manchmal die Kräfte hat und anwenden kann und warum dann wiederum nicht.
Das einzige was noch an der Sendung interessiert ist, was Harrison im Schilde führt und wer für den Mord an Barrys Mutter verantwortlich ist. Alles andere ist einfach leider nur noch langweilig.