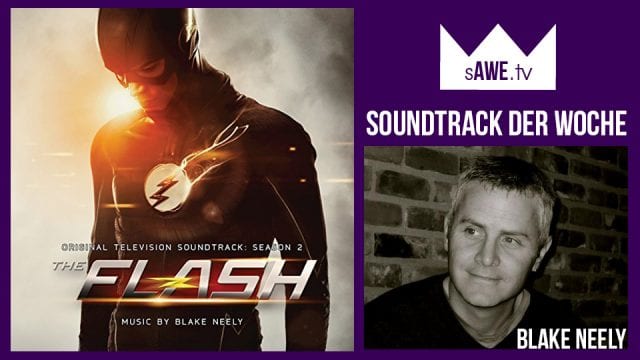 Neue Folge unserer Serie "Soundtrack der Woche": Hier stellen wir Euch regelmäßig Scores, Tracks und Musik-Alben zu unseren Lieblingsserien vor. Dabei gehen wir einerseits auf die Akteure hinter dem Soundtrack ein, aber natürlich auch ausführlich auf die Musik selbst – und ihre Wirkung auf die Serie. Folge 62: Musik in: The Flash (Season 2).
Die Serie – darum geht's
The Flash Season 2 - New York Comic-Con Trailer (HD)
Barry Allen ist Forensiker bei der Polizei von Central City. Er besucht mit Iris, der Tochter seines Adoptivvaters (seine Eltern sind in seiner Kindheit bei einem Unfall ums Leben gekommen), die Einweihung eines Partikelbeschleunigers. Durch das Eingreifen eines Taschendiebes verlassen die beiden jedoch schnell die Feier und Barry sieht im Fernsehen, dass etwas schief läuft. Der Beschleuniger setzt ein Energieband aus und Barry wird in seinem Labor von einem Blitz getroffen. 9 Monate liegt er im Koma, um dann ohne irgendwelche Blessuren und austrainiertem Körper aufzuwachen. In dieser Zeit kümmerten sich der Gründer der Firma, die den Beschleuniger erbaute, Harrison Wells und zwei Mitarbeiter um Barry. Harrison möchte mehr über Barry und seine Fähigkeiten lernen, denn sein Herz schlug in der Komaphase schneller, als das ein EKG messen konnte. Barry bemerkt seine Fähigkeit, extrem schnell laufen zu können dann per Zufall, als er das Labor verlässt und wieder sein Leben fortführen möchte. Natürlich setzt er diese Fähigkeit auch sofort ein, als er Iris vor einem Unfall rettet. Interessanterweise wird dieser von einem Verbrecher ausgelöst, der ebenfalls durch den Beschleuniger-Unfall mit Superkräften ausgestattet wurde. Bei dem Verbrecher handelt es sich um den gleichen, der Barrys Adoptivvater fast getötet hätte und von dem alle dachten, er wäre in der Nacht des GAUs umgekommen. Mehr zur Serie und zum Piloten hat Jonas in seinem Review des Piloten geschrieben.
Der Komponist
Blake Neely habe ich im Beitrag zu Season 1 von "The Flash" ja schon einmal ausführlich vorgestellt, deswegen hier nur etwas knapper. Der Komponist hat nicht die klassische Musikausbildung genossen, sondern gilt so ein bisschen als Quereinsteiger. Studiert hat er eigentlich Linguistik an der University of Texas. Er hat aber immer fleißig Musik geschrieben, bis irgendwann der große Michael Kamen und Produzent Greg Berlanti auf ihn aufmerksam wurden. Neely arbeitete in der Folge unter anderem an Produktionen für Michael Kamen, James Newton Howard und Hans Zimmer mit – alles große Namen des Soundtrack-Business. Richtig nach vorne gebracht hat ihn allerdings die Verbindung zu Greg Berlanti. Der Autor, Regisseur und Produzent holte Blake Neely für seine Serie "Everwood", und seitdem ist er sozusagen der Haus- und Hofkomponist von Berlanti. So kam von den beiden einiges an gemeinsamer Arbeit aus dem DC-Universum; seitdem ist Neely fleißig dabei, Helden-Scores zu erschaffen, aktuell gleich für vier DC-Helden-Serien: "Arrow", "Supergirl", "Legends of Tomorrow" und "The Flash". Jede Menge Arbeit also, im letzten Jahr hat er rund 50 Stunden Score geschrieben und produziert. Dabei erhält er Unterstützung von einem kompletten Team, das aus Co-Autoren, Orchestratoren, Musikern und Programmierern besteht, dazu in einem ganz neuen Studio.

Aus seiner musikalischen Vergangenheit heraus, bei der Zusammenarbeit mit den anderen Komponisten, haben sich auch gewisse Musikeinflüsse etabliert, die der Texaner in "The Flash" ausarbeitet. "Arrow" ist demnach vor allem von Hans Zimmers "Dark Knight"-Soundtrack beeinflusst, derweil der Komponist versucht, bei "The Flash" auch Elemente der Musik der 90er Show von Danny Elfman mit einzubringen. Nochmal eine andere Herausforderung war es, als der Charakter "Constantine" bei "Arrow" integriert werden sollte – eine Serie, die von Bear McCreary vertont worden war. Hier übernahm er das Constantine-Thema, und Bear McCreary war begeistert.

Dieser Beitrag hat mehrere Seiten:

-->