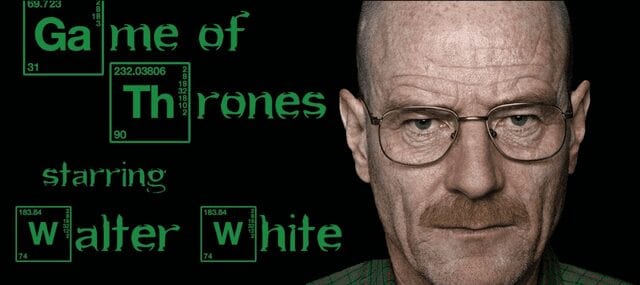 Es wird immer surrealer: ich hab noch immer keine der neuen Folgen von Breaking Bad gesehen, aber immerhin schon mal ein paar von Game of Thrones. Disqualifizier ich mich für diesen Blog, wenn ich zugebe, dass es mich bisher nicht wirklich gecatcht hat? Ich hoffe nicht – bevor ihr mich deswegen jetzt geiselt, verratet mir lieber, ab wann man denn der Serie verfallen sein sollte … vielleicht ist es ja noch nicht vollkommen hoffnungslos.
Wenn ich aber einfach weiter davon ausgehe, dass Game of Thrones wirklich richtig super toll ist und ich einfach nur zu doof bin, das auch zu erkennen, dann hab ich hier ja ein kleines Sahnestückchen für euch. Nämlich die Antwort auf die Frage, was passieren würde, würde Walter White (neben Malcolm mittendrin) nun auch in Game of Thrones mitspielen. Berechtigte Frage, schließlich kommt das Staffelende mit großen Schritten näher:


Game of Thrones Starring Walter White
Breaking Bad meets Game of Thrones…here's what it might look like if Walter White had been cast in Game of Thrones.
via: dailypicksandflicks