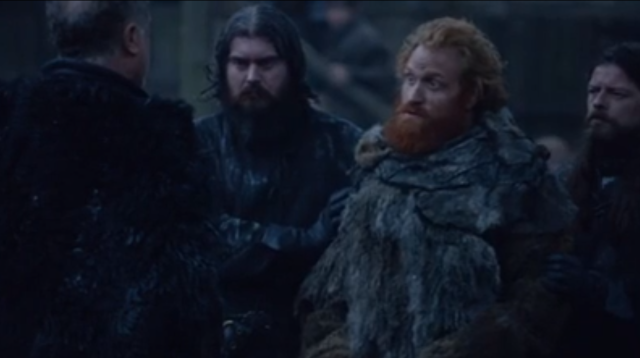 Achtung, Spoiler!
Wenn wir an die 5. Staffel Game of Thrones zurückdenken, sind wir auch jetzt noch ein wenig geschockt. Wir kennen das Ende – das Ende von Hauptfigur Jon Snow – doch spulen wir mal zurück, bis hin zu einer Szene, die so noch nie gezeigt wurde.
Die Szene, die wir unten sehen, wurde der finalen Episode aus Staffel 5 entnommen. Alisser Thorne, Waffenmeister der Nachtwache, trifft in der Schwarzen Festung auf den gefangenen Wildling Tormund Giantsbane. Das Gespräch der beiden ist ziemlich aufgeladen, denn es geht um die zukünftige Behandlung der Wildlinge. Thorne scheint in seinem eigenen Terrain überlegen – bis Giantsbane eine baldige Veränderung der Machtverteilung vorhersagt, die Thorne womöglich zu seiner schicksalsträchtigen Entscheidung bewegt.
You must no longer be in charge, then. – Giantsbane
Woher die Szene stammt? Aus dem Bonusmaterial der DVD bzw. Blu-ray zu Staffel 5, die am 17. März in Deutschland erscheint – und die ihr nun bei uns (vorab!) gewinnen könnt! Staffel 6 der Erfolgsserie startet dann am 24. April auf HBO. Und dann werden wir wohl auch endlich herausfinden, ob Jon Snow tatsächlich, wahrhaftig, ganz wirklich tot ist.
Vorab erhält die Presse dieses Jahr übrigens erstmals keine Screener zur neuen Staffel. Scheinbar hat HBO dazu gelernt – und umgeht damit, dass vor Ausstrahlung der Serie Spoiler die Runde machen. Gleiches Recht für alle und so.
via: Entertainment Weekly Bild: HBO