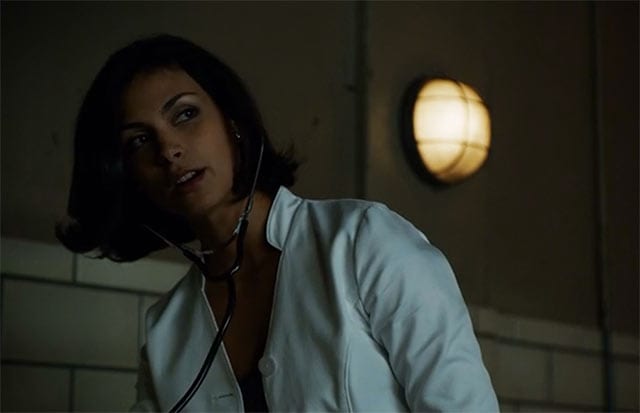 Endlich wieder Gotham! Und endlich wieder ein Review. Fühlt sich schon etwas komisch an nach mehreren Wochen ohne. Komisch ist auch die neue Situation in Gotham. Das Arkham Asylum begrüßt uns mit einem Eunuchen-Schauspiel, das Mordgedanken aufkommen lässt. Jim Gordon hat Probleme, die Sicherheit zu wahren.
"Think you can't fall any farther? Think again." (Director Dr. Lang)
Dafür macht er Bekanntschaft mit Dr. Leslie Thompkins – Darstellerin Morena Baccarin kennen wir bereits aus den ersten Homeland-Staffeln. Die mag ich, darf man ruhig öfters sehen. Man weiß direkt, dass sich da was anbahnen wird… Wenigstens weiß die Serie das mit einem "get a room you guys" selbst einzusehen. Es bleibt spannend, ob Thompkins die Rolle einnimmt, die sie in vielen DC Comics inne hatte. Eine Vertraute von Thomas Wayne, die auch in enger Schutzherrschaft mit Bruce steht.
ThE Penguin hat derweil seine Probleme, sich Respekt zu verschaffen. Auch Fish wird etwas unsicherer, was ihre Machtstellung angeht. Und bei Jim läuft es ähnlich unrund im Zuge der Investigation eines Elektroschock-Verbrechens. Zumindest kann Bullock ihm etwas behilflich sein. Und auch wenn der Fall mittendrin etwas unglücklich zu enden scheint, ist er doch der Anfang etwas Elektrisierendes.
"Bravo to me." (Jack Gruber)
Man darf gespannt sein, wie der eloquent anmutente Gruber sich als Figur entwickeln wird.
Die Mischung aus Drama und auflockernden Elementen funktioniert gut. Einzig die teils etwas schnellen Handlungssprünge seit der letzten Folge sind hier und da ungewöhnlich. Dabei soll nur eine Woche vergangen sein in Gotham. Fish bekommt Probleme, Barbara ist plötzlich giftig – alles, was zuvor etwas auseinander geraten ist, scheint sich wieder zu legen. Sehen wir es einfach mal als Auftakt in ein neues Jahr mit neuen Gesichtern und neuen Situationen.