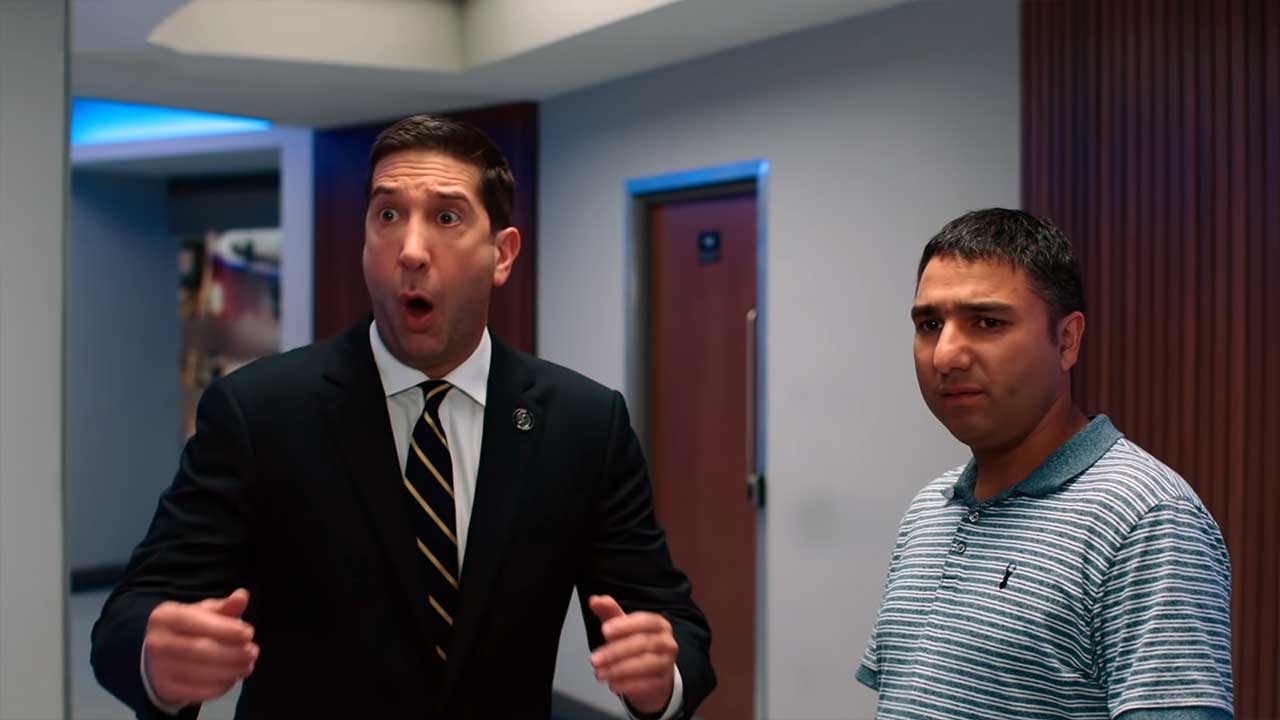 Gibt man "Intelligence" bei IMDb ein, findet man die 2014er Serie mit "LOST"-Star Josh Holloway, die 2005er Serie mit "Millenium"-Star Klea Scott und neuerdings auch die 2020er Serie mit "Friends"-Star David Schwimmer. Und Nick Mohammed ("Ted Lasso"), der auch Creator der neuen Comedy-Serie ist. Das Sky Original findet jetzt auch seinen Weg nach Deutschland, wo die Serie ab Juni zu sehen sein wird. Hier der Trailer.
"David Schwimmer and Nick Mohammed star in this workplace comedy #Intelligence​ set in the UK's Government Communications Headquarters which is a weedier, geekier, more bureaucratic version of MI5 and MI6."
Die sechs jeweils halbstündigen Episoden der Debütstaffel von "Intelligence" werden ab 1. Juni immer dienstags um 20.15 Uhr in Doppelfolgen auf Sky Comedy zu sehen sein. Und wer direkt bingewatchen möchte, kann sich ab dann auch sämtliche Folgen direkt über Sky Ticket sowie auf Sky Q auf Abruf besorgen.
Hier noch die offizielle Inhaltsangabe, die im Rahmen der deutschen Pressearbeit von Sky zum deutschen Serienstart versandt worden ist:
"GCHQ ist ein neu gegründetes Team des britischen Geheimdienstes, das gegen globale Cyber-Sicherheitsbedrohungen kämpft und heikle Missionen übernimmt, deren Ausführung ein leichtes Händchen, List und Mut erfordert. Zum Team stößt der machthungrige und übertrieben selbstbewusste US-Agent Jerry Bernstein (David Schwimmer), der seinen neuen Kollegen recht schnell auf die Nerven geht, weil er Protokolle bricht und prinzipiell nur nach seinen eigenen Vorstellungen agiert. Und während das GCHQ-Team mit außergewöhnlichen Aufgaben betraut ist, sorgen sie sich im Hintergrund um alles Mögliche, von der Frage, warum der Drucker nicht funktioniert, über das Unterschreiben von Geburtstagskarten bis hin zu Büroabenden – manchmal ein bisschen mehr als die Rettung der Welt."
-->