Zugegeben, ich bin ein ziemlicher Game of Thrones-Spätzünder. Einerseits ist das gar nicht mal schlecht, denn so konnte ich mir mal wieder vornehmen, eine tolle Buchreihe anzufangen. Andererseits ist da das Internet. Was für eine entspannte Zeit das war, als die Harry Potter-Leserschaft nicht ihr gesamtes Wissen im Internet gestreut hat, um den schnöden Filmschauern die Spannung zu versauen. Gleiches bei den Song of Ice and Fire-Lesern (der erste Band ist 1997 erschienen). Das kollektive Geheimnis wird gehütet. Jetzt ist es ganz widerlich verdreht.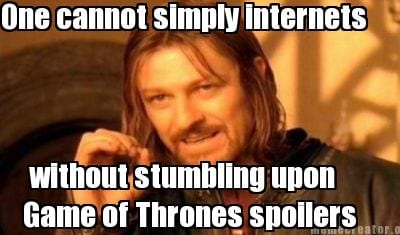 Also fing ich mit Lesen an, obwohl durch die Internet-Rumlungerei schon klar war, dass spätestens in Buch 4 fast alle Protagonisten beim Red Wedding draufgehen. Aktueller Status: Seite 254, A Game of Thrones und Season 1, Episode 2. Bis jetzt verläuft das Experiment, Buch und Serie parallel zu erkunden, ganz gut. Zumal die Versuchung, eine Episode nach der anderen zu schauen mit der Länge von fast einer Stunde auch sinkt. Trotzdem begleiten mich stets einige mehr oder weniger ausgeprägte Ängste: Hoffentlich habe ich schon weit genug gelesen und spoilere mein Lesevergnügen nicht selbst (jeder weiß, dass man die entsprechenden Seiten im Buch dann flugs überblättern würde); hoffentlich taucht nicht schon wieder ein Meme bei 9gag auf, das eindeutige Plotpoints verrät und vorwegnimmt, welcher Charakter besonders hinterlistig, mutig, hübsch, unbeliebt oder schlampig ist. Und hoffentlich, hoffentlich, hoffentlich lese/gucke ich schnell genug, dass ich mich zum Start der vierten Staffel ganz lässig zurücklehnen kann.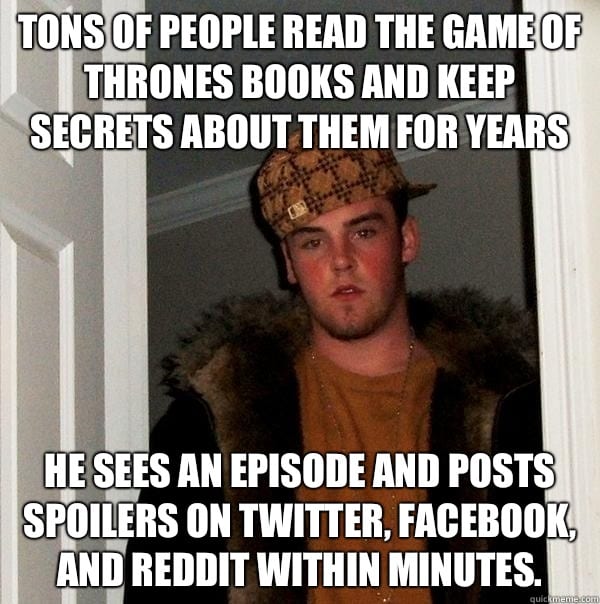 Ähnlich wie beim letzten Staffelfinale von HIMYM, bei welchem die Facebook-Seite der Serie fies für die deutschen Fans spoilerte, kommt man nur schwer um unerbetene Offenbarungen herum. Doch nicht immer müssen sie den Genuss am Werk verderben – ich erfreue mich bisweilen daran, dass ich in der Serie erfahre, wie die mittelalterlichen Namen der Charaktere tatsächlich ausgesprochen werden, dass die 9-14-jährigen Kinder arg erwachsen aussehen und wie einige Dialoge tatsächlich haargenau aus dem Buch entnommen werden.