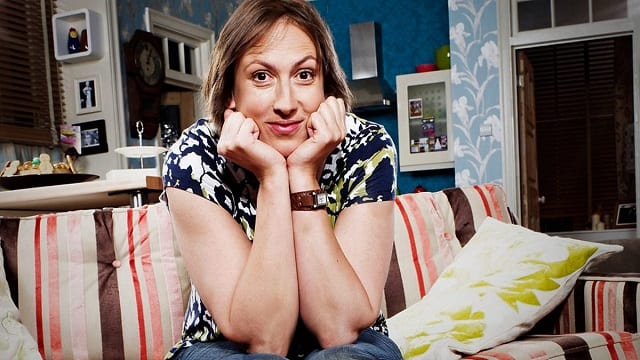 Eine meiner Lieblingscomedyserien ist "Miranda" mit Miranda Hart ("Call the midwife") in der Hauptrolle. Einfach wunderbar komisch, die Geschichten, die running gags und auch die weiteren Figuren sind mit so viel Liebe ausgearbeitet und wunderprima von den Schauspielern mit Leben eingehaucht. Wer sich ein wenig zur Serie informieren mag, ich hatte hier mal einen Serientipp zu "Miranda" geschrieben.
Jahrelang hieß es, dass es keine Fortsetzung geben wird. Seit einiger Zeit konnte man aber Gerüchte wahrnehmen, dass man nun doch über eine Fortsetzung nachdenkt. Vielleicht ja so ähnlich wie bei "Downton Abbey", also in Form eines Kinofilms? Nun wurde bekannt, dass Miranda Hart in der Tat mal über einen Kinofilm nachgedacht hatte und man war auch schon in tiefgreifenden Gesprächen und Planungen mit der BBC.
Doch dieser Film wird niemals nie nicht kommen. Und die Entscheidung liegt oder besser gesagt lag nicht an der BBC oder an Hart oder an mangelnden Ideen. Es lag an Jimmy Perry. Who? Perry war einer der Co-Autoren der Comedyserie "Dad´s Army" (1968–1977), einem britischen Serienklassiker. Jimmy Perry hatte sich in 2013 in einem Zeitungsartikel u.a. zu den Gerüchten zu einer Kinofilmversion geäußert. Und er warnte Miranda Hart. Eindringlich.
"I read that Jimmy Perry randomly wrote this article talking about that transition from studio sitcoms to films and he said 'I hope Miranda doesn't do it because what she's written is a studio sitcom and that's what it should be'. (Miranda Hart)"
Und Miranda Hart nahm sich jene Warnung zu Herzen und begrub die Kinofilmidee. Die Ideen, die im Script zu einem möglichen Kinofilm standen, wurden dann teilweise im Serienfinale genutzt.
Nun könntet ihr euch fragen, warum ich hier über the good old times schreibe. Über längst vergangen Zeiten. Ganz einfach. Über diese Kinofilmepisode hat Miranda Hart erst vor kurzem berichtet, aber nicht nur das. Denn in einem Gespräch mit BBC Radio 4 hat sie jene Gerüchte, von denen ich sprach, indirekt bestätigt. Es gibt in der Tat Überlegungen zu einer Fortsetzung, allerdings weiterhin als Serie. Die potentielle Serienidee soll einige Jahre nach "Miranda" ansetzen und das Leben von Miranda und Gary als verheiratetes Paar zeigen.
"I think you could do married life as a sitcom, with Miranda and Gary and see how they're getting on. (Miranda Hart)"
Also ich könnte mir eine Fortsetzung mit dieser Prämisse sehr gut vorstellen. Oder um es mit Penny, Mirandas Mutter, zu sagen "Such fun!". Ich bin da jetzt einfach mal guter Dinge. Die Serie war und ist einfach sehr gut und ich lache über die meisten Gags immer noch, jedes Mal. Einfach zeitloser Humor. Mit einer grandiosen Miranda Hart.

Wer bis dato die Serie noch nicht gesehen hat, schaut die euch unbedingt mal an. So muss man eine Comedyserie schreiben. Am besten nur so.

Miranda - Bloopers / Outtakes

Bilder: BBC

-->