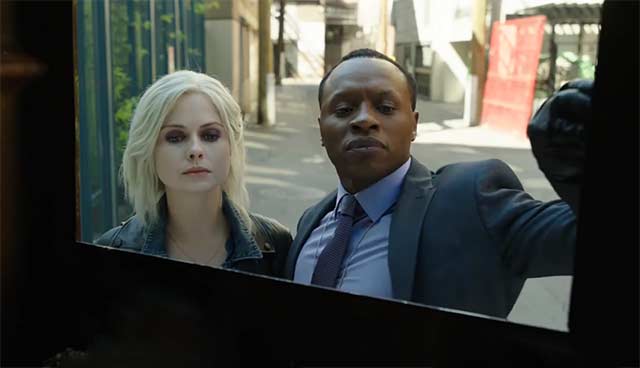 Ach ja, es gibt ja auch noch "iZombie"! Vor elf Monaten ist die zweite Staffel zuende gegangen, jetzt folgt mit etwas Verspätung Runde drei und The CW hat einen Trailer dazu veröffentlicht, der durchaus wieder Lust auf Live und Co. macht. Ab 4. April gibt es die neuen Folgen – natürlich dann auch wieder mit Reviews hier im Blog.
"We eat brains and we solve murders." (Liv)
Spezialeffekte scheinen jetzt nicht wirklich eine neue Stärke zu werden, aber gerade die Tatsache, dass nun mehrere Leute die Persönlichkeitszüge ihrer "Mahlzeiten" annehmen, dürfte für Unterhaltung sorgen. Mal schauen, ob sie die ernster werdende Grundstory vernünftig hochskaliert bekommen. Hier jedenfalls noch ein paar (ein bisschen spoilernde) Informationen zur Staffel:
"In the third season, Liv has discovered there are more zombies living in Seattle than she previously believed. In fact, there is a private military contractor employing a small zombie army, and that army is preparing for the day humans learn of their existence. Major finds a job and acceptance in this army. Liv and Clive investigate the murder of a zombie family that may just set off an all-out zombie-human war. Ravi's former boss at the Center for Disease Control shows up in Seattle to investigate the Max Rager massacre. Blaine finds living as a human with no memory of his evil past is more blessing than curse. Peyton pulls at a thread in one of her cases that may lead to the villain that's pulling all the strings. This season, Liv will eat the brains and take on the traits of a dominatrix, a JACKASS-style stunt man, an office gossip, a pre-school teacher, a conspiracy theorist, a dungeon master, and many more."
via: Marco, der irre gerne kein Gehirn isst, aber anderen dabei zuschaut.