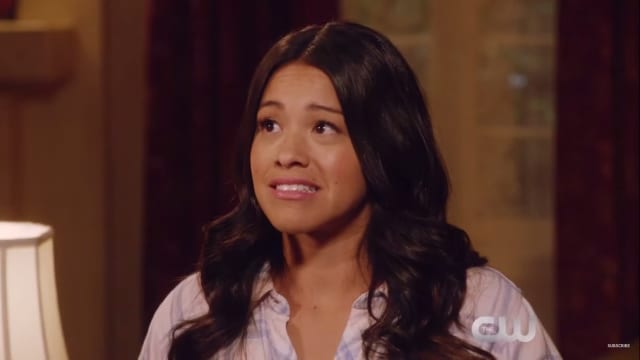 Kaum ist die erste Staffel Jane the Virgin in Deutschland zu Ende gegangen, geht es in den USA auch schon weiter. Am 12. Oktober startet die zweite Staffel der Comedyserie auf The CW, in der u.a. Popsängerin Kesha und Britney Spears Gastauftritte haben werden. Gina Rodriguez, Darstellerin von Jane, wurde Anfang des Jahres als beste Schauspielerin in einer Comedyserie mit einem Golden Globe ausgezeichnet. Nun wurde ein Trailer veröffentlicht, der uns erste Einblicke in die Fortsetzung der Story gewährt.
Aber zunächst zur Handlung der ersten Staffel: Bei einer Routineuntersuchung beim Frauenarzt wird Jane offenbart, dass sie schwanger sei. Sie kann es zunächst kaum glauben, da sie ihr Leben bis jetzt enthaltsam geführt hat und stets Jungfrau ist. Doch die Aussage bewahrheitet sich: Aufgrund eines Ärztefehlers wurde Jane versehentlich künstlich befruchtet und trotz Jungfräulichkeit ist Jane wirklich und wahrhaftig schwanger. So richtig. Natürlich blöd, dass der biologische Vater Rafael verheiratet und zufällig Janes Sommerliebe ist – und dass Jane selbst mit Michael verlobt ist. Wie soll sie nur allen diesen unmöglichen Zufall erklären?
Die zweite Staffel Jane the Virgin wird sich in erster Linie um Janes Entscheidung zwischen Rafael und Michael drehen. Beide möchten mir ihr zusammen sein – und sie kann sich nicht entscheiden, wer ihr Herzblatt sein soll. Wer allerdings im Trailer genau hinsieht, kann sich die Antwort schon denken.
I'm in love with…
Viel Spaß beim Raten!

via: Entertainment Weekly

-->