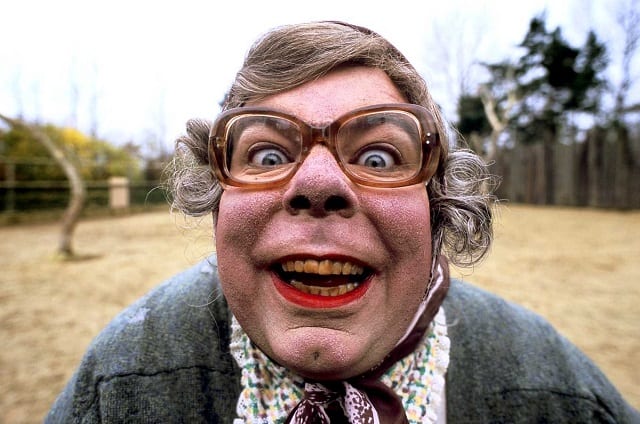 Royston Vasey dürfte zu den irrwitzigsten Orten gehören, die man jemals als Serienfan betreten hat. In jenem Ort treiben sich zudem die wohl kuriosesten Figuren herum, die man sich für eine Serie ausdenken kann. Wobei, wenn nicht in Royston Vasey, wo dann? Der Kenner wird wissen, der Laie staunen: ich spreche natürlich von "The League of Gentleman". Eine der good old UK Klassiker aus dem Comedygenre mit einer fantastischen Besetzung.
Erdacht und geschrieben wurde die Serie, die 2002 nach drei Staffeln ihr Ende fand, nämlich von Mark Gatiss, Steve Pemberton und Reece Shearsmith, die zudem auch noch gleich die meisten Figuren verkörpern. Die Drei entwickelten dabei einen so speziellen Humor rund um die Geschichte dieses Örtchens und der Leute, die darin leben, dass diese Serie unbedingt zu den Pflichtserien eines jeden Comedyfans gehören sollte.
Im Grunde geht es in der Serie um die Bewohner des Örtchens Royston Vasey, die gerne unter sich sind und bleiben wollen. Als dann eine neue Straße verlegt werden soll, welche Royston Vasey für die Außenwelt besser erreichbar machen würde, beginnen einige Bewohner sich dagegen zu wehren.
Comedy Great: New Road - League of Gentlemen, The - BBC
Und genau dieser Hintergrund der Serie führt nun dazu, dass scheinbar Mark Gatiss und Co über eine Fortsetzung der Serie nachdenken. Wer Mark Gatiss jetzt nicht sofort einordnen kann, der denke kurz an Sherlocks Bruder Mycroft Holmes und hat ihn vor Augen. Gatiss, Pemberton und Shearsmith gehören für mich zu den Top Comedywritern der Insel. Und das schon eine ganze Weile.
Gerüchte und Ideen die Serie fortzusetzen gab es schon öfters, nun scheint aber durch den ansehenden Brexit neuen Schwung in die Sache gekommen zu sein. Zumindest hat sich einer der Autoren der Serie, Mark Gatiss, seit Ewigkeiten mal wieder zu einer möglichen Fortsetzung geäußert. Und in diesen Äußerungen deutet Gatiss an, dass sie seit einiger Zeit ernsthaft über eine Fortsetzung, wenn nicht der Serie an sich aber dann doch etwas vergleichbaren nachdenken. Die einmal zum Leben erweckten Figuren sind einfach zu gut, um sie nicht in der aktuellen Zeit wieder auf die Leinwand zu bringen. Denn die Ideale der Bewohner von Royston Vasey scheinen nun eine gesamte Bevölkerung ergriffen zu haben. Ob man das gut findet oder nicht.
"I think increasingly, talking about prescience, we have become a local country for local people and I wonder if there is something Brexity in us that we can do." (Mark Gatiss)
Bei Mark Gatiss muss man natürlich aufpassen was er sagt, und wie, aber ich persönlich hätte nichts gegen eine Fortsetzung der Serie und würde mich auf ein Wiedersehen mit Edward und Tubbs (das sind die mit dem local shop), Val, Mickey, Pauline, Geoffrey oder dem Pfarrer Bernice Woodall freuen. Hätte der anstehende Brexit doch was gutes.

Ist die Serie für euch ein Begriff? Und wenn ja, vermisst ihr derartig abgedrehte Serien auch in der aktuellen Serienlandschaft?

via: radiotimes

-->