Niemand mag Dudelsack-Musik? Diese Befürchtung hatte Score-Komponist Bear McCreary zumindest – wenn man seinem wirklich, wirklich witzigen Video glauben schenken darf. In dem Mockumentary zu Outlander erklärt er, dass er schon seit seiner Kindheit Fan von Dudelsack-Musik ist – das stimmt ja auch soweit, wie wir in unserer Soundtrack-Serie zu Outlander ja auch schonmal ausgeführt haben. Im Video sitzt Klein-Bear auf der Schaukel, neben ihm ein Dudelsack-Spieler. Auch später, beim Joggen oder beim Autofahren, ist der Dudelsack-Spieler ständig dabei.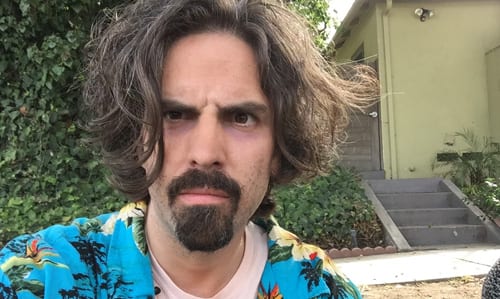 "What?" – Bear McCreary in seinem Mockumentary-Video zu Outlander. (Foto: bearmccreary.com)
Dann zeigt Bear McCreary, was er schon alles angestellt hat, um Dudelsack-Musik in seinen Scores unterzubringen. Wir hören den The Walking Dead-Score in Dudelsack-Version, die Titelmusik zu Agents of S.H.I.E.L.D. in Dudelsack-Form, dann sehen wir Bear McCreary im Gespräch mit David Samuel Goyer, Schöpfer der Serie Da Vinci's Demons. Ihn versucht McCreary zu überzeugen, dass doch Dudelsack-Musik ideal wäre für den Da Vinci-Score. Das würde Da Vinci in einem vollkommen neuen Licht darstellen. Auch die Titelmusik hören wir im Dudelsack-Style. Doch Goyer lehnt dankend ab. Bear McCreary ist vollkommen verzweifelt, ehe er einen Anruf von Ron Moore erhält. Dieser bastelt gerade an einer Idee in Schottland, Outlander soll die Serie heißen und es soll jede Menge Dudelsack-Musik darin vorkommen. Das ist DIE Erfüllung für Bear McCreary.
In seinem Blog gibt's übrigens weitere Bilder und Infos zum Video.