Der Titelsong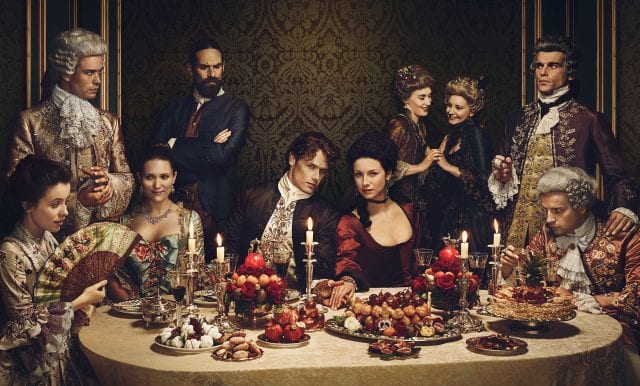 Beim Titelsong zu Outlander ist die Stimme von Raya Yarbrough zu hören – der Lebensgefährtin von Bear McCreary. Raya Yarbrough arbeitet schon seit vielen Jahren mit dem Komponisten zusammen, unter anderem ist sie auf den Soundtrack zu Battlestar Galactica und Da Vinci's Demons zu hören, aber auch in den Serien The Walking Dead und Agents of S.H.I.E.L.D. Eigentlich sollte Outlander einen instrumentalen Titelsong bekommen – so hatten es Bear McCreary und Ronald D. Moore besprochen. Erst hatte Bear McCreary auch nur die Melodie im Kopf, dann probierte er aber aus, wie Raya Yarbroughs Stimme mit dem Stück funktionieren würde. Nachdem alle Beteiligten das Ergebnis gehört hatten, waren sie einverstanden, diese Version zu nehmen. Der Text von Sir Harold Boulton passte allerdings nicht zur Serie, Raya Yarbrough fand allerdings einen alternativen Text von Robert Louis Stevenson, der perfekt zu Outlander passte.
Mit dem "The Skye Boat Song" beschäftigte sich Bear McCreary bekanntlich noch ausführlicher: So gibt es die Version der ersten Folge als Download zu kaufen, derweil die längere Fassung der zweiten Folge auf Volume 1 zu finden ist. Jede Episode der ersten Staffel verfügt über einen Titelsong mit jeweils einem alternativen Ende, so dass es insgesamt 16 verschiedene Versionen gibt – Potenzial für ein Album, ausschließlich bestehend aus Titelsongs, wie Bear McCreary in den Inner notes scherzt. Auf dem neuen Album zur 2. Staffel gibt es den Titelsong ebenfalls in 2 Varianten: Zunächst die französisch gesungene Fassung, und mittendrin dann in der "Jacobite Version".
Die Musik
Die Musik ist wie bei Staffel 1 der historischen Szenerie der Serie angepasst. Wir bekommen hier also jede Menge traditionelle, schottische Musik zu hören, aber auch Musik aus dem barocken Frankreich. Das betrifft einerseits die Melodien – Bear McCreary hat auf einige traditionelle Melodien zurückgegriffen, allerdings auch neue Kompositionen im traditionellen schottischen Stil gehalten – andererseits die Instrumentierung, wie der Komponist in seinem Blog erklärt:
"Outlander: Season 2″ is without doubt my most diverse album yet, and presented a real challenge to pull together as a satisfying listening experience. The score ranges from the ornate halls of Baroque Parisian courts, to muddy Scottish battlefields during the Jacobite uprising. While I do not always feel soundtrack albums must play in sequential order, I found that this season absolutely had to be sequenced that way.
Los geht's nach dem Intro allerdings erstmal mit dem Song "Leave the past behind", einer Art Ouvertüre zum Album und im Prinzip auch zur gesamten Staffel. Der Track ist nämlich eingangs des Staffelauftakts zu hören, wenn Claire und Jamie Frankreich erreichen. Der Song lebt von seinen Streicherpassagen und ist gleich das erste Highlight des Albums.
"Leave the Past Behind" concludes with one of the most luscious and lyrical orchestral passages I've ever composed, for the sequence where the narrative transitions from Frank burning Claire's eighteenth century clothes, to the airport in New York, and finally back to Scotland.
Weitere Anspieltipps sind:
– "Versailles" – Nanu, kommt einem doch bekannt vor? Ganz recht, es handelt sich um das Präludium des Te Deum von Marc-Antoine Charpentier, auch bekannt als die Eurovisionshymne. Für fast alle französischen Songs hat Bear McCreary eine historische Vorlage genutzt: "Passacaille" von Jean-Baptiste Lullys Armide für "Into Paris", "Ouverture de l'Opera d'Alcide" von Marin Marais bei "Honey Pot", Lullys "Second Intermede" von "Le Bourgeois Gentilhomme," in "The Apothecary" sowie Jean-Philippe Rameaus "Chaconne" von "Dardanus" in "Baroque Chess Match", dazu "Muzette and Double" von Marin Marais's Piéces de Viole, livre IV.
When implementing this historical music, I adapted the arrangement to fit the show's narrative needs, while doing my best to preserve the composer's original intent. I tended to start the Parisian episodes with very faithful arrangements, changing almost nothing about Te Deum for example. As the series progressed, I became increasingly adventurous. Stringed folk instruments sneak their way into "Ouverture de l'Opera d'Alcide," a Scottish bodhrán stealthily slithers into "Chaconne" from "Dardanus," and I converted Marais's "Muzette and Double" into a full-on pulsing action suspense cue!
– "Faith", ein ruhiges Klavierstück, das den Ausklang der französischen Sektion des Albums bildet.
– "Moch Sa Mhadainn" – wir sind zurück in Schottland, mit einem der wenigen gesungenen Tracks. Griogair Labhruidh ist hier zu hören, außerdem mit einem Reprise in dem Stück "Je suis Prest", das mit einem attraktiven Dudelsack-Outro glänzen kann. Bear McCreary ist glücklich, diesen Song an Bord zu haben:
For me, the stand out track is absolutely Griogair Labhruidh's stunning performance of "Moch Sa Mhadainn," as featured in the episode "Je Suis Prest." This melody plays an important thematic role in many of the cues throughout the second half of the album, so I'm grateful to have Griogair's voice to establish the melody for listeners in such an unforgettable way.
– Mit "125 yards", "The uprising begins" und "Prestopans" sind wir dann endgültig wieder in den schottischen Highlands angekommen, alles allerdings in einem düsteren Ton als zuvor, wie der Komponist erklärt:
This music feels like it could have come from The Walking Dead, but the low ominous pulsing sounds are the bodhrán frame drum, and the ambient textures are built from layers of small Scottish bagpipes and Uilleann pipes.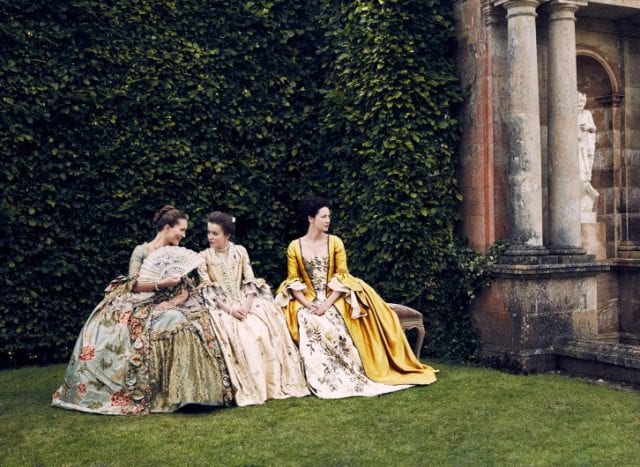 Fazit
Dass es zu der zweiten Season ebenfalls weiteres Audio-Material geben würde, hatte Bear McCreary ja bereits verkündet:
Now that Outlander Volume I and Volume II are released, I am thrilled fans can enjoy my score for the entire season as a musical experience. I am immeasurably grateful for the chance to be a part of this remarkable story, one that has rallied passionate fans all around the world, and I look forward to continuing this journey into Season Two. I know it's a bit of a wait until the new season premieres, so hopefully these two albums can help pass the time until then!
Ich finde das Album wieder großartig – weil Bear McCreary es einfach versteht, sich in die Szenarien der Serie hineinzudenken und das musikalische Pendant zur Geschichte und zur Optik zu entwickeln. Hier wird das besonders deutlich – mit dem französischen und dem schottischen Teil auf einem Soundtrack-Album. Einige Themen aus den anderen Alben lassen sich hier wiederentdecken, so dass sich eine runde Einheit aus den bisher drei Alben ergibt. Selbst wenn man wie ich mit der Serie selbst eher wenig anfangen kann, macht es doch weiterhin großen Spaß, sich durch die Alben zu hören.
Das müsst Ihr wissen
Das Album gibt's ganz normal als CD und in Dateiform. Ich hatte ja noch auf eine Special Edition von La-La-Land-Records gehofft, da kam bislang aber nichts – leider. Auch eine Vinyl-Ausgabe wie bei Season 1 ist bislang leider nicht angekündigt.
Die besten Tracks habe ich zu unserer sAWE-Soundtrack-Playlist bei Spotify hinzugefügt.
Bear McCreary – Outlander The Series (Original Television Soundtrack: Season 2)
1. Outlander – The Skye Boat Song (French Version)
2. Leave the Past Behind
3. Wrath of the Comte
4. Versailles
5. Into Paris
6. Honey Pot
7. The Apothecary
8. Baroque Chess Match
9. The Duel
10. Faith
11. Outlander – The Skye Boat Song (Jacobite Version)
12. Je Suis Prest
13. 125 Yards
14. Vengeance at Your Feet
15. The Uprising Begins
16. Prestonpans
17. Moch Sa Mhadainn
18. White Roses of Scotland
19. Tales of Brianna
20. Running Out of Time
21. Destiny on Culloden Moor
22. A Fraser Officer Survived
22 Tracks, 2016 Madison Gate Records
Dieser Beitrag hat mehrere Seiten: