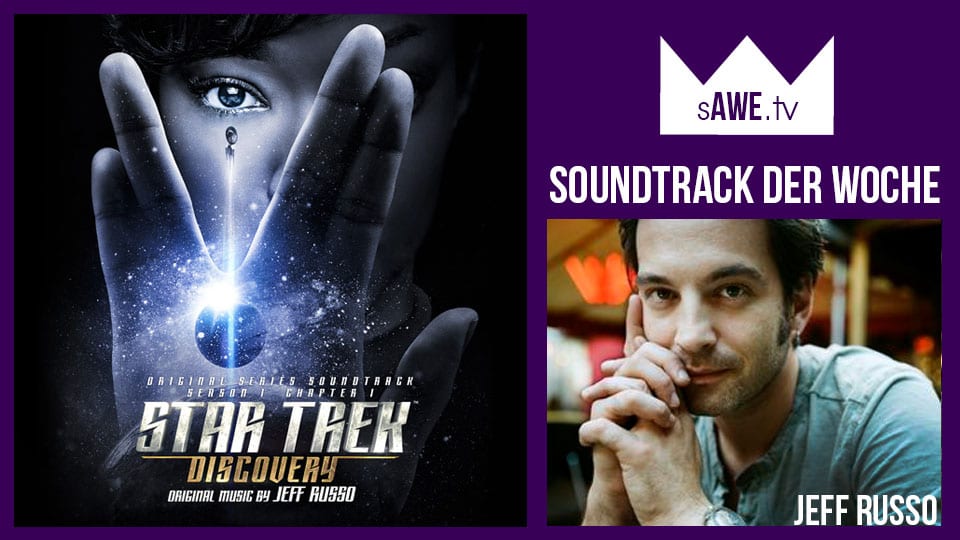 Die Serie – darum geht's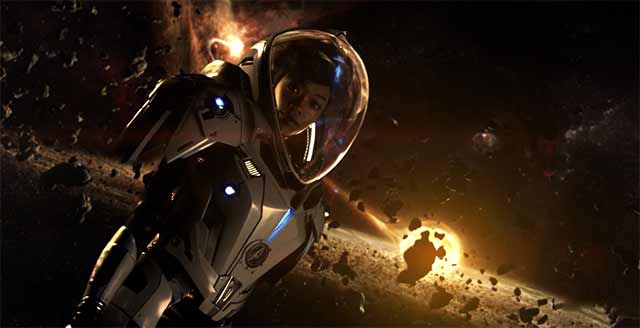 Star Trek Discovery spielt etwa zehn Jahre vor der Original-Serie. Sie hat eine weibliche Hauptfigur mit dem Namen Michael Burnham, gespielt von der aus The Walking Dead bekannten Sonequa Martin-Green. Doch Michael ist nicht der Captain, ihr vorgesetzt ist ebenfalls eine Frau, gespielt von Michelle Yeoh. Die Serie begrüßt uns freundlich – die Crew zickt sich auf warme Art und Weise an, dem Zuschauer soll vermittelt werden, dass sich alle gut kennen und gerne zusammenarbeiten. Ein ungewohntes Bild, denn bisher startete die Crew einer Star Trek Serie immer etwas verhalten, erst nach mehreren Folgen wurden sie warm miteinander. Im Mittelpunkt steht zunächst der beginnende Krieg mit den Klingonen, in Part II dann die Flucht aus einem Parallel-Universum. Mehr dazu in Jonas' Review-Reihe.
Der Komponist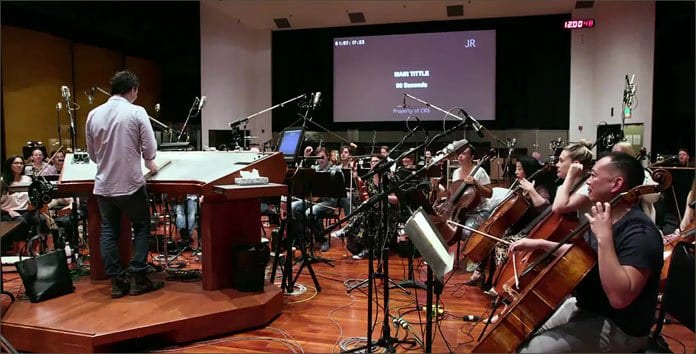 Jeff Russo kommt eigentlich aus dem Rockmusik-Bereich: Er ist Gründungsmitglied der amerikanischen Rockband Tonic. Auch mit der Acoustic Rockband Low Stars ist er unterwegs. Seine Frau Nina Gordon gehört zur Band Veruca Salt. Zur Filmmusik ist er eigentlich durch einen Zufall gekommen: 2006 wurde er von Wendy Melvoin angesprochen, eine gute Freundin seiner Frau und selbst Komponistin für Film- und Serienmusik. Sie arbeitete zu der Zeit mit Lisa Coleman am Soundtrack zur Serie Crossing Jordan, bereitete außerdem den Score zu Heroes vor. Beide hatten damals so viel zu tun, dass sie Jeff Russo fragten, ob er nicht helfen könnte. Er hat sich das dann zwei Monate bei denen angeschaut und ist in die Arbeit zu Crossing Jordan eingestiegen. Die Folgestaffel hat er dann komplett übernommen. Von ihm stammen außerdem die Scores zu LEGION, Fargo, Power, Hostages, CSI: Cyber und zur zweiten Staffel von Extant.
Seine Rolle als Komponist sieht er aus einem ganz bestimmten Blickwinkel heraus. Als Komponist für Filme und Serien habe er die Gelegenheit, etwas Bedeutungsvolles zu produzieren. Man schreibe nicht einen Score zu einem Dialog oder ähnlichem, sondern das, was der Komponist kreiere, sei in dem Moment der Dialog in der Serie. Zwischen dem Sichtbaren und der Musik bestehe eine Art Symbiose – die Musik werde durch das Optische besser, die Serie aber auch durch die Musik – im Idealfall, natürlich.
Zu "Star Trek: Discovery" ist er übrigens mehr oder weniger durch einen Zufall gekommen, wie er CBS gegenüber verriet. Auf einer Veranstaltung hat er über den Vater einer Freundin seiner Tochter eine Produzentin der Serie kennengelernt. Sie kannte Russos Schaffen bereits und sprach ihn darauf an. Er fragte dann später auch, welche Projekte sie so am Start habe, und sie fing an, von "Star Trek" zu sprechen. Und ob er sich vorstellen könnte, Teil des Projektes zu werden. Welche Frage! Denn: 1. Star Trek. und 2. Star Trek! Und da Jerr Russo selbst großer Star Trek-Fan ist (er wurde zum Fan, als in seiner Junge "The Next Generation" anlief), ging mit der Zusammenarbeit alles ganz schnell. Sein Lieblingssoundtrack aus dem Star Trek-Universum ist übrigens vom zweiten Original-Film, Der Zorn des Khan. Auch den Score des ersten Films mag er – tatsächlich nimmt Jerry Goldsmith' Score in dem Film einige üppige Zeit ein und prägt diverse Passagen. Mehr zu seiner Verbindung zu Star Trek gibt er im Interview mit startrek.com preis:
"I started as a kid. I watched TOS in syndication on the local channel in New York. And I really got into it. But it wasn't until I was a teenager, when I got into TNG, that I really became a hardcore Star Trek fan. I'd already been watching the movies. I became a huge Star Trek fan not after The Motion Picture, of which the music is spectacular, obviously, but it was The Wrath of Khan that really drew me in. And that was partly because it was a movie based on a TOS episode. It told the continuing part of that story, and that was really interesting to me. Also, I think that might be my favorite score of all the movies. I sort of go back and forth. That's a question people ask all the time… What's your favorite music from Star Trek? I tend to always end up back at Wrath of Khan. James Horner's score for that movie was really, really well done, really spectacular. But obviously TMP is also spectacular."
Die Zusammenstellung eines Score-Albums sieht er laut Trekcore übrigens immer noch aus der Künstlerperspektive heraus: Ihm ist es wichtig, dass der Hörer ein rund zweistündiges Gesamterlebnis hat:
"I come from a background of making albums that you can listen to straight through. Once you start packing 35 tracks onto long two-hour CD sets, nobody ever listens to everything."
Deswegen gibt er nur die Auswahl der Highlights heraus und keinen vollumfänglichen Score, wie man es mittlerweile bei den anderen Star Trek-Serien über auf Soundtracks spezialisierte Labels erkennen kann. Was er ausgesucht hat, habe ich auf der Folgeseite zusammengestellt.
Der Beitrag ist auf mehrere Seiten aufgeteilt: