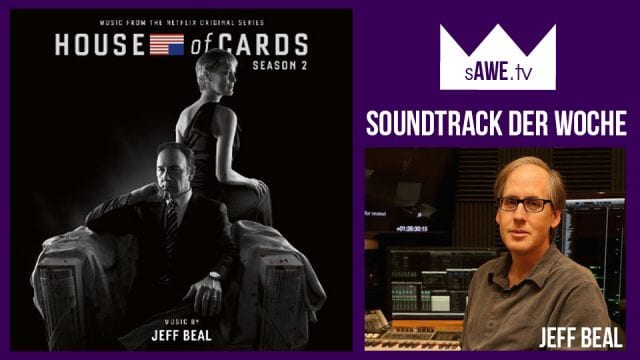 Neue Folge unserer Serie "Soundtrack der Woche": Hier stellen wir Euch regelmäßig Scores, Tracks und Musik-Alben zu unseren Lieblingsserien vor. Dabei gehen wir einerseits auf die Akteure hinter dem Soundtrack ein, aber natürlich auch ausführlich auf die Musik selbst – und ihre Wirkung auf die Serie. Folge 39: Musik in: House of Cards (Season 2).
Die Serie – darum geht's
"House of cards" hatten wir hier bei sAWE im Rahmen dieser Soundtrack-Reihe schonmal vorgestellt, damals mit dem Soundtrack zu Season 1. Im Mittelpunkt des Politthrillers steht Frank Underwood, der nach der US-Präsidentenwahl überraschend nicht zum Außenminister gewählt worden ist. Mit seiner Frau Claire schmiedete er einen Racheplan, um sich seinen nach seiner Sicht verdienten Platz im Weißen Haus zu sichern. Doch es kommt noch besser: Er wird erst Vizepräsident und später im Laufe der Staffel sogar US-Präsident.
Die Geschichte von Frank Underwood wird von Beau Willimon toll erzählt – gerade das Intrigenspinnen, der Umgang mit Rückschlägen und das absolut Skrupelose im Vorgehen wird großartig herausgearbeitet. Dabei nutzen die Macher ein durchaus ungewöhnliches Stilmittel, indem sie den Hauptcharakter Frank Underwood immer wieder zum Publikum sprechen lassen, derweil die eigentliche Handlung weiterläuft.
Die Serie ist ein Aushängerschild des Streaming-Dienstes Netflix, der sich vor allem dank dieser Serie schnell einen Namen machen konnte. Herauszuheben ist die tolle Besetzung der Figuren bis in die kleinste Nebenrolle – überzeugend ist vor allem Kevin Spacey als Frank Underwood. Durch diese Serie hat Spacey seine Liebe zum seriellen Erzählen entdeckt. Bekanntester Fan der Serie ist US-Präsident Barack Obama, der dann und wann schonmal eine Referenz auf "House of cards" in Reden oder Interviews einbaut.
Für einen schnellen Überblick über die Anfänge der Serie gibt's hier in vier Minuten eine Zusammenfassung von What's Trending's Shira Lazar:
House of Cards Season 1: Everything You Need to Know | What's Trending Original
Staffel 2 ist hier von Netflix zusammengefasst:
House of Cards - Official Season 2 Recap [SPOILERS] [HD 1080p]
Der Komponist
Auf Jeff Beal bin ich zum ersten Mal aufmerksam geworden, als ich die HBO-Serie Carnivale gesehen habe – ein Serie über einen Wanderzirkus, aber auch über gute und böse Magie. Ich habe sie im Rahmen der Soundtrack-Reihe hier schonmal vorgestellt. Sowohl in Carnivale als auch in der ersten Staffel von House of Cards kommen sehr viele Bläser-Elemente drin vor – was für eine unheimliche und mysteriöse Stimmung sorgt.
Jeff Beal hat für seine Score-Arbeit bislang 13 Emmy-Nominierungen erhalten – drei Auszeichnungen wurden ihm dann tatsächlich auch verliehen. Zu den Highlights in Sachen Serien-Vertonung gehören neben House of Cards und Carnivale auch der Score von Rome und Monk, von Medium, Ugly Betty oder zuletzt The Newsroom. Jeff Beal produziert in der Regel jeden Score komplett selbst: Komplett meint, dass er die Musik komponiert, selbst einspielt (vor allem die Trompete, Flügelhorn, Klavier und die Gitarren), selbst dirigiert, wenn ein Orchester zum Einsatz kommt, selbst aufnimmt, mischt und produziert. Die Aufnahmen mit einem 17-köpfigen Streichorchester hat er bei sich Zuhause in seinem Wohnbereich stattfinden lassen.
Man sieht: Er ist also für den kompletten kreativen und technischen Prozess selbst verantwortlich – so bekommen die Produktionen auch die ganz persönliche Jeff Beal Note, wie seine Frau Joan bestätigt, die er während des Studiums kennengelernt hat:
That's Jeff. That's his personality. He always has repaired his own car, or taken care of his own taxes. When he became a musician, computers were just starting, so he got the first Macs and he learned how to record himself. He's been doing this his whole life. It's not a control issue; it's that he loves it.
Joan Beal ist übrigens auch auf dem Album zur 2. Staffel von House of Cards zu hören – sie hat den Sopran-Teil in einigen Tracks übernommen. Noch bevor House of Cards-Showrunner David Fincher die ersten Einstellungen gedreht hat, engagierte er Jeff Beal für die Serie. Beide haben zusammen den Style und die Tonaliät der Serie erschaffen. Wie Jeff Beal zu House of cards gekommen ist, erklärt er unter anderem in dem Interview mit npr.music:

Neben Scores hat Jeff Beal auch eigene Soloalben veröffentlicht; das sind vor allem Jazz-Alben, die vielfach in der Jazz-Szene Beachtung gefunden haben. Dazu kommen mehrere Kammermusik- und Orchester-Werke, die von den großen Orchestern der Welt eingespielt wurden.

Dieser Beitrag hat mehrere Seiten:

-->