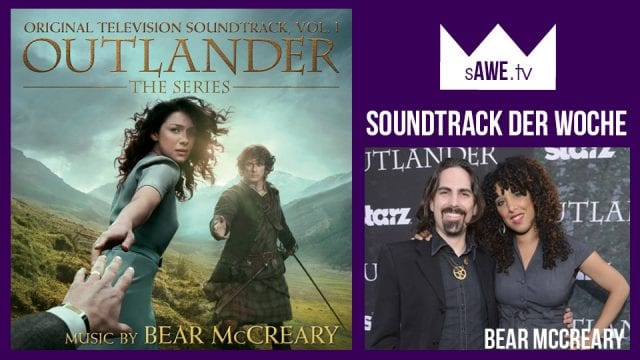 Neue Folge unserer Serie "Soundtrack der Woche": Hier stellen wir Euch regelmäßig Scores, Tracks und Musik-Alben zu unseren Lieblingsserien vor. Dabei gehen wir einerseits auf die Akteure hinter dem Soundtrack ein, aber natürlich auch ausführlich auf die Musik selbst – und ihre Wirkung auf die Serie. Folge 13: Musik in: Outlander.
Die Serie – darum geht's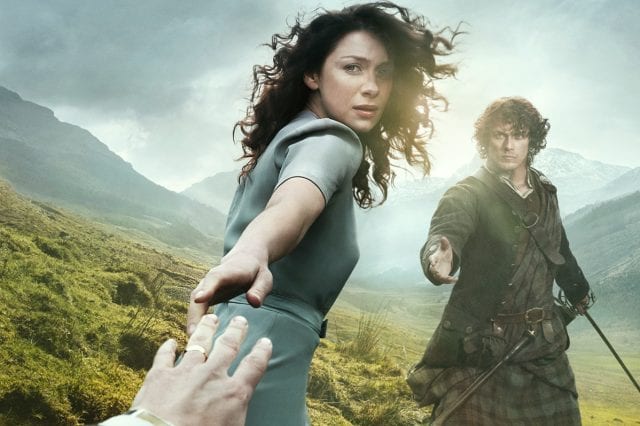 Zeitreisen mal anders: In Outlander braucht die Hauptfigur Claire keinen Flux-Kompensator und keine Notrufzelle, um durch die Zeit zu reisen. Sie muss nur einen Stein in Schottland berühren – und schon verlässt sie das Jahr 1945 und landet im 18. Jahrhundert. Ursprünglich ist die junge Militär-Krankenschwester, gespielt von Caitriona Balfe, mit ihrem Mann Frank Randall (Tobias Menzies) in den zweiten Flitterwochen in den schottischen Highlands. Nach der traumatischen Zeit des Zweiten Weltkriegs genießen die beiden zum ersten Mal seit Jahren eine unbeschwerte(re) Zeit.
Sie besuchen verschiedene Monumente, unter anderem einen als magisch geltenden Steinkreis in den Highlands. Als sie einen der mystischen Steine berührt, verliert Claire das Bewusstsein – und erwacht im Jahr 1743, mitten im Schlachtgetümmel zwischen katholischer Schotten und protestantischer Engländern. Zwischen den Fronten befindet sich Claire in Lebensgefahr, wird aber von dem Highlander Jamie (Sam Heughan) gerettet. Erst nach und nach erahnt Claire, was mit ihr geschehen zu sein scheint. Im Schottland des 18. Jahrhunderts hat sie sich schließlich nicht nur mit anderen Sitten und Gebräuchen zurechtzufinden, es gelten auch andere Rechte. Aber: Ihr Wissen als Krankenschwester kann sie als Heilerin einsetzen – doch ihre Kenntnisse und Fähigkeiten sind vielen Zeitgenossen im 18. Jahrhundert unheimlich.
Die Idee zur Serie hatte Ronald D. Moore, der unter anderem Battelstar Galactica und Caprica ersonnen hat und für verschiedene Star Trek-Serien mitverantwortlich war. Die Serie basiert auf den Büchern von Diana Gabaldon, bislang gibt es 16 Folgen aus der ersten Staffel – eine zweite Staffel ist angekündigt.
Als ich sah, dass es eine neue Serie von Moore geben würde, die zudem noch von Bear McCreary musikalisch vertont würde, war ich erstmal total happy. Leider hat die Serie dann nicht das gehalten, was ich mir versprochen hatte. Unabhängig davon ist der Soundtrack allerdings wunderbar – worauf ich gleich noch ausführlicher eingehen werde.
Der Komponist
Komponist des Score zu Outlander ist Bear McCreary. Ihn haben wir in dieser Reihe ja schon einmal vorgestellt, einmal mit seinem Terminator-Seriensoundtrack und einmal letzte Woche mit Caprica. Der Amerikaner ist Jahrgang 1979 und vor allem durch den Battlestar Galactica-Soundtrack ab 2004 bekannt geworden. Seine Musik begegnet mir immer wieder, da er immer zufällig jene Serien vertont, die mir auch gefallen: The Walking Dead oder Marvel's Agents of S.H.I.E.L.D. zum Beispiel. Außerdem stammt von ihm der Soundtrack zu Black Sails – mit der Serie kann ich allerdings – wie bei Outlander – nicht viel anfangen.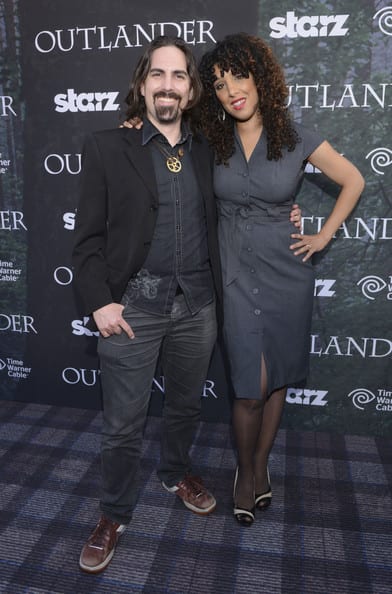 Bear McCreary und seine Lebensgefährtin Raya Yarbrough. (Foto: Starz)
Bear McCreary – der Name passt ja schonmal zu einer Serie, die in den schottischen Highlands spielt – war selbst bisher lediglich einmal selbst in Schottland. Die Kultur hat ihn aber sein gesamtes Leben begleitet, wie er in seinem Blog und in den Inner Notes zum Soundtrack-Album schreibt:
Scottish music and culture has been an obsession of mine for nearly my entire life. Growing up in Bellingham, WA, my friends and I attended the Highland Games every summer for over a decade. This was the highlight of the summer for me, watching the Caber Toss and the bagpipe bands while wolfing down copious amounts of red meat.
Schon beim Battlestar Galactica-Soundtrack hat er schottisch-irische Instrumentierungen eingesetzt – Ronald D. Moore hätte ihm seinerzeit vollkommen freie Hand beim Score gelassen. Mit Outlander hätte sich für ihn ein großer Traum erfüllt, wie Bear McCreary schreibt. Die Serie hätte ihm erlaubt, jene Art von Score zu schreiben, von der er sein Leben lang geträumt habe.
Hearing the orchestra reach its highest notes while watching the drama unfold, I was overwhelmed with emotion."
Dieser Beitrag hat mehrere Seiten:

-->