Die erste Folge der neuen Staffel Orange Is The New Black war mehr ein heiteres Wiedersehen und Anschluss an Staffel 2, als der Beginn eines neuen Kapitels in der Geschichte um die Frauen in Litchfield. Wie geht es also nun weiter, sehen wir ein weiteres Dahinplätschern?
Inhalt
Red findet heraus, dass Piper sie in der letzten Staffel angelogen hatte. Piper hatte bei ihrem Freigang den Auftrag nach Reds Laden zu sehen, der jedoch schon eine ganze Weile gar nicht mehr existiert. Statt ihr diese traurige Wahrheit zu berichten log sie, Red findet das ganz und gar nicht gut und sagt Piper die Meinung:
"You are a selfish little person. You wanted me to like you. Now I like you less"
Piper hat aber von der neuen Red, bis auf ihre Missachtung, nichts zu befürchten. Weswegen sie die Zeit lieber dafür nutzt sich an Alex heran zu machen. Lange dauert es auch nicht bis beide leidenschaftlichen Sex haben. Das Besondere daran, dies folgt auf Pipers Geständnis, dass sie Schuld daran ist, dass Alex zurück ins Gefängnis musste. Irgendwie hatte man erwartet das beide Ereignisse, Geständnis und das erneute Zusammenkommen, noch etwas hinausgezögert wird. Auch wenn in dieser Folge beide "nur" Sex haben und Alex offiziell nach wie vor sauer auf Piper ist, wird es bei diesem Tempo wohl schon in der kommenden Folge zur kompletten Versöhnung kommen. Etwas schade, da hätte man etwas mehr draus machen können.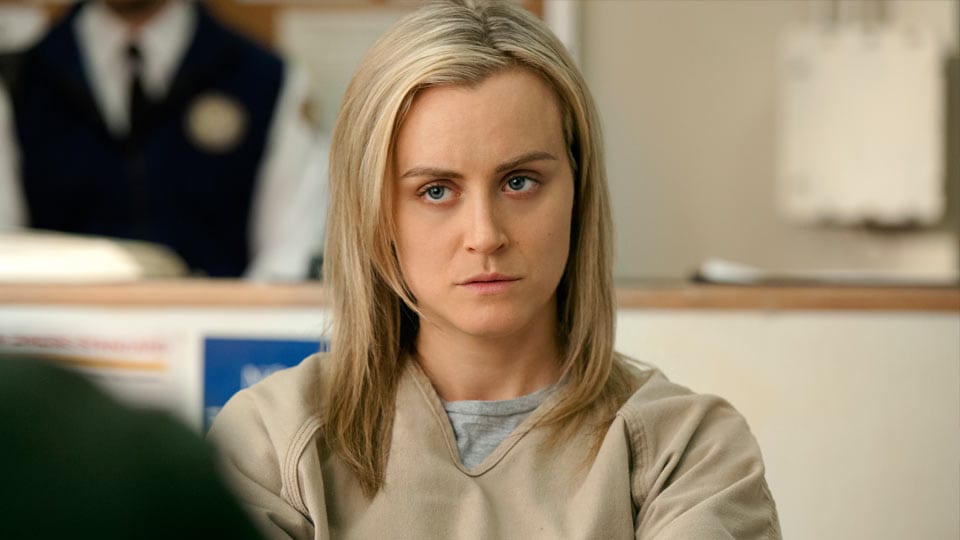 (c) Netflix

Innerhalb von Folge zwei erfahren wir auch die Hintergründe, warum Aufseher John sein Bein im Irak verlor. Eigentlich verließ er nie das Camp und schlug nur die Zeit tot, bis eines Tages die eigentlich verbündeten irakischen Soldaten Handgranaten in sein Zelt warfen. Diese Geschichte wird im Zuge der Ereignisse um sein Ungeborenes Kind gezeigt. Man merkt, dass das Kind von Daya und John noch sehr wichtig werden. Dayas Mutter läd Pornstachs Mutter ein, um bei einer Adoption des Kindes – welches offiziell nicht Johns sondern Pornstachs Kind ist – sicher zu gehen, dass auch die echte Mutter und Großmutter finanziell begünstigt werden. Nachdem Daya und John davon erfahren ist die Aufregung groß, aber Daya denkt ernsthaft über das unmoralische Angebot nach.
Ein wichtiges Ereignis muss noch erwähnt werden. Caputo erfährt, dass geplant ist das Gefängnis zu schließen. Die Skandale der letzten Staffel haben Nachwirkungen, die Inhaftierten sollen verteilt werden und bereits in 2 Monaten sollen die Pforten geschlossen werden. Aber noch hat Caputo etwas Zeit sich etwas einfallen zu lassen.
Fazit
Jetzt hat die dritte Staffel endlich angefangen. Wir haben mit der Drohung, dass das Gefängnis geschlossen werden soll, eine neue übergeordnete Storyline. Was aber viel wichtiger ist: Orange Is The New Black spielt erneut die Stärke der Charakterentwicklung aus. Piper, in Staffel 1 noch die naive und gutgläubige Frau, welche in Staffel 2 zur toughen Gefängnis-Braut wandelte, steht erneut vor einer Transformation. Sie ist verloren, ihre Ideale hat sie verraten nur um Alex zurück zu bekommen, denn draußen wartet nichts mehr auf sie. Piper hat keinen Plan B und kann nur noch das Beste aus der aktuellen Situation machen. Das bedrückt sie und lässt sie endgültig zu einer der andere Person werden – jemand, der mit Piper aus Staffel 1 nichts mehr zu tun hat.
Wenn man das alles reflektiert zeigt es die Idiotie des (US-) Justizsystem auf. Piper ist innerhalb von wenigen Monaten aus einem produktiven Mitglied der Gesellschaft zu eine gebrochene Person geworden. Auch der Schritt zur Kriminalität ist nicht mehr ausgeschlossen, oder schon überschritten worden wenn man an den Angriff auf Pennsatucky am Ende der 1. Staffel denkt. Ob Piper den Weg zurück zum alten Ich findet, oder ob unsere Protagonistin weiter fallen wird, das ist die treibende Frage für die kommenden Episoden.
-->