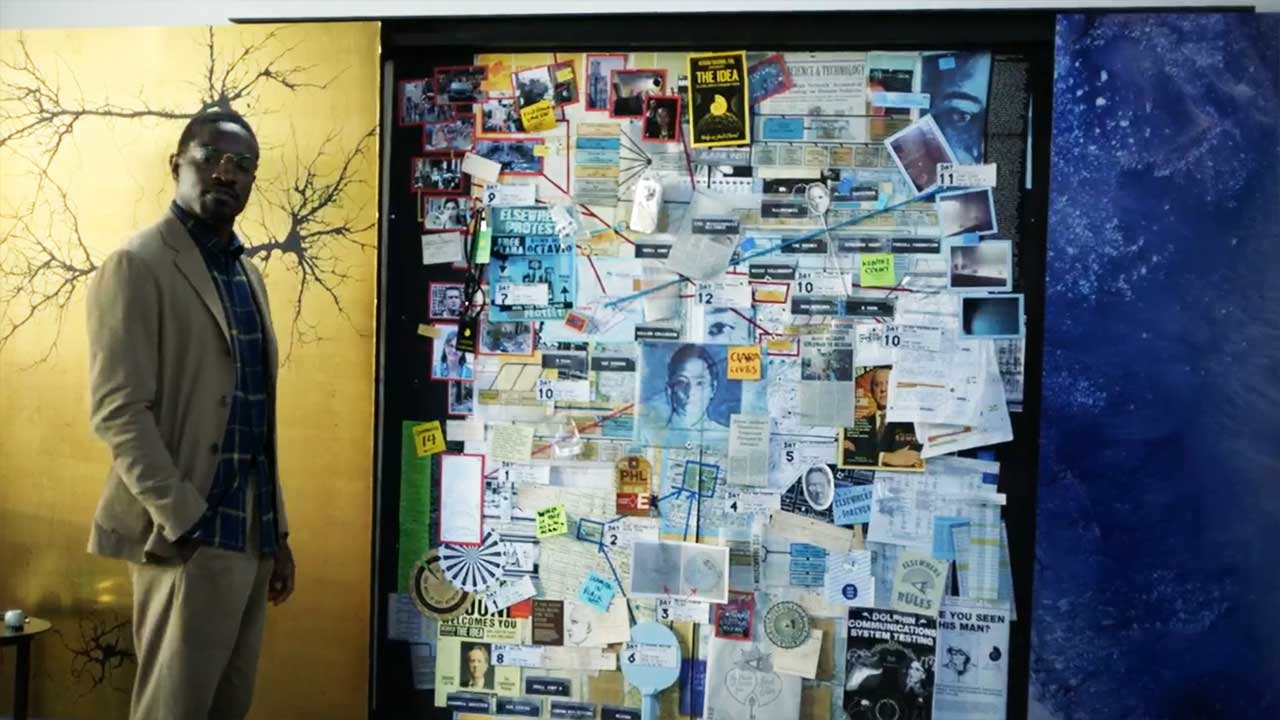 Die Einleitung ist vorbei, jetzt stecken wir mittendrin. In der Serie "Dispatches from Elsewhere" genauso, wie im Spiel selbst. Denn dieses Mal sind wir Zuschauer nicht etwa eine einzelne Figur, sondern "alle", im Sinne unserer Vierer-Rätsel-Truppe. Und alle haben unterschiedliche Auffassungen darüber, wie fortgeschritten werden sollte.
"Breakfast can wait – blue team, activate!" (Fredwynn)
Das Frühstück kann warten, aber nicht etwa Fredwynns Protein-Shake! So unsinnig das auch war, so gekonnt war die Inszenierung hinsichtlich seiner wirklich netten Netzwerk-Karte und dem Aufbau hin zu seiner wahrlich impulsiven Ansprache. Allgemein haben mir mal wieder einige originelle Übergänge visueller Natur sehr gefallen. Sei es der kleine Einwurf mit dem Auftritt beim Poetry Slam von "Janice, the Manice" oder der von außerhalb des Museums in das Museum selbst hinein. Clever und kreativ gemacht!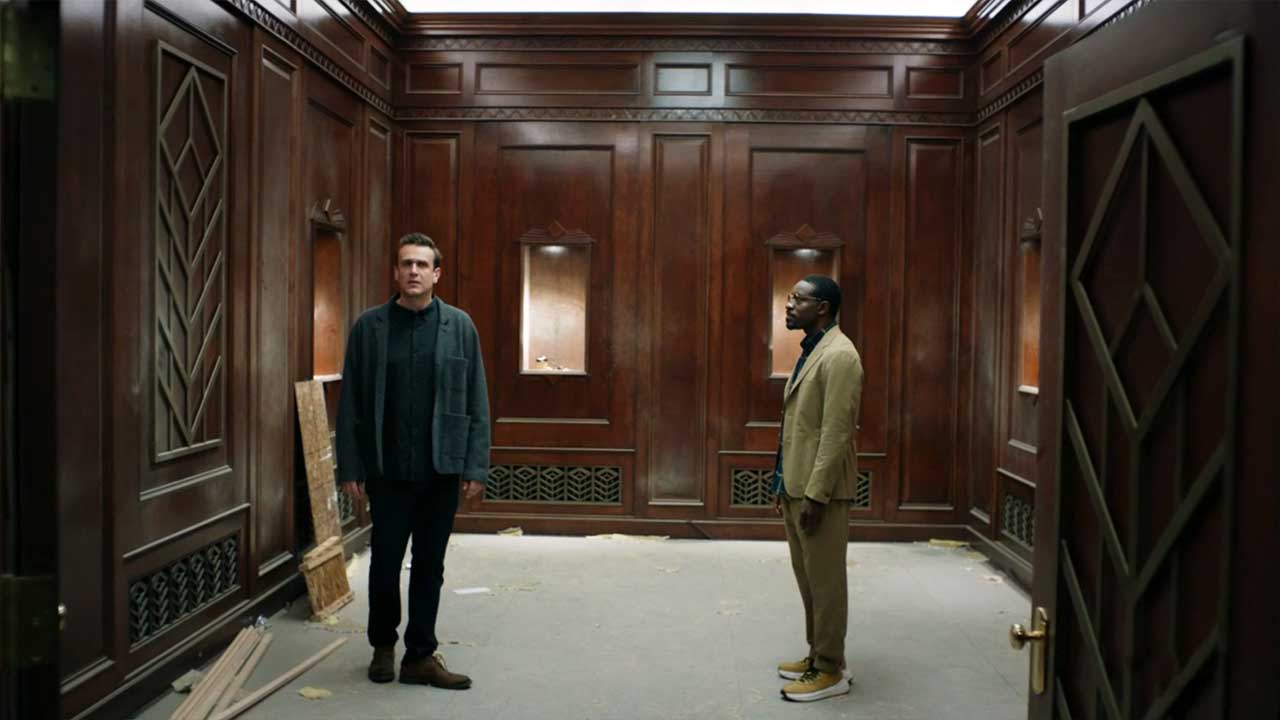 Peter und Fredwynn laufen alte Spielorte ab, die jedoch allesamt abgebaut sind. Ob das nun das Vertuschen von Spuren oder schlicht der Abbau einer Spielkulisse sein soll, bleibt zunächst unbeantwortet. Fest steht jedoch, dass der Milchtrinker unserem Team auf den Fersen ist.
"We're watching you. We're everywhere. Return to the game, as instructed – now!" (Stimme im Telefon)
Auch wenn unser in Zweier-Subteams aufgeteiltes Rate-Team dem eigentlichen Spiel-Pfad nicht mehr folgt, können sie erstaunlich schnell sehr konkrete Fortschritte machen. Sei es das Drachenbild an der Wand der Crazy Cat Lady oder der traurige Clownsjunge, den Fredwynn in seinem Mind Palace zu sehen bekommt und den wir bereits kurz am Ende der Janice-Folge zu sehen bekommen hatten. Was es wohl mit ihm auf sich hat?
"You knew something! How did you know something?!" (Fredwynn)
Mein Highlight war jedoch erneut Peter. Der ist einfach zu goldig! Wie er versucht, in sein altes Büro zu kommen – grandios unbeholfen! Auch seine seltsame Flucht war sehr wahrlich "beeindruckend". Aber ja, es ist Zeit, Risiken einzugehen – das gilt auch für die Serie selbst. Die kommt jedenfalls so langsam richtig in Fahrt und weiß auch am Ende der seltsamen Jagd, bei der interessanter Weise beide verfolgten Lösungs-Ansätze zum gleichen Zwischenziel geführt haben: einer synchronen Doppelansprache von Octavio und dem Commander.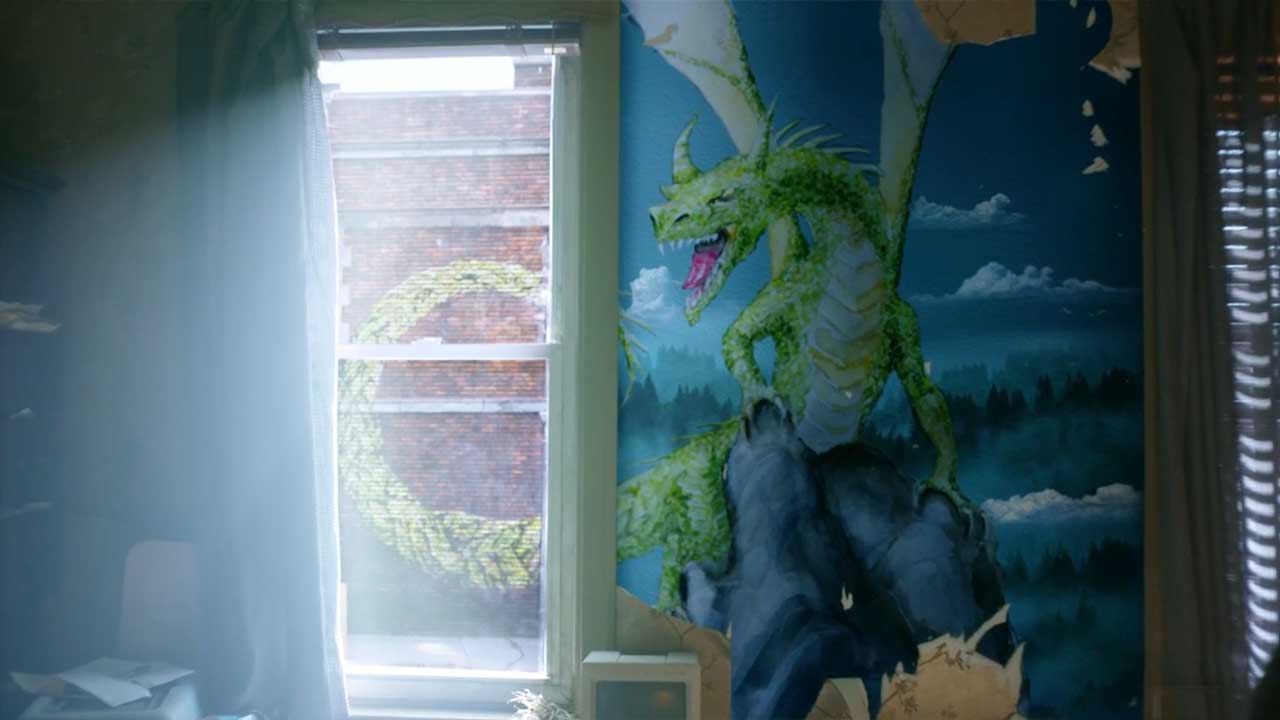 Es fühlt sich irgendwie komisch an, aber ich bleibe bei der Wertung, die ich zuletzt bereits gegeben hatte. Das muss jetzt nichts Schlechtes bedeuten, immerhin hat sich die Serie auf einem erfreulich stabilen Niveau eingependelt. Stets habe ich aber das Gefühl, als könnte da noch mehr Fantastisches passieren und die Story dann doch etwas packender sein. Immer wieder gibt es ja vereinzelte Elemente, die vor Kreativität sprühen, wie dieses Mal beispielsweise die in Farbe bestrichene Malerin, die Simone erschien oder die Visionen, die Peter hat. Von daher bleibt die Mixtur ähnlich, aber die Perspektive der Serie dreht sich etwas. Gehört dieses "Ausbüchsen" aus dem Spiel zum Spiel? Oder ist die Truppe da wirklich einer Sache auf der Spur? Und gibt es überhaupt noch andere, die mitspielen? Fragen über Fragen – noch vier Folgen!
"Is this really just a game, or has it evolved to something else?" (Octavio)
Bilder: amc

-->