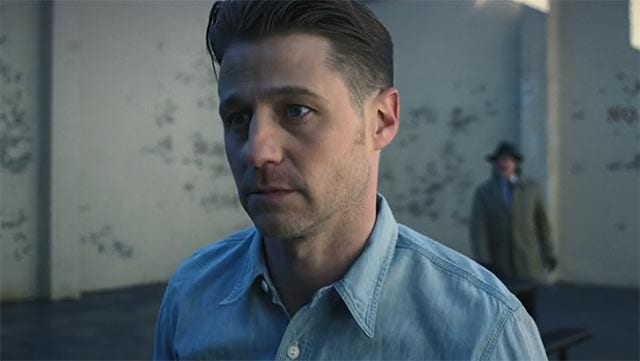 Nach der schnellen Folge an Ereignissen ist in Gotham so etwas wie Alltag eingekehrt. Zumindest für Jim. Scheinbar hat die Stadt wochenlang Ruhe und Bösewichte und deren Auszubildende machen Pause, damit Jim die Innenseite der örtlichen Justizvollzugsanstalt genauer beäugen kann. Die Darstellung hat mir durchaus gefallen, aber die Haarlänge und Frisur war dann doch etwas zu stabil über den angeblichen Zeitverlauf…
Leider hat die eingängliche Ankündigung, man würde viele alte Gegenspieler Gordons sehen, nicht wirklich gefruchtet. Aber immerhin einige kleine Querverstrebungen gab es. Andere Versprechungen sollten gehalten werden.
"I want the boyscout dead at weeks end." (Gefängnisaufseher)
Geil ist dann schon irgendwie, dass einer wie Seth aus "The O.C." für Jim einsteht. Fun fact: Mit Melinda Clarke spielt sogar noch ein Cast-Mitglied aus der Kalifornia-Soap von damals diese Woche mit – als neue Stiefmutter von Penguin.
Der fühlt sich eigentlich so sauwohl in der neuen "Familie", dass Scherben einfach mal links liegen gelassen werden – wird sich schon wer drum kümmern. Gleiches gilt für die neue Stiefschwester…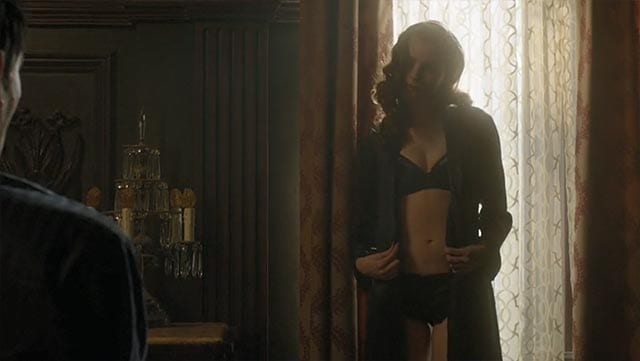 "To be fair – I never raped anybody." (Penguin)
Scheinbar ist doch nicht alles gelogen und Penguin wird doch "nur" als Erbschleicher-Konkurrenz gesehen, Daddy dürfte echt sein. Interessant dürfte hier vor allem der Schritt in die Vergangenheit sein, der Oswald wieder zu dem macht, was er mal war. Schien dem neuen Vati ja imponiert zu haben. Naja, Familie – wie gewonnen…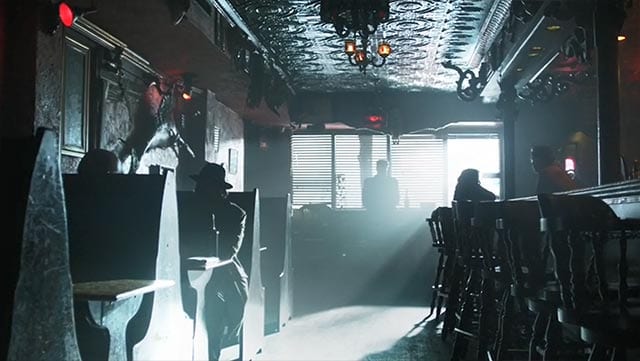 Sehr geil war der Shot im Schwarz-Weiß-Comiclook! Die Geheimnistuerei war da zwar etwas viel, aber Licht und Schatten und Farbe hat mir sehr gefallen. Fast so toll wie Cartoons in der Movie Night!
"You're dead! You're dead, pig, you understand?!" (Insasse/Handlanger)
Ein schöner kleiner Ausbruchs-Coup. Zwar nicht sehr überraschend, aber unterhaltsam und durch das Zurückholen von Don Falcone auch ein schönes Indiz dafür, wie viel Einfluss er und sein altes Netzwerk noch besitzen.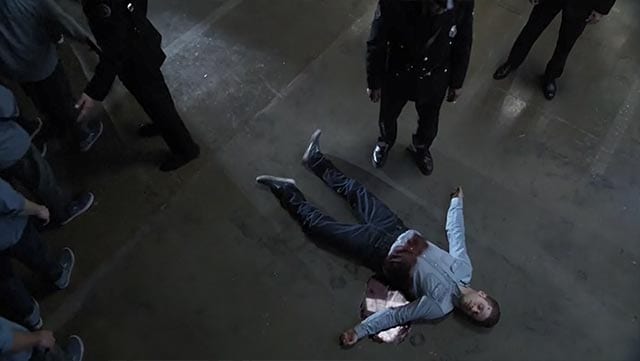 Dass Jim jedoch den Seth 2.0 rausholt, ist selten dämlich und überflüssig.
"Now hit me hard, make it look good. Just don't touvh the teeth, huh? I just had them fixed…" (Wachmann)
Immerhin ist "Puck" nicht im Gefängnis gestorben. Und auch wenn es plakativ für den Zuschauer ausgesprochen wurde, ist es schön, dass es bei Jim so etwas wie einen inneren Zwiespalt gibt. Wegrennen oder kämpfen?
Die Antwort darauf überrascht nicht wirklich. Ebenso wie die Tatsache, dass Jim wie befürchtet viel zu schnell aus dieser misslichen Lage heraus kommt. Wie genau er "sicher" aus der Stadt heraus agieren soll, bleibt abzuwarten. Jedenfalls hat er mittlerweile eine stattliche Anzahl an Feinden aufgebaut – das könnte noch ein schönes Pulverfass Richtung Staffelende werden.
So blieb diese Episode aber eher ein nettes Zwischenspiel, das einem weder Zeit noch Nerven geraubt hat. In etwa so unspektakulär und farblos wie das Essen in Gothams Gefängnis.
Bilder: FOX