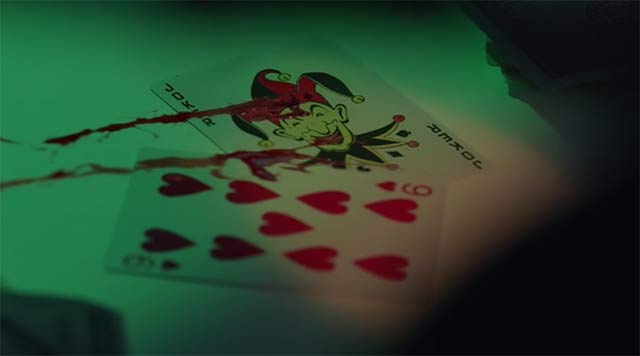 Hach, Gotham – es geht ja! Diese Woche sollte eine der besten Folgen der gesamten Serie erscheinen – so wie ich es mir eigentlich für den Auftakt zur zweiten Staffelhälfte erhofft hatte. Es mussten aber eben erst ein paar Vorbereitungen getroffen werden, damit dieser Schlag auch richtig sitzt. Und das tut er.
"Three nines and a joker, wow!" (Nachtwächter)
Kommen wir aber zunächst zu "Option B" der Episode. Nygma, Barb und Tabitha spielen weiterhin ihr Spiel mit Penguin und führen erste Kleinkriege mit anderen Unterwelt-Größen. Das ist okay, weil wenig nervig und immerhin für die ein oder andere nette Zeile gut. Am Ende aber auch nur das begleitende Vorspiel für ein anderes Kapitel.
"Do that 'disco-vampire-thing' with your hair…" (Barb)
Ebenso wirkt die Bruce-Geschichte eher beiläufig und verblasst gegenüber dem Haupt-Act (aber wer oder was nicht?!). Ein netter Twist zeigt jedoch, dass Der Maria-Erspresser eigentlich der Maria-Komplize ist und das plötzliche Wiedersehen mit Mutti nicht wirklich den erwünschten Ausgang für Selina nimmt. Aber hey – Bruce ist mittlerweile ein durchaus beachtlicher Kämpfer geworden!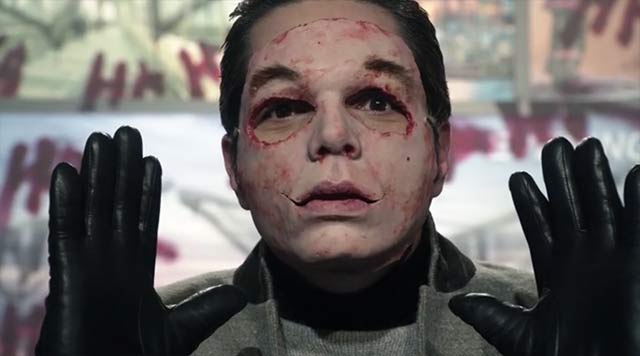 Kommen wir aber zum Wesentlichen, das sich wie ein Joker aus dem Ärmel geschüttelt bereits in den ersten Sekunden andeutet. Nun mögen Freunde der Logik sich fragen, ob der infiltrierte Wächter den eingefrorenen Jerome nicht einfach still und heimlich hätte rausschmuggeln können? Klar, aber so war der Auftakt natürlich um einiges geiler und allgemein gefällt mir die Inszenierung der Verbreitung des irren Lachens als Marke und Instrument sehr. Selbst beim GCPD haben sie wen sitzen, sehr schön gemacht, auch mit dem armen Lucius, der nicht mitspielen darf.
"'Good Cop, Bad Cop' doesn't work on cops – at least you should have switched the roles." (Maulwurf-Cop)
Da schmerzt es schon beinahe nicht, dass die Wiederbelebung Jeromes zunächst fehlschlägt (was durchaus unerwartet kommt).
"Try turning it off and on!" (Maniac)
Dann wird gekonnt mit den Hoffnungen der Zuschauer gespielt. Ein Fingerzucken hier, eine Andeutung dort – "aber er hat doch das Gesicht entfernt, wie soll das überhaupt noch…?" Da fühlt man sich als Zuschauer beinahe veräppelt, dass mit Dwight so eine lauwarme Copycat als das neue irre Ding dargeboten wird. Sieht die Serie wenigstens genauso:
"For the record, you are doing one thing, Jerome didn't: you're boring me." (Jim)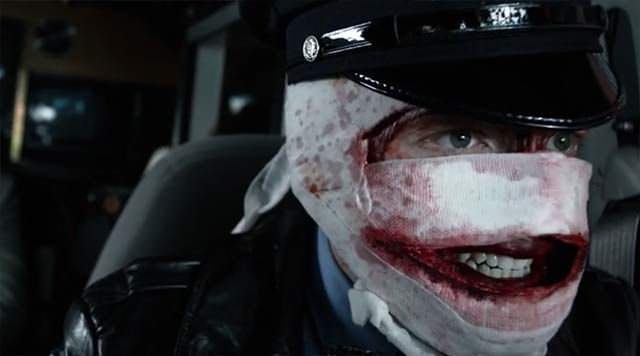 Und dann ist er da und die Show kann losgehen! Die Lee-Jerome-Konversation fand ich ungemein klasse.Ironisch, sarkastisch, humorvoll, irre – und doch enorm funktional. Jerome wird auf den neuesten Stand gebracht, kann sich mental positionieren und seinen Plan schmieden.
"Maybe you're dreaming… try shooting yourself!" (Lee)
Und der setzt eigentlich genau am Dwight'schen Vorlauf an: Chaos. Eine Stadt, die im Dunkeln untergeht und eine Untergrund-Organisation aufkommen lässt, die sie bisher noch nicht gesehen hat. Ohne Angst vor Verlusten, dem Tod – oder irgendetwas anderem. Bäm!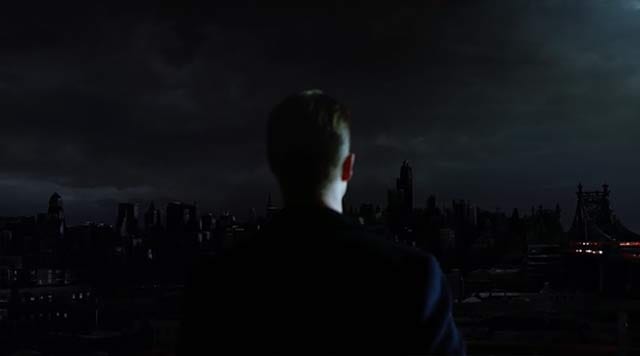 Das hatte ich mir eigentlich vergangene Woche erhofft – grandiose Folge mit vielen tollen Dialogen, Sprüchen, Kameraperspektiven, Figuren – hach, wat schön! Und das Tollste ist eigentlich noch, wie man den Übergang zur nächsten Folge bereits geebnet hat. Das Chaos wird aufkommen und wir dürfen uns sehr auf Maniax-Action freuen, denke ich. Klar, der Aufstieg von Jim aufs Dach war rein logisch betrachtet totaler Blödsinn, aber irgendwie mussten wir ja diesen tollen Skyline-Anblick erhalten – gepaart mit ganz viel Hoffnungslosigkeit und dieser Sache, die der "Gegner" eben nicht hat: Angst. Yay!

Bilder: FOX

-->