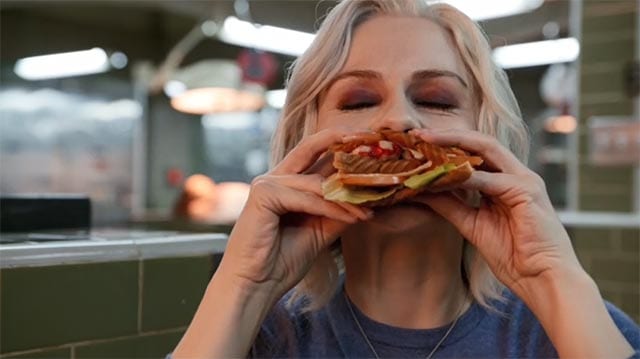 Dass die "previously on…"-Bausteine immer länger werden, ist durchaus ein positives Zeichen (Stichwort: Komplexität), aber so langsam erreicht es nervige Ausmaße. Wie dem auch sei – noch ein kleiner Snack aus dem Kühlschrank und es kann losgehen. Gefallen hat mir dabei die kleine Spielerei mit dem Mann hinterm Kühlschrank und der Signalisierung des Zeitverlaufs durch Lichtdämmung (genau wie später der Schnitt bei der Verhörung). Dazu noch ein kleiner Serien-Verweis:
"You clearly are Rachel! Type A relationship drama." (Ravi)
Hehe, und bei dem gepitchtem "family emergencyyyy" musste ich durchaus schmunzeln, dazu noch der "Ich bin auch Anwältin"-Spruch – sehr schön. Heute auf dem Speiseplan: Cassidy, nicht-Anhalterin mit Goldfishen in den Plateau-Heels, Lapdance-Talent und unentspannter Gereiztheit. War klar, dass der Fall nicht soo einfach sein dürfte. Insgesamt war die Hauptstory dann aber doch etwas… billig. Vom Wettermann-Kick mal ganz abgesehen. So seltsam, wie den "Doktornamen" von Ravi zu hören.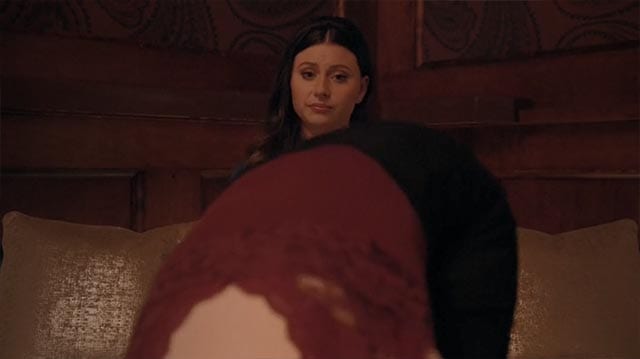 "Hooray for dumb criminals!" (Ravi)
Leider gibt es auch einige Seltsamkeiten diese Woche. Dass Blaine plötzlich nichts mehr wissen soll…?! Naja okay, Nebenwirkungen. Aber dass Ravi derart misstrauisch ist und in die Privatsphäre Majors eindringt? Vor allem so schnell, ohne vorherige Gespräche (z.B. auch mit Liv)? Ne, das passt nicht.
"It's like a friggin' Adele concert in here. More information and less tears and snot!" (Liv)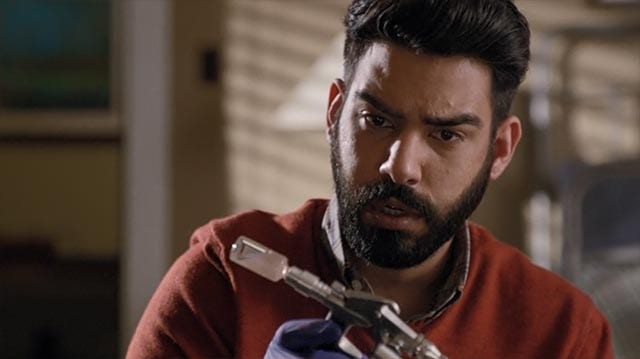 Jetzt weiß Liv das mit Drake und Ravi das mit Major und wir wissen, dass Major wieder ein Zombie ist. Ungemein schlecht gespielt in der Situation, aber sei's drum – alles ist passend für die Zielgerade ausgerichtet.
Der Fall war dieses Mal nicht ganz so blöd, auch wenn er sich dann doch sehr im kleinen Kreis gedreht hat. Die Haupthandlungs-Segmente haben sich zwar merklich bewegt, für meinen Geschmack war das aber erneut zu schnell bzw. sprunghaft, hat man das Gefühl, der Staffel gingen die Folgen aus, um alles Notwendige noch zu bespielen. So war es irgendwie wie ein halbgares Sandwich, das zwar den kleinen Hunger stillt aber nicht wirklich schmeckt – und eine Woche hält das sicherlich nicht vor. Da muss mehr kommen!
Bilder: The CW